This edition of Today in Books is sponsored by Tear Me Apart by J.T. Ellison from MIRA Books.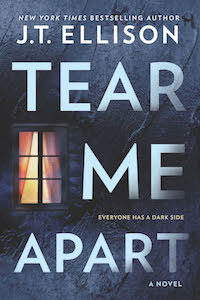 ---
Booker Archives Spill The Tea
A coin-toss decision, scathing comments, and more juicy judging tidbits from a new British Library film and an online archive collecting documents, images, and videos from the Man Booker's history. The archive, which marks the prize's 50th anniversary, revealed that the winner of the 1976 Booker prize was decided on a coin toss, and how judge Joanna Lumley called one book "over-my-dead-body stuff."
Keeping It Real
James Beard and duPont-Columbia Award-winning producers The Kitchen Sisters are launching a new series telling "stories of activist archivists, rogue librarians, curators, collectors and historians." And they're inviting "keepers" to help create the stories with them through #KeeperoftheDay. The Keepers premiered today on NPR's Morning Edition with Keepers Of The Underground: The Hiphop Archive At Harvard.
Why We Need Libraries: An Essay in Pictures
Neil Gaiman and Chris Riddell created an essay in pictures on why we need our libraries, with words from Gaiman and illustrations from Riddell. "I'm making a plea for people to understand what libraries and librarians are, and to preserve both of these things," Gaiman writes. Check out the piece.
And don't forget to come share the ins-n-outs of your reading life in our Fall Reader Survey!