Hey YA lovers: get ready to plan your fall bookish USA getaways!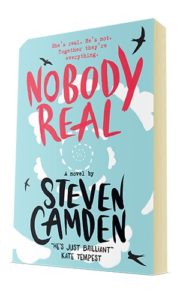 "What's Up in YA?" is sponsored by Nobody Real by Steven Camden, published by HarperCollins.
For years, Marcie has been hitching a ride on the train of her best friend Cara's life. Now there's only one more summer until they're off to college as planned. But Marcie has a secret, and time is running out for her to decide what she really wants. Thor was also Marcie's friend—before she cast him out—and time is running out for him too. But Thor is not real. And that's a real problem. This is the story of a teenage girl and the return of her imaginary friend, and we guarantee you've never read anything like it.
---
Earlier this year, I rounded up as many of the YA book festivals — and big book festivals with significant YA presences — that happened between January and June across the USA. Thanks to the generous help of many readers, I asked for some help compiling a similar list, but this time, for festivals falling in the second half of the year.
Find below a wide range of fabulous-sounding book festivals for YA book lovers. I've linked to the individual websites of each event so you can keep tabs on what's happening where. This is especially helpful for the fests that have already occurred so you can plan for next year.
I've included only those book festivals which are open to the public and which are entirely YA-focused or have a heavy programming track with YA-centric events and speakers.
YA Book Festivals, July-December, Throughout the USA
You can note that there's a dearth of events in July and August, as well as in December. September, October, and some parts of November are far more ideal book festival dates for a variety of reasons.
Bookmarks Festival: September 6-9, Winston-Salem, North Carolina
Brooklyn Book Festival: September 15, Brooklyn, New York
Pasadena Loves YA: September 15, Pasadena, California
Boston Teen Book Festival: September 22, Boston, Massachusetts
YA-hoo Fest: September 29, Chattanooga, Tennessee
Texas Teen Book Festival: October 6, Austin, Texas
Southern Festival of Books: October 12-14, Nashville, Tennessee
Sheboygan Teen Book Festival: October 12-14, Sheboygan, Wisconsin
YAS Book Con: October 19, Bowling Green, Kentucky
Anderson's Young Adult Literature Conference, October 20, Naperville, Illinois (rumor has it you might be able to meet me at this one this year!)
Books By The Banks: October 20, Cincinnati, Ohio
Las Vegas Book Festival: October 20, Las Vegas, Nevada
Read Up, Greenville: October 20, Greenville, South Carolina
Pickerington Teen Book Festival: October 27, Pickerington, Ohio
Colorado Teen Book Con: November 2-3, Denver, Colorado
Epic Fest: November 2-3, Charlotte, North Carolina
Yall Fest: November 9-10, Charleston, South Carolina
Portland Book Festival: November 10, Portland, Oregon
____________________
I'm pretty envious of those of you who get to attend any of these & I hope you get to nerd out, YA style, the entire time!
See you again later in the week, and thanks to everyone who helped me find some festivals I'd have otherwise missed!
–Kelly Jensen, @veronikellymars on Twitter and Instagram