This edition of Today in Books is sponsored by Workman Publishing, publisher of The Best Damn Answers to Life's Hardest Questions by Tess Koman.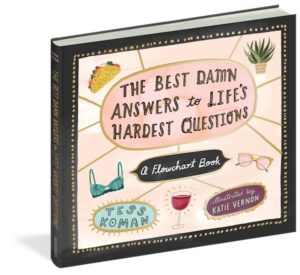 ---
Loved Them (?) And Left Them
Travelodge revealed the 20 most-left-behind books at their locations. Margaret Atwood's The Handmaid's Tale tops the list. The Girl on the Train by Paula Hawkins placed sixth, and Sharp Objects by Gillian Flynn was eighth. Check out the full list here.
Ex Libris Premieres On PBS
Go behind the scenes of the New York Public Library through Ex Libris, Director Frederick Wiseman's 2017 documentary. The two-hour film premieres on PBS tonight, at 10 p.m. It features librarians, staffers, patrons, Patti Smith, and Elvis Costello, to name a few. So if you're as intrigued/fascinated/in love with libraries as we are, check it out.
Who Will Be The Next Barefoot Bookseller?
Did you hear about the Maldives bookshop that advertised for a "barefoot bookseller"? Word got around and Ultimate Library, which provides library collections for holiday destinations around the world, is no longer accepting applications for the job, what with the thousands already in their inbox. Philip Blackwell, the company's founder, reported that the applicants even include a member of the White House press team.
And don't forget to come share the ins-n-outs of your reading life in our Fall Reader Survey!