Hey Kid Lit friends,
Yay, it's the first Tuesday of the month, and you know what that means. SO MANY NEW BOOKS! As usual, the book descriptions are from Goodreads, but I'll add a
if I particularly loved a title.
---
Sponsored by Disney Publishing Worldwide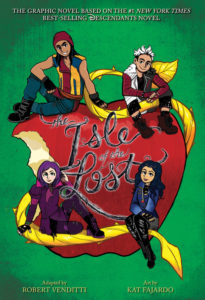 Twenty years ago, all the evil villains were stripped of their powers and banished from the kingdom of Auradon to the Isle of the Lost. Mal learns from her mother, Maleficent, that the key to true darkness, the Dragon's Eye, is located inside her scepter in the forbidden fortress on the far side of the island. She'll just need a little help from her "friends." In their quest for the Dragon's Eye, these four kids begin to realize that just because you come from an evil family tree, being good ain't so bad.
---
Picture Book New Releases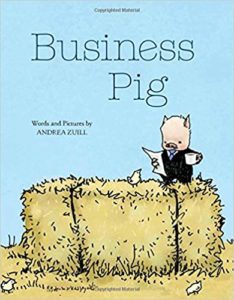 Business Pig by Andrea Zuill
Right from the start, everyone at the barnyard could tell Jasper wasn't like his siblings: "I believe what we have here is a gen-u-WINE Business Pig!" No wallowing in the mud or rooting for grubs for Jasper; he'd rather help with the bookkeeping or conduct a meeting. Though everyone at the animal sanctuary loves him, Jasper longs for a forever home. But no matter how many business cards he hands out, no one wants to adopt him. Can this above-average pig find his special person to cut deals with?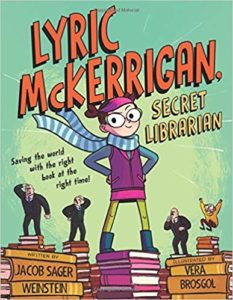 Lyric McKerrigan, Secret Librarian by Jacob Sager Weinstein, illustrated by Vera Brosgol
When an evil genius has a diabolical plan to destroy every book on the planet, who has the tome-toting page power to thwart his dastardly scheme? Lyric McKerrigan, Secret Librarian! She's got the gadgets. She's got the disguises. And she's always got the right book at the right time. It's a good thing, too, because Lyric McKerrigan is the world's last hope!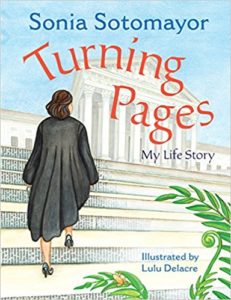 Turning Pages: My Life Story by Sonia Sotomayor, illustrated by Lulu Delacre
As the first Latina Supreme Court Justice, Sonia Sotomayor has inspired young people around the world to reach for their dreams. But what inspired her? For young Sonia, the answer was books! They were her mirrors, her maps, her friends, and her teachers. They helped her to connect with her family in New York and in Puerto Rico, to deal with her diabetes diagnosis, to cope with her father's death, to uncover the secrets of the world, and to dream of a future for herself in which anything was possible.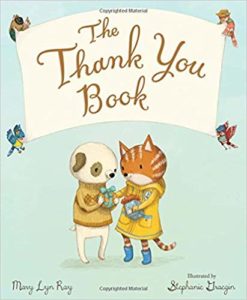 The Thank You Book by Mary Lyn Ray, illustrated Stephanie Graegin
Thank you isn't just for learning manners.
It's also for when something wakes a
little hum—a little happy hum—inside you
and you want to answer back.
The Thank You Book explores the many ways we can be thankful for the pleasures great and small that await us every day. Tender and poetic, it reflects on the role gratitude can play in our lives and celebrates the powerful impact it can have on us.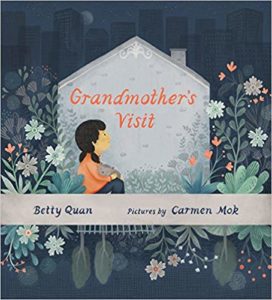 Grandmother's Visit by Betty Quan, illustrated by Carmen Mok
Grandmother lives with Grace's family. She teaches her how to measure water for rice. She tells her stories about growing up in China and together they savor the flavors of her childhood. Grandmother says goodbye when she drops Grace off at school every morning and hello when she picks her up at the end of the day. Then, Grandmother stops walking Grace to and from school, and the door to her room stays closed. Father comes home early to make dinner, but the rice bowls stay full. One day, Grandmother's room is empty. And one day, Grandmother is buried. After the funeral, Grace's mom turns on all the outside lights so that Grandmother's spirit can find its way home for one final goodbye.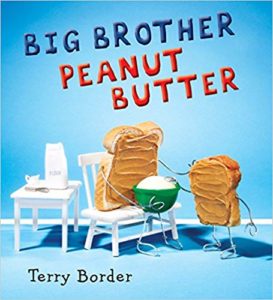 Big Brother Peanut Butter by Ashley Spruill
Peanut Butter's mom has a bun in the oven, and Peanut Butter is going to be a big brother! He's pretty excited, but also a little bit scared. Just what does a big brother do? Luckily, Peanut Butter has just the right friends to ask. Apple Pie has two little brothers, Blueberry and Cherry, and she makes it look easy. Cucumber is definitely a cool older sibling to little Dill Pickle. And Big Cheese is clearly an important friend to ask. But do any of them know how to teach Peanut Butter what to do? Will any of them be able to help him crack this nut?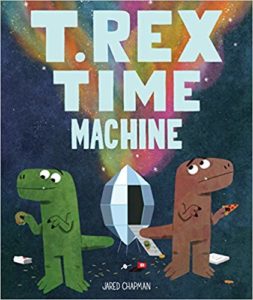 T-Rex Time Machine by Jared Chapman
When two hungry dinosaurs jump into a time machine, they're transported to an unbelievable, magical, surreal future: RIGHT HERE, RIGHT NOW! On the T. Rexes' madcap voyage into the unknown, they encounter the many wonders of the modern world: Police cars! Phones! Microwaves! They don't know how they'll get home—but why would they want to? Acclaimed author and illustrator Jared Chapman combines two favorite kid topics—time travel and dinosaurs—with bold colors, big jokes, and a hilarious escapade. This raucous, laugh-out-loud adventure will delight the very young and keep older readers giggling long into the future.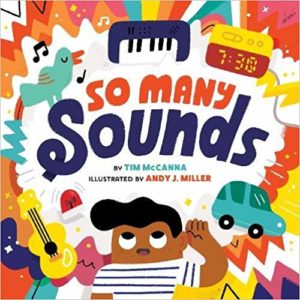 So Many Sounds by Tim McCanna, illustrated by Andy J. Miller
Listen! Do you hear a sound? Noises come from all around.
Soft and gentle, loud and clear. Oh so many sounds to hear! So Many Sounds is a wonderful rhyming read-aloud featuring everyday sounds and a refrain that children will love repeating. The playful text and illustrations are sure to delight little ones while also inviting them to pay more attention to the world around them.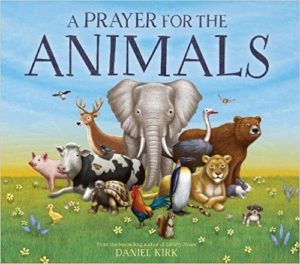 A Prayer for the Animals by Daniel Kirk
May all of the animals of the earth
And the animals of the sky
And the animals of the sea
Be at peace.
This lyrical picture book from bestselling author and illustrator Daniel Kirk encourages young children to be kind to all the animals of the world. Kirk's loving and hopeful verse blesses and gives warm wishes to farm animals, house pets, wild animals, and other creatures.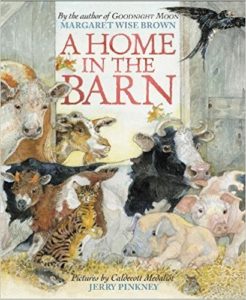 A Home in the Barn by Margaret Wise Brown, illustrated by Jerry Pinkney
Perfect for fans of Goodnight Moon, The Runaway Bunny, and Big Red Barn, this never-before-published picture book from beloved children's book author Margaret Wise Brown tells the comforting, snowy story of animals seeking shelter from the cold in a big warm barn. Brought to beautiful life by Caldecott Medalist and multiple award winner Jerry Pinkney, this is a must-have for every child's library and is perfect for cozy wintertime readings.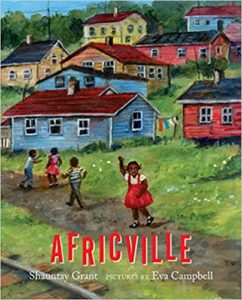 Africville by Shauntay Grant and Eva Campbell
When a young girl visits the site of Africville, in Halifax, Nova Scotia, the stories she's heard from her family come to mind. She imagines what the community was once like ―the brightly painted houses nestled into the hillside, the field where boys played football, the pond where all the kids went rafting, the bountiful fishing, the huge bonfires. Coming out of her reverie, she visits the present-day park and the sundial where her great- grandmother's name is carved in stone, and celebrates a summer day at the annual Africville Reunion/Festival.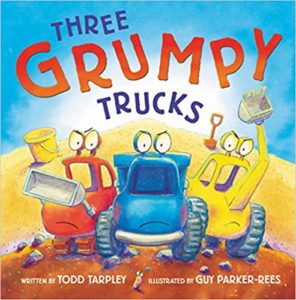 Three Grumpy Trucks by Todd Tarpley, illustrated by Guy Parker-Rees
Whirr! Whomp! Grind! Chomp! How long can three busy trucks keep it up before…MELTDOWN? Three toy trucks have big plans for their day at the playground: digging and lifting, building and shifting. But then they start to get tired…and hot…and hungry….They're GRUMPY! When they throw a total truck tantrum, will anyone be able to calm them down?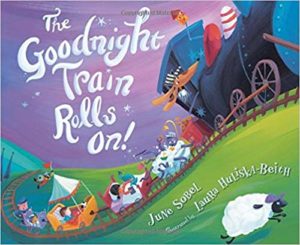 The Goodnight Train Rolls On! by June Sobel, illustrated by Laura Huliska-Beith
When a herd of poky sheep slows the Goodnight Train to a crawl, the Engineer's quick thinking (and counting!) has them rolling along in no time—until one tricky sheep sends the train and its sleepy passengers tossing and turning! The clickety-clack cadence of the poetic text is sure to lull listeners to sleep, but not before they take in the candy-colored landscapes full of delightful Dreamland details to discover. All aboard!
Look at Me! Wild Animal Show-Offs by Jim Arnosky
Meet the show-offs! With their wacky eyebrows, beautiful patterns, and bright feathers and scales, many animals seem to be saying: "Look at ME!" That behavior certainly won't protect them from predators, so why do they do it? Jim Arnosky explores a multitude of creatures from across the globe to reveal the reasons behind their attention-grabbing behavior. His spectacular art, including amazing gatefolds, presents brilliantly colored poison arrow frogs of the rainforest; the breeding plumage of egrets and peacocks; the impressive antlers of deer and elk; the threatening hoods of cobras; the balloon-like displays of African bullfrogs; and the dramatic color transformation of spawning fish.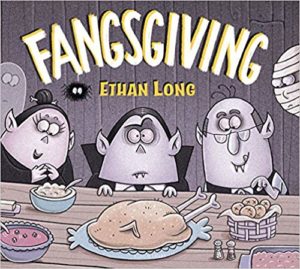 Fangsgiving by Ethan Long
It's the fourth Thursday of November, and the members of Fright Club are cooking up something spooky . . . a Thanksgiving feast! But when Vlad's family arrives unexpectedly, they put their own spin on each of the dishes. Now, the rolls are as hard as headstones and the turkey has been cooked to death. Vlad loves his family, but they've made a mess of their meal! Can this monster-filled family come together to save their feast and celebrate what the holiday is truly about?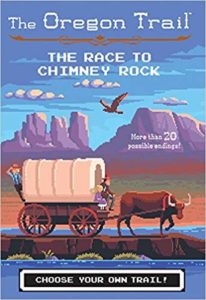 The Oregon Trail: The Race to Chimney Rock by Jesse Wiley
In book one of this exciting choose-your-own-adventure series, it's 1850 and your first goal is to get your family, covered wagon full of supplies, and oxen to Chimney Rock on time. But hurry—you'll need to make it through the rugged mountains before winter snow hits. Plus, there are wild animals, natural disasters, unpredictable weather, fast-flowing rivers, strangers, and sickness that will be sure to stand between you and your destination! Which path will get you safely across the prairie? With twenty-two possible endings, choose wrong and you'll never make it to Chimney Rock on time. Choose right and blaze a trail that gets you closer to Oregon City! This four book series continues with Danger at the Haunted Gate, The Search for Snake River, and The Road to Oregon City.
Middle Grade New Releases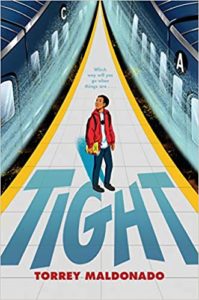 Tight by Torrey Maldonado
Bryan knows what's tight for him–reading comics, drawing superheroes, and hanging out with no drama. But drama is every day where he's from, and that gets him tight, wound up. And now Bryan's friend Mike pressures him with ideas of fun that are crazy risky. At first, it's a rush following Mike, hopping turnstiles, subway surfing, and getting into all kinds of trouble. But Bryan never really feels right acting so wrong, and drama really isn't him. So which way will he go, especially when his dad tells him it's better to be hard and feared than liked?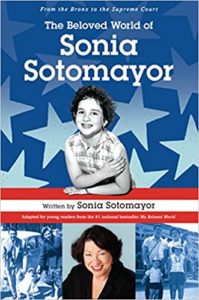 The Beloved World of Sonia Sotomayor by Sonia Sotomayor
Sonia Sotomayor, the first Hispanic and third woman appointed to the Supreme Court of the United States, was a young girl when she dared to dream big. Her dream? To become a lawyer and a judge. As Justice Sotomayor explains, "When I was a child my family was poor and we knew no lawyers or judges and none lived in our neighborhood. I knew nothing about the Supreme Court and how much its work in reinterpreting the Constitution and the laws of the United States affected peoples' lives. You cannot dream of becoming something you don't even know about. That has been the most important lesson of my life. You have to learn to dream big dreams."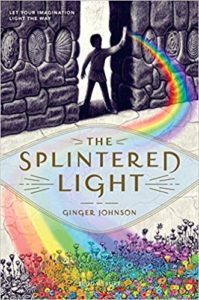 The Splintered Light by Ginger Johnson
Ever since his brother Luc's disappearance and his father's tragic death, Ishmael has lived a monotonous existence helping his mother on their meager farm where everything is colorless. Until one morning a ray of light fragments Ishmael's gray world into something extraordinary: a spectrum of color he never knew existed. Emboldened, Ishmael sets out to find answers hoping his long lost brother might hold the key.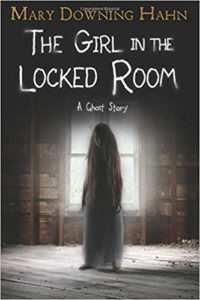 The Girl in the Locked Room by Mary Downing Hahn
A family moves into an old, abandoned house. Jules's parents love the house, but Jules is frightened and feels a sense of foreboding. When she sees a pale face in an upstairs window, though, she can't stop wondering about the eerie presence on the top floor—in a room with a locked door. Could it be someone who lived in the house a century earlier?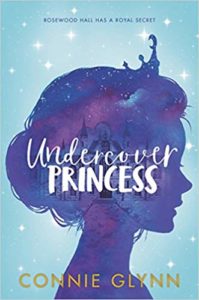 Undercover Princess by Connie Glynn
Lottie Pumpkin is an ordinary girl who has spent her life longing for the extraordinary. Ellie Wolf is the crown princess of Maradova, who wants nothing more than a chance at an ordinary life. When fate puts Lottie and Ellie in the same dorm room at the prestigious Rosewood Hall, there's only one solution: for the girls to swap identities, and live the lives they've always dreamed of. But at Rosewood, a secret never stays secret for long. Someone in the school is on to them—and if the truth is revealed, the results may be more treacherous than they ever expected.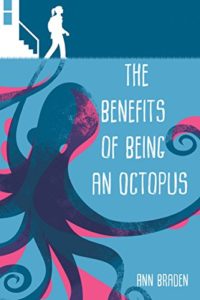 The Benefits of Being an Octopus by Ann Braden
Seventh-grader Zoey has her hands full as she takes care of her much younger siblings after school every day while her mom works her shift at the pizza parlor. Not that her mom seems to appreciate it. At least there's Lenny, her mom's boyfriend—they all get to live in his nice, clean trailer. At school, Zoey tries to stay under the radar. Unfortunately, she's not totally invisible, and one of her teachers forces her to join the debate club. Even though Zoey resists participating, debate ultimately leads her to see things in a new way: her mom's relationship with Lenny, Fuchsia's situation, and her own place in this town of people who think they're better than her. Can Zoey find the courage to speak up, even if it means risking the most stable home she's ever had?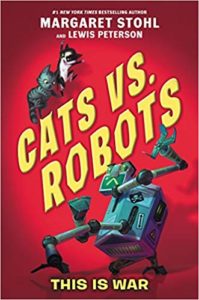 Cats vs. Robots: This Is War by Margaret Stohl and Lewis Peterson
The Robot Federation and the Feline Empire have been at war for eons. And now that fight is coming to a tiny primitive planetoid…Earth. The mission for both cats and robots: retrieve the Singularity Chip. With it, cats can live past their nine lives, and robots are granted eternal battery life. Meanwhile, twin siblings Max and Min Wengrod are as different as can be. Min always gets good grades, and she loves to read and build robots. Max hates school, and prefers to play games and spend time online with friends. When Max rescues two kittens and is determined to keep them, Min is horrified that these furballs could ruin her chances at the Battle of the Bots competition.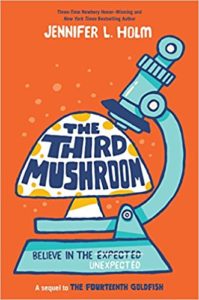 The Third Mushroom by Jennifer L. Holm
Ellie's grandpa Melvin is a world-renowned scientist . . . in the body of a fourteen-year-old boy. His feet stink, and he eats everything in the refrigerator–and Ellie is so happy to have him around. Grandpa may not exactly fit in at middle school, but he certainly keeps things interesting. When he and Ellie team up for the county science fair, no one realizes just how groundbreaking their experiment will be. The formula for eternal youth may be within their reach! And when Ellie's cat, Jonas Salk, gets sick, the stakes become even higher. But is the key to eternal life really the key to happiness? Sometimes even the most careful experiments yield unexpected–and wonderful–results.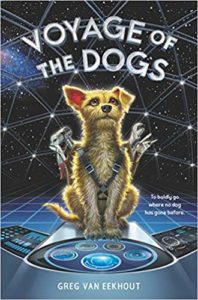 Voyage of the Dogs by Greg Van Eekhout
Lopside is a Barkonaut—a specially trained dog who assists human astronauts on missions in space. He and the crew aboard the spaceship Laika are en route to set up an outpost on a distant planet. When the mission takes a disastrous turn, the Barkonauts on board suddenly find themselves completely alone on their severely damaged ship. Survival seems impossible. But these dogs are Barkonauts—and Barkonauts always complete their mission.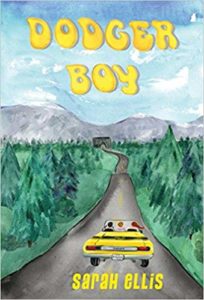 Dodger Boy by Sarah Ellis
In 1970 Vancouver, thirteen-year-old Charlotte and her best friend, Dawn, are keen to avoid the pitfalls of adolescence. But life becomes more complicated when the girls meet a Texan draft dodger who comes to live with Charlotte's Quaker family. Tom Ed expands Charlotte's horizons as they discuss everything from war to civil disobedience to women's liberation. Grappling with exhilarating and disturbing new ideas, faced with a censorship challenge to her beloved English teacher and trying to decode the charismatic draft dodger himself, Charlotte finds it harder and harder to stick to her unteen philosophy, and to see eye to eye with Dawn.
24 Hours in Nowhere by Dusti Bowling
Welcome to Nowhere, Arizona, the least livable town in the United States. For Gus, a bright 13-year-old with dreams of getting out and going to college, life there is made even worse by Bo Taylor, Nowhere's biggest, baddest bully. When Bo tries to force Gus to eat a dangerously spiny cactus, Rossi Scott, one of the best racers in Nowhere, comes to his rescue—but in return she has to give Bo her prized dirt bike. Determined to buy it back, Gus agrees to go searching for gold in Dead Frenchman Mine, joined by his old friends Jessie Navarro and Matthew Dufort, and Rossi herself. As they hunt for treasure, narrowly surviving everything from cave-ins to mountain lions, they bond over shared stories of how hard life in Nowhere is—and they realize this adventure just may be their way out.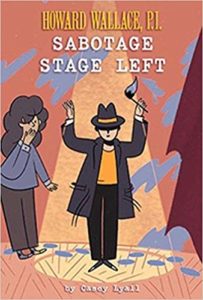 Sabotage Stage Left by Casey Lyall
Spring (musical) fever has hit the Grantleyville Middle School Drama Club! Since Ivy Mason is busy with the production, she decides to take a break from sleuthing, while Howard Wallace keeps things running smoothly with their detective agency. Then, just a few weeks before showtime, suspicious things start happening backstage: missing costumes, damaged props, and too many other mishaps to be coincidental. Ivy calls in Howard and their crew to take on the case. Howard tries to lay low and quietly sniff out the perp, but he's soon brought into the spotlight when he's framed as the saboteur! Can the team of intrepid P.I.s clear Howard's name and catch the culprit before the curtain falls on the big show?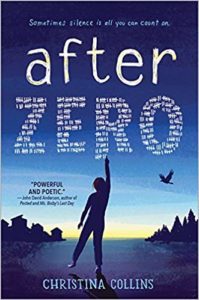 After Zero by Christina Collins
Elise carries a notebook full of tallies, each page marking a day spent at her new public school, each stroke of her pencil marking a word spoken. A word that can't be taken back. Five tally marks isn't so bad. Two is pretty good. But zero? Zero is perfect. Zero means no wrong answers called out in class, no secrets accidentally spilled, no conversations to agonize over at night when sleep is far away. But now months have passed, and Elise isn't sure she could speak even if she wanted to―not to keep her only friend, Mel, from drifting further away―or to ask if anyone else has seen her English teacher's stuffed raven come to life. Then, the discovery of a shocking family secret helps Elise realize that her silence might just be the key to unlocking everything she's ever hoped for…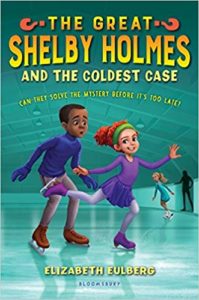 The Great Shelby Holmes and the Coldest Case by Elizabeth Eulberg
Being friends with a super sleuth isn't easy, especially when she's nine years old, four feet tall, and full of attitude. But for eleven-year-old John Watson, being friends with Shelby Holmes is just the adventure he's looking for. After Watson's online journal chronicling his and Shelby's case-closing abilities attracts the attention of a newspaper reporter, the pair becomes a small "media sensation" in their Harlem neighborhood. So it's no surprise (at least, to Shelby!) when the article lands them a new client–a figure skating coach whose star athlete, Jordan Nelson, is receiving strange, threatening messages, written entirely in code. There's no one better to crack the cipher than dynamic duo Shelby and Watson! But to gather information, Shelby decides that they'll have to go undercover . . . as an award-winning pair skating team.
Nonfiction New Releases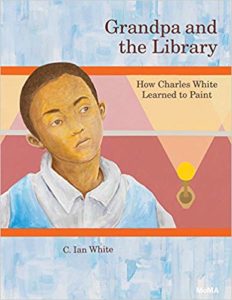 Grandpa and the Library by C. Ian White
Every day, young Charles White's mother takes him the Chicago Public Library, where the librarians look after him until she picks him up again after work, at six o'clock. At the library Charles looks carefully at the picture books the librarians give him and also at the people around him, later drawing what he sees on scraps of paper at home. He learns to be patient and observant—and, by watching art students painting in the park, how to mix and use oil paints. As he grows into an artist, he paints the people he sees and admires. Ultimately, Charles becomes a great artist whose works now hang in museums throughout the United States.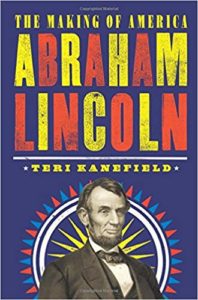 The Making of America: Abraham Lincoln by Teri Kanefield
The third installment of the Making of America series, Abraham Lincoln, tells of one of our most beloved presidents. Born in a cabin deep in the backwoods of Kentucky, growing up in a family considered "the poorest of the poor," Lincoln rose to become the sixteenth president of the United States. As president, he guided the United States through the Civil War, helped end slavery in America, and strengthened the federal government. Unlike other biographies, the Making of America series goes beyond individual narratives linking influential figures to create an overarching story of America's growth.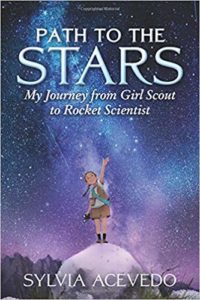 Path to the Stars: My Journey from Girl Scouts to Rocket Scientist by Sylvia Acevedo
A meningitis outbreak in their underprivileged neighborhood left Sylvia Acevedo's family forever altered. As she struggled in the aftermath of loss, young Sylvia's life transformed when she joined the Brownies. The Girl Scouts taught her how to take control of her world and nourished her love of numbers and science. With new confidence, Sylvia navigated shifting cultural expectations at school and at home, forging her own trail to become one of the first Latinx to graduate with a master's in engineering from Stanford University and going on to become a rocket scientist at NASA's Jet Propulsion Laboratory.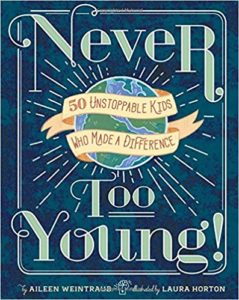 Never Too Young: 50 Unstoppable Kids Who Made a Difference by Aileen Weintraub, illustrated by Laura Horton
From Picasso, who changed the art world forever, to Malala Yousafzai, the brave teen who was shot for advocating education for girls, the 50 kids profiled in Never Too Young! will inspire and empower young readers. Some, like Anne Frank, Ruby Bridges, and Stevie Wonder, are prominent figures, while others are lesser known though their achievements are just as compelling. They come from a variety of historical periods and backgrounds, and have made an impact in politics, sports, the arts, science, and more.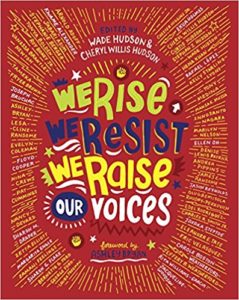 We Rise, We Resist, We Raise Our Voices by Edited by Wade Hudson and Cheryl Willis Hudson
What do we tell our children when the world seems bleak, and prejudice and racism run rampant? With 96 lavishly designed pages of original art and prose, fifty diverse creators lend voice to young activists. Featuring poems, letters, personal essays, art, and other works from such industry leaders as Jacqueline Woodson (Brown Girl Dreaming), Jason Reynolds (All American Boys), Kwame Alexander (The Crossover), Andrea Pippins (I Love My Hair), Sharon Draper (Out of My Mind), Rita Williams-Garcia (One Crazy Summer), Ellen Oh (cofounder of We Need Diverse Books), and artists Ekua Holmes, Rafael Lopez, James Ransome, Javaka Steptoe, and more, this anthology empowers the nation's youth to listen, learn, and build a better tomorrow.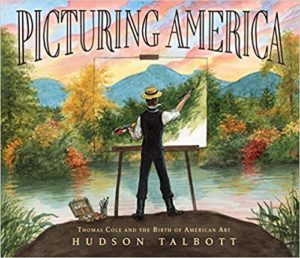 Picturing America: Thomas Cole and the Birth of American Art by Hudson Talbott
Thomas Cole was always looking for something new to draw. Born in England during the Industrial Revolution, he was fascinated by tales of the American countryside, and was ecstatic to move there in 1818. The life of an artist was difficult at first, however Thomas kept his dream alive by drawing constantly and seeking out other artists. But everything changed for him when he was given a ticket for a boat trip up the Hudson River to see the wilderness of the Catskill Mountains. The haunting beauty of the landscape sparked his imagination and would inspire him for the rest of his life. The majestic paintings that followed struck a chord with the public and drew other artists to follow in his footsteps, in the first art movement born in America. His landscape paintings also started a conversation on how to protect the country's wild beauty.
Backlist Book Recommendations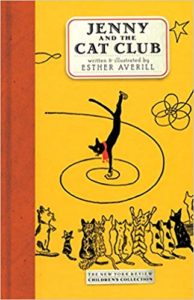 Chapter Book Recommendation: Jenny and the Cat Club by Esther Averill
In Greenwich Village an orphaned black cat lives happily with her master, a sea captain. Still, the gentle Jenny Linsky would like nothing more than to join the local Cat Club, whose members include Madame Butterfly, an elegant Persian, the high-stepping Macaroni, and stately, plump Mr. President. But can she overcome her fears and prove that she, too, has a special gift?
Note from Karina: I absolutely adore Jenny Linsky and her adventures. There is a whole series of books about her, so if you like this one definitely check out all the other ones.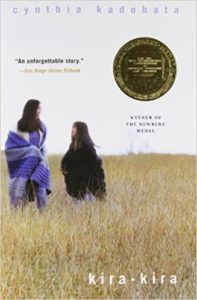 Middle Grade Recommendation: Kira-Kira by Cynthia Kadohata
kira-kira (kee ra kee ra): glittering; shining Glittering. That's how Katie Takeshima's sister, Lynn, makes everything seem. The sky is kira-kira because its color is deep but see-through at the same time. The sea is kira-kira for the same reason. And so are people's eyes. When Katie and her family move from a Japanese community in Iowa to the Deep South of Georgia, it's Lynn who explains to her why people stop on the street to stare. And it's Lynn who, with her special way of viewing the world, teaches Katie to look beyond tomorrow. But when Lynn becomes desperately ill, and the whole family begins to fall apart, it is up to Katie to find a way to remind them all that there is always something glittering — kira-kira — in the future.
Note from Karina: This is such a lovely middle grade book (it also won the Newbery Medal). It is poetic and beautiful, and I love the writing.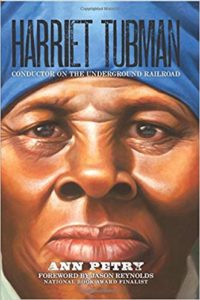 Nonfiction Book Recommendation: Harriet Tubman: Conductor on the Underground Railroad by Ann Petry
Harriet Tubman was born a slave and dreamed of being free. She was willing to risk everything—including her own life—to see that dream come true. After her daring escape, Harriet became a conductor on the secret Underground Railroad, helping others make the dangerous journey to freedom.
Note from Karina: I found this biography so gripping and interesting – I read it in one sitting and then passed it on to my ten-year-old who already read it in one sitting. This updated edition includes a foreward by Jason Reynolds and new art by Kadir Nelson.
We want your thoughts!
Book Riot is conducting a fall reader survey, and we want to know your thoughts! Please take a few minutes to answer a brief questionnaire.
I'd love to know what you are reading this week! Find me on Twitter at @KarinaYanGlaser, on Instagram at @KarinaIsReadingAndWriting, or email me at karina@bookriot.com.
Until next week!
Karina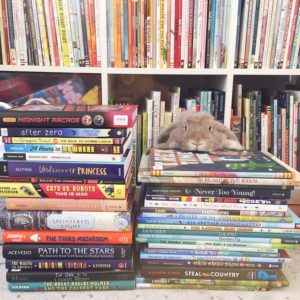 Izzy and the stack of new releases out today!
*If this e-mail was forwarded to you, follow this link to subscribe to "The Kids Are All Right" newsletter and other fabulous Book Riot newsletters for your own customized e-mail delivery. Thank you!*