Hello mystery fans! It is the first week of a new month which means TONS of new books get published–happy book dance! I have for you this week a great procedural, a suspenseful page-turner, and an excellent crime novel perfect for fans of true crime podcasts.
---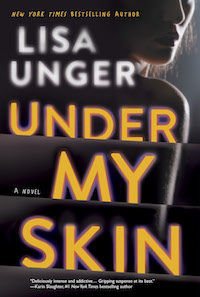 Sponsored by Under My Skin by Lisa Unger, new from Park Row Books
Bestselling author Lisa Unger delivers an addictive psychological thriller about a woman on the hunt for her husband's killer.  
What if the nightmares are actually memories? It's been a year since Poppy's husband, Jack, was brutally murdered. In the immediate aftermath, Poppy spiraled into an oblivion of grief, disappearing for several days only to turn up ragged and confused.
The case was never solved, and those lost days continue to haunt her. As her vivid nightmares intensify into daily blackouts, she starts to lose track of what is real. But her terrible dreams might hold the key to what really happened to Jack…
---
Great Procedural: Who Started A Fire That Killed A Family? (TW child deaths/ suicide)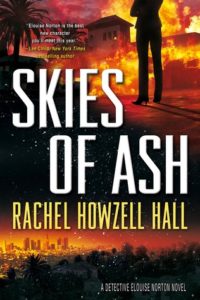 Skies of Ash (Detective Elouise Norton #2) by Rachel Howzell Hall: Homicide detective Lou Norton has a new case: a fire that killed a wife and her two children. Between the wife's strange 911 call, the son having been an arsonist, and the husband/father who is acting strange, Lou has plenty to look into. She's also stuck with her partner, Colin Taggert, who she still feels she needs to spend time babysitting and, well, she works in a boys club. I really love this series, which focuses first on the solving of the mystery while also giving just the right amount of time to Lou's personal life (that cheating husband is back) and her relationships/interactions with her friends, family, and coworkers. If you're a fan of procedurals, you should be reading this series. (It is not confusing to start here if you skipped the first in the series, but it does give away the solve and continues stories about Lou's personal life.)
Excellent Crime Fiction PERFECT For Fans of True Crime Podcasts (TW child abuse/ pedophilia/ attempted suicide mentioned)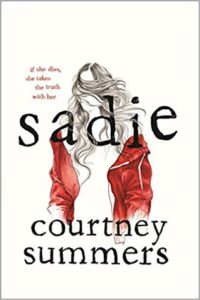 Sadie by Courtney Summers: This book kind of destroyed me. And not in the destroyed-me-and-then-put-me-back-together-again way. It destroyed me and left me staring off into the void as it was meant to, and I would have applauded if I thought Summer would have heard it. This book is lots of things, but for me the brilliance was in two things: Summers' ability to tell a page-turning white knuckle story; her shining a light on the darkest corners of our true crime obsession while/by keeping the violence in her novel just off the page. Sadie, a smart mouthed stubborn young woman, sets off to find her little sister's killer. Her plan: to kill him. With no money, friends, and a stutter that makes communicating with strangers difficult it's a near impossible mission. Sadie's chapters alternate with a radio personality who has started a podcast about Sadie and her sister's murder and is trying to find Sadie… If you're looking for a fantastic read you won't be able to put down, and like a gut punch, do not miss Sadie. She's a character I will forever keep thinking about.
Pinborough Always Delivers A Page-Turner! (TW child murder/ domestic abuse/ child abuse/ molestation)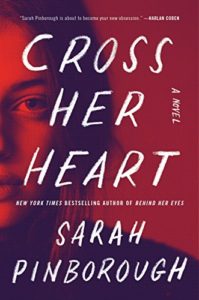 Cross Her Heart by Sarah Pinborough: Told in multiple point of view, the novel focuses on three people: Lisa, an overprotective mother; Ava, Lisa's teenage daughter; Marilyn, Lisa's coworker and best friend. Lisa's entire life focuses around her daughter and her work. She's very private and intends to keep things that way. Clearly she has a secret… Ava is in high school, a swimmer, has a close group of girlfriends and a boyfriend. And also a secret: the older man she's been talking to online… When Ava and Lisa's pictures end up in the news, their lives are suddenly threatened, which has long reaching consequences that affect Marilyn… If you like page-turners that focus on the characters and their lives this was a great read. If you are a fan of Behind Her Eyes, this does not have that level of bonkers twist–which I do not say as a knock on this book at all because this book is not written to have that kind of moment. But it bums me out to see readers not have a great reading experience solely because of an expectation, so go into this one as a new character-driven suspense.
Recent Releases (Reinforce your TBR shelves!)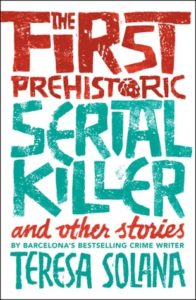 The First Prehistoric Serial Killer and Other Stories by Teresa Solana, Peter Bush (Translation) (Currently reading: I started this, and it's ridiculous noir short stories and I'm loving it. The first story is literally the title where a caveman is trying to solve which caveman is the serial killer in their cave.)
Idyll Hands (Thomas Lynch #3) by Stephanie Gayle (Currently reading: a small town procedural told in alternating point of view in the '70s and the late '90s about a body found in the woods, a rookie's missing sister, and a long ago found bone.)
When the Lights Go Out by Mary Kubica (TBR: I'm a big fan of Kubica and her suspense stories so this is very high on my list! It's about a young woman whose social security number raises a red flag leading her to discover a shocking detail…)
Gravesend by William Boyle (Currently reading: I'm a big fan of Boyle's character driven crime writing and this one starts with revenge so I'm a happy reader at the moment.) (The Lonely Witness review)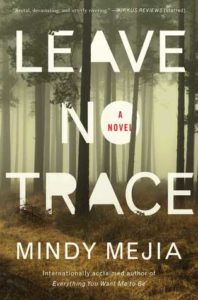 Leave No Trace by Mindy Mejia (Currently reading: A really interesting read so far about a speech therapist at a mental health facility where a teenager has been brought in who has been missing since a camping trip ten years previously…) (TW suicide/ mentions self-harm)
The Boy at the Keyhole by Stephen Giles (TBR: I know comps lie a lot but also I'm a sucker and this said "in the vein of Shirley Jackson" so I'm gonna read it!)
The Cats Came Back (A Magical Cats Mystery #10) by Sofie Kelly (TBR: A cozy mystery with a librarian and her magical cats!)
Field of Bones (Joanna Brady #18) by J.A. Jance (For procedural fans)
An Act of Villainy (Amory Ames #5) by Ashley Weaver (For historical mystery fans)
And we want to hear all about your reading habits! Tell us in our Fall Reader Survey and you could win a $100 gift certificate to the Book Riot store!
Browse all the books recommended in Unusual Suspects previous newsletters on this shelf. And here's an Unusual Suspects Pinterest board.
Until next time, keep investigating! And in the meantime, come talk books with me on Twitter, Instagram, and Litsy–you can find me under Jamie Canaves.
If a mystery fan forwarded this newsletter to you and you'd like your very own you can sign up here.