This edition of Today in Books is sponsored by Kensington Publishing Corp., bringing you Wedding the Widow by Jenna Jaxon.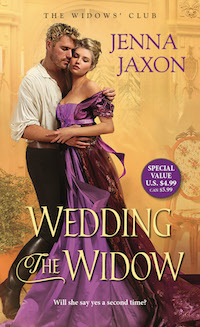 ---
J. R. R. Tolkien's Last Posthumous Publication
Christopher Tolkien, age 93, has finally reached the end of his project to put out his father's unpublished work. Tomorrow, the Middle-earth quest tale The Fall of Gondolin will see the light. Papa Tolkien worked on this story on and off from 1917 to 1951, and the many versions are collected in this new book.
Barnes & Noble Drama
Lots of ugly stuff is coming to light as former Barnes & Noble CEO Demos Parneros goes after the company in federal court. He's saying—among other complaints—that his firing put Barnes & Noble in breach of contract. In response, Barnes & Noble is alleging Parneros engaged in "sexual harassment, bullying behavior and other violations of company policies."
Alt Nobel Shortlist Revealed
As Rioter Erika Harlitz-Kern reports, the Alternative Nobel Prize in Literature nominees have been whittled down to four: Haruki Murakami (Japan), Kim Thúy (Canada), Maryse Condé (France/Guadeloupe), and Neil Gaiman (United Kingdom). Their fates are now in the hands of a jury of four. The New Academy will present the award to the winner on December 9. On December 10, The New Academy will dissolve itself. What a time to be alive.