Hey Kid Lit friends,
Hooray, it's Tuesday! Check out all of these new books hitting shelves today! As usual, the book descriptions are from Goodreads, but I'll add a 
 if I particularly loved a title.
---
We're giving away 16 of the books featured on Recommended! Click here, or on the image below to enter:
---
Picture Book New Releases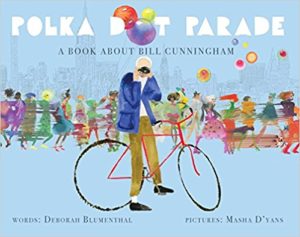 Polka Dot Parade: A Book About Bill Cunningham by Deborah Blumenthal, illustrated by Masha D'yans
Every day, Bill Cunningham pedaled his bike through New York City searching for beauty. As he took picture after picture, Bill found beauty not in people, but in their clothes. Drawn to bold and creative choices, Bill's photos captured the attention of the New York Times. He traveled to Paris for Fashion Week, and admiration for his work grew. With his sense of creativity and daringness, his own personal style of photography came to be known as street art photography. His photos left a lasting impression on all those who came across his work and they continue to inspire creativity today. This is the story of the legend who created street fashion photography and left behind a legacy of glorious pictures. Bill Cunningham used his passion and talent to capture the beauty he saw in fashion and the ultimate freedom that it represents to each and every person.
 Good Night, Mr. Panda by Steve Antony
It is time for bed and Mr. Panda reminds his friends Hippopotamus, Skunk, Sheep, and Sloth that they each have forgotten to do something in this lovely book in Spanish. Skunk has forgotten to take a bath, Hippopotamus needs to brush his teeth, Sloth is too tired to move, and much more. Mr. Panda is there to remind them of the steps they've missed. As Lemur eventually finds out, however, even Mr. Panda can make a bedtime mistake!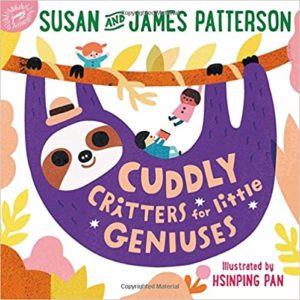 Cuddly Critters for Little Geniuses by Susan and James Patterson, illustrated by Hspinping Pan
From sloths to spoonbills and panda ants to pangolins, little geniuses will love learning about all of the unusual, adorable animals that live on this planet. More than 50 little-known flyers, swimmers, and crawlers are included in this book, whimsically illustrated by artist Hsinping Pan. Cuddly Critters for Little Geniuses will remind you that nature contains many wonders–and these cute and curious creatures are no exception!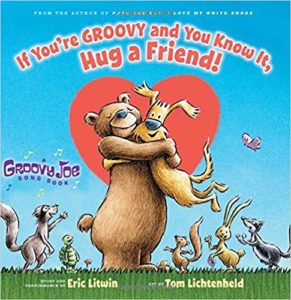 If You're Groovy and You Know It, Hug a Friend by Eric Litwin, illustrated Tom Lichtenheld
Signature rhyme, repetition, and musical writing style, combined with wild and witty illustrations, come together to create a character that will have you singing all day long. Groovy Joe is back, ready to get groovy!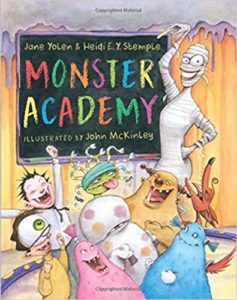 Monster Academy by Jane Yolen and Heidi E. Y. Stemple, illustrated by John McKinley
Come along with Principal Frank N. Stein into a bright, energetic classroom where the class pet is a big purple boa constrictor, recess is in a swamp, and class bats help build a Creepy Castle in the Monster Maker's Lab. When Tornado Jo, a new student, roars into class, a storm is brewing. Who could ever guess that her new best friend will be a vampire, and she'll help him find his missing fang?
Chapter Book New Releases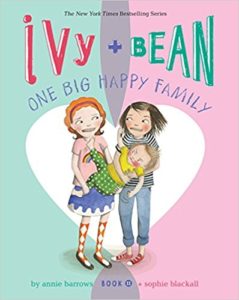 Ivy and Bean: One Happy Family by Annie Barrows, illustrated by Sophie Blackall
Ivy's worried. She's read a lot of books about only children, so she knows that they are sometimes spoiled rotten. They don't share their toys. They never do any work. They scream and cry when they don't get their way. Spoiler alert! Ivy doesn't have any brothers or sisters. That's why she's worried. How can she keep from getting spoiled? She could give away all her clothes, but she'd probably get in trouble. She could give away all her toys, but she likes her toys. There's really only one solution: she needs a baby sister, on the double! Luckily, Ivy and Bean know just where to get one.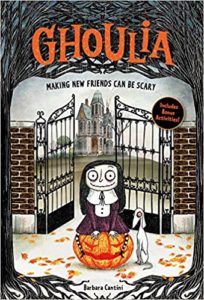 Ghoulia by Barbara Cantini
Ghoulia lives in Crumbling Manor with her Auntie Departed and spends most of her time playing with Tragedy, her beloved albino greyhound. But things aren't as easy as they seem for this little zombie girl—all she wants is a real friend. She tries to venture past the manor's walls, but she can't hide her pale green skin or the deep purple circles under her eyes. The other children will be afraid of her, and no one will want to be her friend. But when Halloween rolls around, Ghoulia hatches a brilliant plan. All the other, ordinary children will be dressed up like monsters, so Ghoulia can go out into the town and be entirely herself.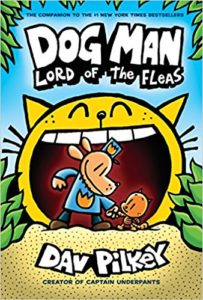 Dog Man: Lord of the Fleas by Dav Pilkey
When a new bunch of baddies bust up the town, Dog Man is called into action — and this time he isn't alone. With a cute kitten and a remarkable robot by his side, our heroes must save the day by joining forces with an unlikely ally: Petey, the World's Most Evil Cat. But can the villainous Petey avoid vengeance and venture into virtue?
Middle Grade New Releases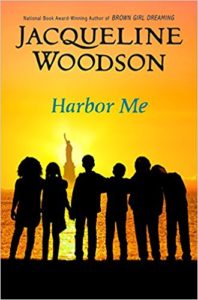 Harbor Me by Jacqueline Woodson
It all starts when six kids have to meet for a weekly chat–by themselves, with no adults to listen in. There, in the room they soon dub the ARTT Room (short for "A Room to Talk"), they discover it's safe to talk about what's bothering them–everything from Esteban's father's deportation and Haley's father's incarceration to Amari's fears of racial profiling and Ashton's adjustment to his changing family fortunes. When the six are together, they can express the feelings and fears they have to hide from the rest of the world. And together, they can grow braver and more ready for the rest of their lives.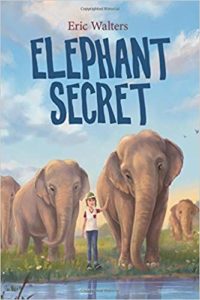 Elephant Secret by Eric Walters
Sam was born and raised in an elephant sanctuary. When a beloved elephant dies giving birth, Sam develops a connection with baby Woolly—who isn't actually an elephant but was cloned from woolly mammoth DNA. And the billionaire genius behind the cloning experiment will stop at nothing to protect his investment. Smart, determined, and loving, Sam stands up to this powerful adversary to protect the sanctuary and her herd. In the best tradition of child-animal friendship stories, Elephant Secret explores the strong and complex bond between Sam and her elephants while offering a fascinating, authentic glimpse into elephant—and human—behavior.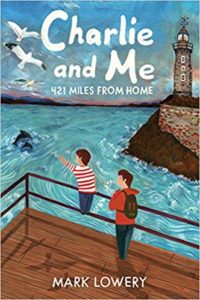 Charlie and Me: 421 Miles From Home by Mark Lowery
Thirteen-year-old Martin and his younger brother Charlie are on a very special journey. They're traveling 421 miles all the way from Preston in northern England to the very tip of Cornwall in the southwest. By train, bus, and taxi, they are determined to get there to catch a glimpse of the dolphin that regularly visits the harbor and made last year's family vacation so special. But is that the only reason they are going? Mom stays in bed all day and Dad is always at work. Martin is doing his best to be a good big brother, but Martin must come to terms with why he and Charlie are making the journey to Cornwall in the first place.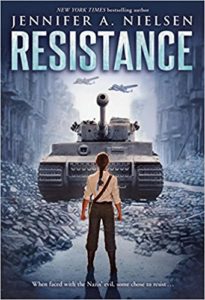 Resistance by Jennifer A. Nielsen
Chaya Lindner is a teenager living in Nazi-occupied Poland. Simply being Jewish places her in danger of being killed or sent to the camps. After her little sister is taken away, her younger brother disappears, and her parents all but give up hope, Chaya is determined to make a difference. Using forged papers and her fair features, Chaya becomes a courier and travels between the Jewish ghettos of Poland, smuggling food, papers, and even people.
Note from Karina: Due to violent content, I think this would be best for upper middle grade readers.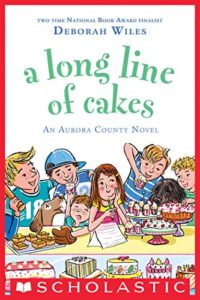 A Long Line of Cakes by Deborah Wiles
Emma Lane Cake has five brothers, four dogs, and a family that can't stay put. The Cake family travels from place to place, setting up bakeries in communities that need them. Then, just when Emma feels settled in with new friends… they move again. Now the Cakes have come to Aurora County, and Emma has vowed that this time she is NOT going to get attached to ANYONE or ANYTHING. Why bother, if her father's only going to uproot her again? But fate has different plans. As does Ruby Lavender, who is going to show Emma Lane Cake a thing or two about making friendship last.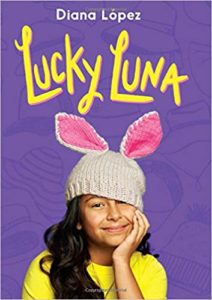 Lucky Luna by Diana López
Luna Ramos has too many primas to count, but there's one cousin that's always getting her into trouble, Claudia. After locking her in the bathroom at their other cousin's quinceañera, Luna is grounded for a month. Her punishment? Not being allowed to wear her signature hats, which she uses to hide her birthmark, a streak of white in her otherwise dark hair. The only thing that gives Luna the tiniest bit of satisfaction is knowing that Claudia is also being teased because she has a big nose. Eventually, Luna discovers that Claudia was not being teased after all. Every joke Luna heard was actually directed at her!
City of Ghosts by Victoria (V.E.) Schwab
When Cass's parents start hosting a TV show about the world's most haunted places, the family heads off to Edinburgh, Scotland. Here, graveyards, castles, and secret passageways teem with restless phantoms. And when Cass meets a girl who shares her "gift," she realizes how much she still has to learn about the Veil — and herself. And she'll have to learn fast. The city of ghosts is more dangerous than she ever imagined.
Graphic Novel New Releases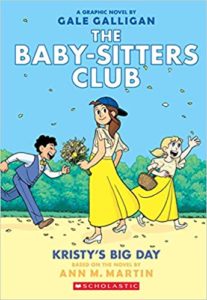 Kristy's Big Day, a graphic novel by Gale Galligan based on the book by Ann M. Martin
Kristy's mom is getting married, and Kristy is going to be a bridesmaid! The only problem? Fourteen kids are coming to town for the wedding. Kristy, Claudia, Mary Anne, Stacey, Dawn, and Mallory think they can handle it, but that's before they spend a week changing diapers, stopping arguments, solving mix-ups, and planning activities. It's the biggest job the BSC has ever had, but they'll work together to make sure Kristy's big day is a success!
Backlist Book Recommendations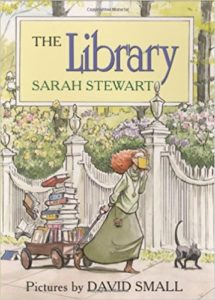 Picture Book Recommendation: The Library by Sarah Stewart, illustrated by David Small
Elizabeth Brown doesn't like to play with dolls and she doesnt like to skate. What she does like to do is read books. Lots of books. The only problem is that her library has gotten so big she can't even use her front door anymore. What should Elizabeth Brown do?
Note from Karina: I love this book so much. The illustrations are absolutely charming, and the story of Elizabeth the book lover is one I think all of us can relate to, am I right?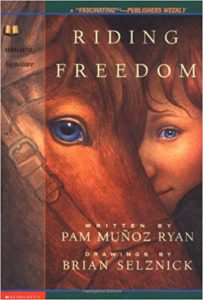 Middle Grade Recommendation: Riding Freedom by Pam Munoz Ryan, drawings by Brian Selznick
In this fast-paced, courageous, and inspiring story, readers adventure with Charlotte Parkhurst as she first finds work as a stable hand, becomes a famous stage-coach driver (performing brave feats and outwitting bandits), finds love as a woman but later resumes her identity as a man after the loss of a baby and the tragic death of her husband, and ultimately settles out west on the farm she'd dreamed of having since childhood. It wasn't until after her death that anyone discovered she was a woman.
Note from Karina: My ten-year-old daughter loves this book, so I picked it up the other day. I am a huge fan of Pam Munoz Ryan's book Echo, and I am really enjoying Riding Freedom so far.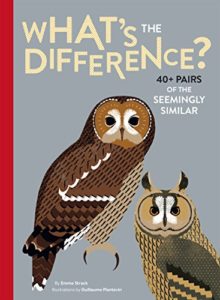 Nonfiction Book Recommendation: What's the Difference? 40+ Pairs of the Seemingly Similar by Emma Strack, illustrated by Guillaume Plantevin
What distinguishes a mandarin orange from a clementine, an iris from a pupil, a tornado from a cyclone, and a bee from a wasp? The difference is in the details! This content-rich illustrated extravaganza distills the distinctions between an impressive collection of pairs—from animals to food to geography and more—offering enlightening trivia, amusing tidbits, and unforgettable facts in a highly browsable format. Young readers can dip in quickly to feed their curiosity, or delve into the details and stay awhile.
Note from Karina: This is a delightful nonfiction book about seemingly familiar pairs and how to tell the difference. Discover what makes white and dark chocolate different, how to tell between a garter snake and a viper, and what distinguishes between a stetson and a borsalino.
I'd love to know what you are reading this week! Find me on Twitter at @KarinaYanGlaser, on Instagram at @KarinaIsReadingAndWriting, or email me at karina@bookriot.com.
Until next week!
Karina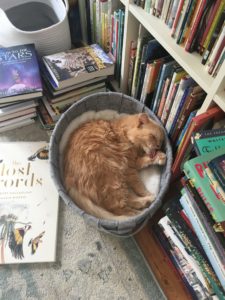 *If this e-mail was forwarded to you, follow this link to subscribe to "The Kids Are All Right" newsletter and other fabulous Book Riot newsletters for your own customized e-mail delivery. Thank you!*