Hola, bookish familia! Welcome to In The Club, a newsletter of resources to keep your book group well-met and well-read.
No lie: this week's newsletter was almost "Read books and discuss them ok thank you that is all for now bye" because I have a week-old nephew and he occupies, like, 92% of my brain space. But I got it together long enough to bring you some tips on philanthropy, science fiction baddies, phallic soap and more. Shall we?
---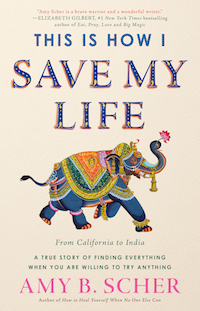 Sponsored by Amy B. Scher, author of This is How I Save My Life (Simon & Schuster).
Sometimes, you only find everything when you are willing to try anything …
The true story of a fiery young woman's heartwarming and hilarious journey that takes her from near-death in California to a trip around the world in search of a cure for late-stage Lyme disease. Along the way, she discovers a world of cultural mayhem, radical medical treatment, an unexpected romance, and, most importantly, a piece of her life she never even knew she was missing. Praised by Vikas Swarup, New York Times bestselling author of Slumdog Millionaire, as "an inspiring story that will change the way you look at life."
---
There's still time to win 16 of the phenomenal books featured on the Recommended podcast!  Enter here to win by August 31. Hurry!
WTF Do I Read? Sometimes you just need a quick and easy way to figure out your next book club read. Here's a quiz that'll take the guesswork out for you. Boom.
Read Well & Do Good – The past year's slew of natural disasters and humanitarian crises have forced me to more thoughtfully consider the concept of philanthropy. If you too are thinking more about it – what it means, what it does, and when it's truly effective – check out these five books on the subject.
Star-Studded Book Clubs – Did you know that Oprah's Book Club ran as a segment of her talk show for the first time in 1996? Skrrrr. Nineteen ninety-QUE?! *buys eye cream* But this segment isn't about me feeling old as dirt; it's about the rise of the celebrity book club and how everyone from Reese Witherspoon to Jimmy Fallon has gotten in on the club action.
Cooking & Killing – You're listening to Read or Dead, yes? Book Riot's bi-weekly mystery/thriller podcast? On last week's episode, Katie and Rincey talked about culinary cozy mysteries and their research was pretty hilarious (spoiler: crack is, like, so shocking!). I usually take my cozies classically British but these food-related mysteries are a freaking riot.
So… who's going to invite me to their cozy cooking club?
Literotica. Get Into It. – Jess Pryde, editor of our Kissing Books newsletter and co-host of the When in Romance podcast) put together this big, beautiful, diverse list of must-read erotic fiction to spice up your reading life.   
Hugo Hat Trick – The 2018 Hugo Awards were given out over the weekend and if you're vewy, vewy qwiet, you'll hear my TBR going to aaaabsolute crap. While all of the winners (so many women, yay!) are fabulous, let us bow down to the incomparable N.K. Jemisin. She took home the award for best novel for the third time in a row, y'all. Third!
Also: read like Obama. Might I suggest playing "Baby Come Back" in the background?
---
Thank you for clubbing with me! If you want to be friendly on the innanets, you can find me on el Twitter or on the gram at @buenosdiazsd. Shoot me an email at vanessa@riotnewmedia.com if you have any feedback or just to say hola (and invite me to your cozy cook-off: don't think I forgot).
Stay bad & bookish, my friends. Hasta luego!
Vanessa