Hello mystery fans! This week, I have a crime novella set in the '80s, an edge of your seat thriller, and a murder mystery at a dark sky park.
---
Sponsored by A TALE OF TWO MURDERS by Heather Redmond published by Kensington Publishing.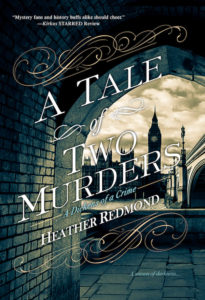 Charles Dickens is one of the most famous and influential writers in English literature and this new series asks "what if Dickens had also solved crimes" The first in a new series, A TALE OF TWO MURDERS features young aspiring author, Charles Dickens, as an amateur sleuth in Victorian London.
---
Crime Novella! (TW child abuse physical & sexual / domestic abuse)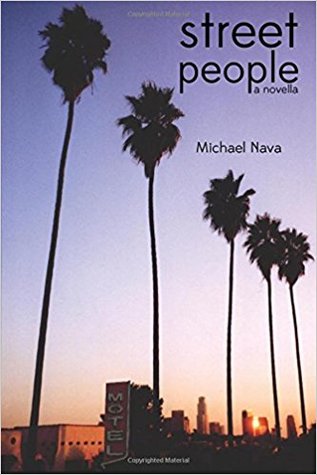 Street People by Michael Nava: Ben Manso is an escort in LA who is just a casual participator in life, in that he doesn't really have much passion, excitement, care. He just does the things he needs to do to get by, causing as little harm and trying to help when it's needed of him. That's how he ends up with his wallet stolen and telling the police that a street kid he's seen is clearly in danger by a man who must be abusing him. Set in the '80s during the AIDS crisis, the case is further complicated by the vilification of gay men, leaving Ben to try and navigate the legal system to figure out what really happened to the street kid and how he can help him. This is a novella–longer than a short story, shorter than a novel–so it's a quick read and a good introduction to Nava's writing, which also introduces, towards the end, the star of his Henry Rios series. A good crime story that stays with you, and leaves you questioning and thinking.
Edge Of Your Seat Thriller! (TW suicide/ child abuse/ child rape / domestic violence)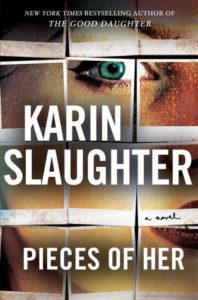 Pieces of Her by Karin Slaughter: Part of the genius of Slaughter's writing is that she settles you into a story and just when you've gotten comfortable BAM, you're in some seriously intense events with your heart in your throat. In this standalone (you should read her catalog!), we're introduced to Andy and Laura, mother and daughter who are kind of at an impasse. Andy moved back from NY to Belle Isle when her mother was diagnosed with cancer. But now Laura is better and wants Andy to go back to chasing after a life for herself. But Andy doesn't want to. Except neither is going to get what they want when a violent event forces Andy to run for her life and question everything she's ever known. Told in past and present, you watch as Andy reacts to her quiet life being destroyed and placed in imminent danger, and get a past story of anarchist/cult members. I couldn't put this down and am so glad it's already sold the rights for adaptation as it's a perfect edge of your seat thriller, with a lead who I found reacted in completely believable ways rather than suddenly knowing martial arts and how to save everybody. Plus, if crime fiction is supposed to shine a light in our dark corners Slaughter does that by holding up a gigantic mirror to our society. Don't miss this one if you're a fan of thrillers.
A Fast-Paced Mystery Where Everyone Is Suspicious! (TW suicide/ PTSD/ domestic abuse)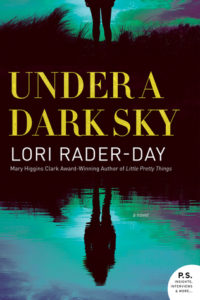 Under a Dark Sky by Lori Rader-Day: Eden Wallace is a widow with a debilitating fear of the dark, which has taken over her life. When she discovers that, before he'd passed away, her husband had reserved a getaway for them at a dark sky park, she decides to go, hoping she'll use it to force herself out of her fear. But, immediately, there's a problem as it turns out her and a group of renters all thought they had rented a house to themselves when in fact they're all sharing it. So Eden is now in a house with a group of friends from college unable to drive back home because she'll be trapped in the dark night. And then, of course, there's a murder and everyone is a suspect! Eden is stuck as police try to figure out who had motive to kill as she watches her "roommates'" secrets all start to come out, which forces even Eden's secrets to escape… (I liked Tavia Gilbert's narration on the audiobook.)
Recent Releases
Minky Woodcock: The Girl Who Handcuffed Houdini by Cynthia von Buhler (An interesting, twisty, pulpy graphic novel with a lady detective "undercover" in the magical and dangerous world of Houdini.)
Red, White, Blue by Lea Carpenter (TBR: A woman's father dies on the eve of her wedding and soon she's not only grieving him but discovering his past secret life with the CIA.)
Not Her Daughter by Rea Frey (Just started reading: Told in Then and Now as a woman kidnaps a little girl thinking she's saving the girl from a cruel mother. Recently sold the film and TV rights.)
The Truth Lies Here by Lindsey Klingele (TBR: An aspiring journalist, boy-next-door, and quarterback team up to find a missing father after a series of locals are found dead.)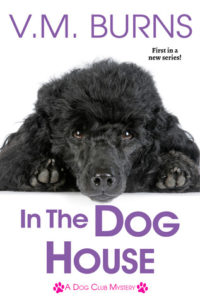 In the Dog House (Dog Club Mystery #1) by V.M. Burns (TBR: Cozy mystery where the wife is accused of murdering her husband and needs her defense attorney daughter, best friend, and K-9 partnered cop to help prove her innocence.)
LoveMurder (Valerie Hart #2) by Saul Black (Paperback) (Dark, gruesome, suspenseful serial killer: Review)
Remember you can win 16 awesome books featured on the Recommended podcast!
Browse all the books recommended in Unusual Suspects previous newsletters on this shelf. And here's an Unusual Suspects Pinterest board.
Until next time, keep investigating! And in the meantime, come talk books with me on Twitter, Instagram, and Litsy–you can find me under Jamie Canaves.
If a mystery fan forwarded this newsletter to you and you'd like your very own you can sign up here.