This edition of Today In Books is sponsored by Bellewether by Susanna Kearsley.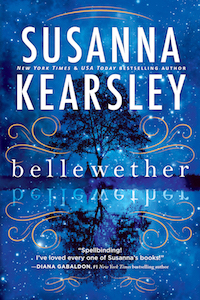 It's late summer, war is raging, and families are torn apart by divided loyalties and deadly secrets. In this complex and dangerous time, a young French Canadian lieutenant is captured and billeted with a Long Island family, an unwilling and unwelcome guest. As he begins to pitch in with the never-ending household tasks and farm chores, Jean-Philippe de Sabran finds himself drawn to the daughter of the house. Slowly, Lydia Wilde comes to lean on Jean-Philippe, true soldier and gentleman, until their lives become inextricably intertwined. Legend has it that the forbidden love between Jean-Philippe and Lydia ended tragically, but centuries later, the clues they left behind slowly unveil the true story.
---
Charleston Says "So Long" To Overdue Fines
Overdue books will no longer earn you late fines in the Charleston County Public Library system. But twist! This policy has actually been in place since JUNE. They kept it real quiet until they were sure it was a policy change they could commit to. But as we've written about before, overdue fines aren't essential to the financial health of a library, and limit access for lower-income patrons. So the change is here to stay!
Dune is Coming For Your Game Night
Have you heard about the new Dune adaptation coming out in 2020? It has inspired a new range of Dune tabletop games scheduled for release ahead of the film adaptation. I would be very much onboard with this trend of remakes and reboots if every single one of them were accompanied by a Cones-of-Dunshire-type tabletop game.
Anne With A Three
The third season of Anne With an E, the Netflix/CBC adaptation of Lucy Maud Montgomery's Anne of Green Gables, has been greenlit. People tend to have strong feelings about the tone of the series, either loving or hating how it brings the realness to the beloved story of Anne Shirley. If you haven't formed an opinion yet, you can watch the first two seasons on Netflix right now.