Hillary Clinton is leading the charge to bring the suffragettes to the small screen! She's teaming up with Steven Spielberg to put together an adaptation of The Woman's Hour: The Great Fight to Win the Vote by Elaine Weiss. According to the Hollywood Reporter, the adaptation will be either a TV movie or a limited series, and likely run on a premium cable or streaming network.
---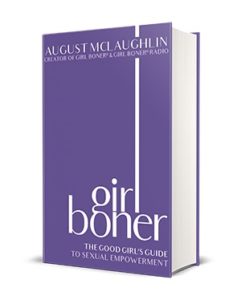 Sponsored by Girl Boner: The Good Girl's Guide to Sexual Empowerment by August McLaughlin, a book on sexual joy, wellness, and empowerment.
In today's world, sexual empowerment sells, from sex toys to soap. But what does sexual empowerment really mean for us in our own lives? A sexual wellness guide for the modern world, Girl Boner guides you through the process of sexual self-discovery, with insight from dozens of health and sexuality experts, true stories from women from all walks of life, and practical tips and journaling exercises. In the time of the #MeToo and #TimesUp movements, Girl Boner is the go-to companion for "good girls"—and everyone else—seeking the richer, more authentic, and pleasure-filled lives they deserve.
---
This detail in the story is particularly great:
Sources say as Weiss was writing the book, she was struck by the parallels between women's suffrage movement and the 2016 presidential election between Clinton and Donald Trump. It then became a priority for the author and journalist — whose work has appeared in multiple publications and on NPR — to get her book in Clinton's hands. Eventually, she met a bookstore owner who delivered The Woman's Hour to Clinton. Clinton, sources say, loved the contemporary and relevant issues the book tackled and felt it would be an important story to tell on TV while also creating strong roles for women.
I started The Woman's Hour earlier this year and enjoyed it quite a bit. The book focuses on events in Nashville, Tennessee in August 1920, and the last push to get the 19th Amendment ratified. It takes places over the last six weeks of the campaign, when all of the major players in the battle to get women the vote were there. I think the compressed location and timeframe makes it a perfect candidate for a limited series run. I can't even begin to dream cast the adaptation, given how many great roles for women it will offer.
We're a bunch of worried people. According to Barnes & Noble, sales of books related to anxiety are up 25 percent in June compared to a year ago. The most popular books were workbooks and tool-kids about how to deal with anxiety. Sales of books related to "finding happiness" have also increased 83 percent over the past year. Is anyone surprised?
A rare, leather-bound copy of a notebook with the computer program written by Ada Lovelace sold at an auction for almost £95,000. The book contains a translated essay about a computing machine, Lovelace's reflections on it, and the notes that led to her algorithm. It's one of just six copies of the book! Lovelace was a friend of Charles Babbage, daughter of Lord Bryon, and perhaps the world's first computer scientist.
The hosts of My Favorite Murder are writing a book, but the book isn't going to be entirely about murder. According to their publisher it will focus on stories about depression, eating disorders, addiction, and other formative events in Karen Kilgariff and Georgia Hardstark's lives – stories they've alluded to on the podcast, but haven't shared. I haven't listened to My Favorite Murder, but it's pretty universally recommended.
A numbered list of numbered book lists. This week I was excited to find a sequential list of numerical book lists to add more titles to your towering TBR piles:
Finally, check out some of these great, cheap ebooks available right now:
Don't forget! You can win 16 awesome books featured on the Recommended podcast! Enter here by August 31.You can find me on Twitter @kimthedork, and co-hosting the For Real podcast here at Book Riot. Happy reading!