This edition of Today In Books is sponsored by TarcherPerigee, bringing you Keiko Agena's No Mistakes.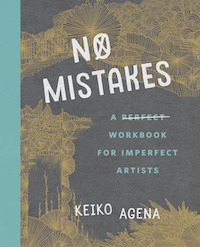 ---
BEL CANTO Has a Trailer
Ann Patchett's Bel Canto is getting the film treatment, with Ken Watanabe and Julianne Moore in starring roles. As Rioter Margaret Kingsbury points out, this is the first of Patchett's books to be adapted into a movie. Something to look forward to in September!
Snakes on a Plane, Except the Plane Is a Library
A Georgetown library closed down for two days while a pest-control company made sure the premises were snake-free. Why? Because library staff found a snake slithering around inside. And then two more live snakes were spotted. The pest-control company eventually found a dead snake, but as the Washington Post reports, "The whereabouts of the other snakes are unknown."
Celebrate International Cat Day With This Book
There's a book of cat portraits that's big in Japan. But these aren't your everyday headshots. The book is wall-to-wall cat paws. Cute? Weird? You can judge for yourself when the book has its English-language debut in September.