Hi Kid Lit friends,
I have been thinking about memory lately. What we remember, why we remember, and how our memory might sometimes conflict with what others remember. Memory is a terrific theme in literature, and I thought I would share some of the books that came to mind when I thought about memory.
---
Sponsored by Automated Books, publisher of Divining Another Dream and creator of Google Play App Multiplicity.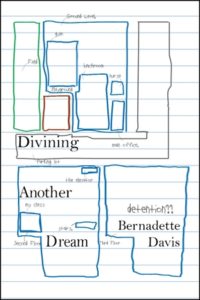 Nine-year-old Laiza Wendel can't remember anything because her memory consists only of events in her future. But for her, the future suddenly begins to look… short. She believes it means she will die soon, but she can't see how. Her teacher and friends want to help her overcome her new and unusual fear of getting hurt, but Laiza knows that they can't help unless she shares the secret about how she sees. Will she be able to determine what's wrong before her world falls apart?
Now available in paperback for $12.00.
---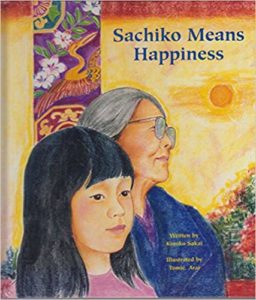 For picture books, Sachiko Means Happiness by Kimiko Sakai, illustrated by Tommy Arai, is a story about Sachiko and her grandmother and their changing relationship as the grandmother loses her memory. It is an honest portrayal of Alzheimer's and how it affects everyone in the family. This passage was particularly touching to me: "I looked into her eyes, trying to find the Grandmother I once knew. I saw instead a small, lost child, frightened and alone. She did not recognize anyone, not even me, and she was scared."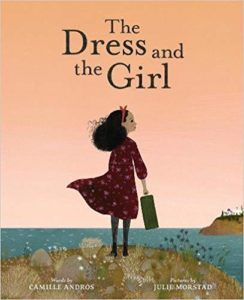 The Dress and the Girl by Camille Andros, illustrated by Julie Morstad, is a stunning new picture book that comes out on August 7th. When a girl and her ordinary dress have to leave their Greek island home and immigrate to America, the trunk carrying the dress is misplaced and the trunk goes on it's own journey through countries and continents while the girl grows up, gets married, and has her own daughter. The theme of memory – the memory of childhood, threads throughout this book in a gorgeous way.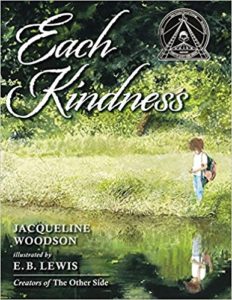 Each Kindness by Jacqueline Woodson, illustrated by E.B. Lewis, is a lovely and honest book about unkindness in a school setting. A new girl enters Chloe's class, and for some reason Chloe just doesn't like her even as Maya tries to be her friend. Chloe always says no whenever Maya asks if she can play with her, and then one day Maya doesn't come to school. That day, a teacher's lesson on kindness, and how each little thing we do ripples out into the world, makes Chloe realize that she wants to make the world a better place. But she never has a chance to apologize to Maya, because Maya never returns to school. In the final illustration we learn that sometimes we don't have the opportunities to correct our behavior, and that lingers in our memories for a long time.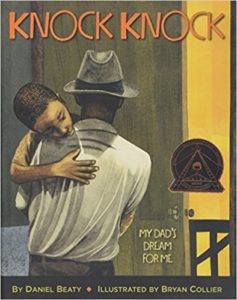 In Knock, Knock: My Dad's Dream for Me by Daniel Beaty, illustrated by Bryan Collier, a young boy wakes up to find his father gone. He writes his dad a letter, then waits for his dad to return to get it. But the knock never comes, and the young boy grows up trying to remember all of those moments with his father. A letter from his father mysteriously shows up, and the wisdom in that letter guides his life and his father's memory. "Knock knock for me, for as long as you become your best, the best of me still lives in you."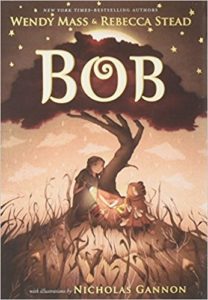 For middle grade books, Bob by Wendy Mass and Rebecca Stead was one of the first books I thought about when thinking about memory. In this book, a young girl Livy tries to remember her grandmother's home when she makes a visit there. While things are familiar, she can't remember much about her last trip many years ago. But when she finds Bob, a strange creature wearing a chicken costume, the memories flood in and she remembers that she had promised to help him find his way back to his family. Bob, on the other hand, had been waiting patiently for years for Livy to return, living off the memory that she promised she would come back for him.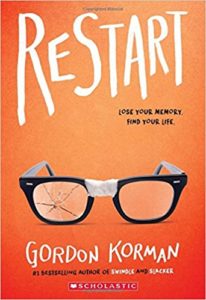 Restart by Gordon Korman is about middle schooler Chase who wakes up to find himself in a hospital. Apparently he fell off the roof of his house, and now he can't remember anything. When he returns to school, the guys who seem like creeps treat him like a hero, and the kids he actually wants to be friends with appear scared of him. He begins to piece together his past as he tries to figure out who he wants to be.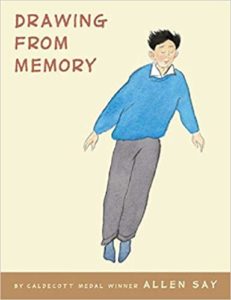 Drawing from Memory by Allen Say is a graphic memoir of Say's childhood and his evolution as an artist. Shunned by his father, who didn't understand his son's artistic leanings, Allen was embraced by Noro Shinpei, Japan's leading cartoonist and the man he came to love as his "spiritual father." As WWII raged, Allen was further inspired to consider questions of his own heritage and the motivations of those around him.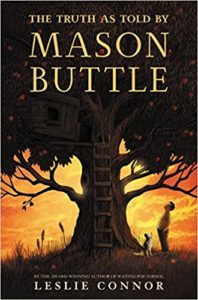 The Truth As Told by Mason Buttle by Leslie Connor is a book all about memory: what Mason remembers about that fateful day when his best friend, Benny Kilmartin, turned up dead in the Buttle family's orchard. Everyone knows Mason can barely read or write, but he is honest as the day is long and can't understand why Lieutenant Baird won't believe the story Mason has told about that day.
One of my favorite books is Brown Girl Dreaming by Jacqueline Woodson, and it is all about memory: Woodson's memory growing up in America's north and south. What sings in this book is Woodson's memories of yearning to be a writer – those memories are so deep and beautiful and set the path for the world embracing her as one of the most beloved children's book writers of all time.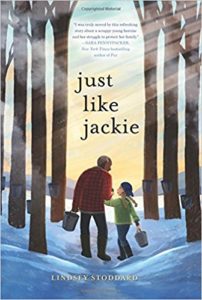 Another book about memory loss is Just Like Jackie by Lindsey Stoddard. For as long as Robinson Hart can remember, it's just been her and Grandpa. He taught her about cars, baseball, and everything else worth knowing. But Grandpa's memory has been getting bad—so bad that he sometimes can't even remember Robbie's name. If she told anyone how forgetful Grandpa's been getting lately, they'd take her away from him. He's the only family she has—and it's up to her to keep them together, no matter what.
In Ghost Boys by Jewell Parker Rhodes, twelve-year-old Jerome is shot by a police officer who mistakes his toy gun for a real threat. As a ghost, he observes the devastation that's been unleashed on his family and community in the wake of what they see as an unjust and brutal killing. Soon Jerome meets another ghost: Emmett Till, a boy from a very different time but similar circumstances. As Emmett helps Jerome process what has happened and tells him about his own memories, they both go on a journey towards recognizing how historical racism may have led to the events that ended Jerome's life.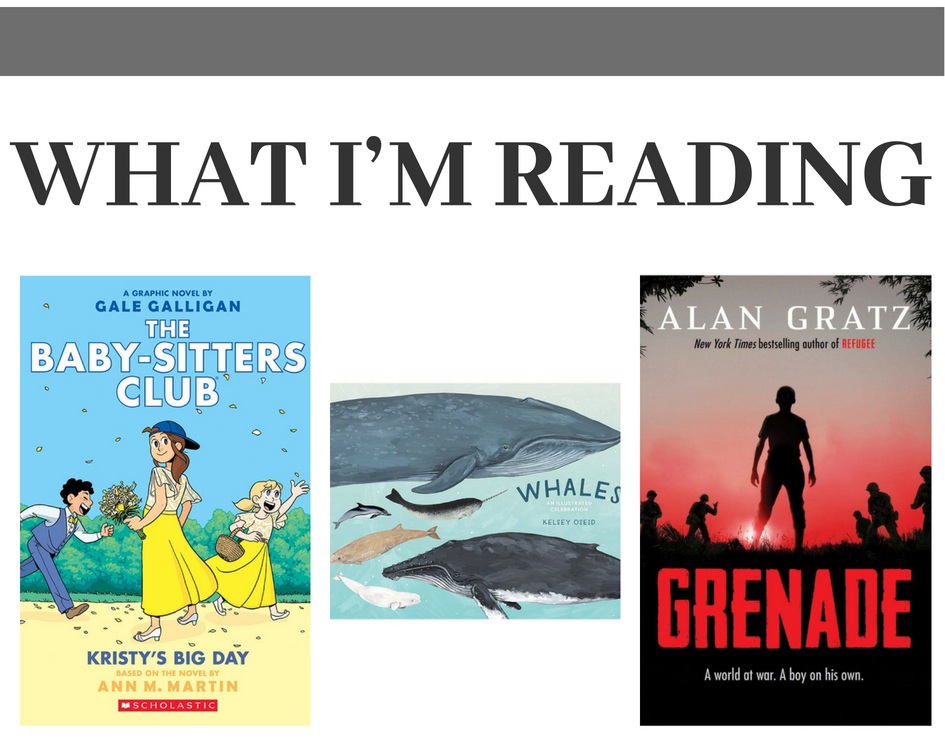 I was so excited to get a sneak peek at Kristy's Big Day, the graphic novel by Gale Galligan and based on the novel by Ann. M. Martin. This releases on August 28th by Scholastic. I grew up on The Baby-Sitter's Club books, and I just adore the graphic novel adaptations.
Whales, An Illustrated Celebration by Kelsey Oseid (Ten Speed Press, 8/21) is a gorgeously illustrated and filled with interesting and educational facts about whales, dolphins, and porpoises. I'm a sucker for nonfiction ocean books, and this one is a definitely winner.
I also began Grenade by Alan Gratz (10/9, Scholastic), which is set in 1945 and told in two voices. Hideki lives with his family on the island of Okinawa, near Japan. When WWII crashes onto his shores, Hideki is drafted into the Blood and Iron Student Corps to fight for the Japanese army. Ray, a young American Marine, has just landed on Okinawa. This is Ray's first-ever battle, and he doesn't know what to expect — or if he'll make it out alive. Like his NYT bestseller Refugee, this book will make you think deeply about history and the importance of the choices we make.
Around the web…
Guess what the first printing is for Dog Man: Lord of the Fleas by Dav Pilkey? Three million copies.
Amy Poehler Options The Vanderbeekers of 141st Street by Karina Yan Glaser, via Book Riot (Can you tell I'm excited about this?)
28 of the Absolute Spookiest Books for Kids and Teens, via Book Riot
Are You an Ivy or a Bean? Kids Pick in New Video, via Chronicle Books
New Giveaway Alert!
Hey, we have a new giveaway for August! Get 16 awesome books featured on the Recommended podcast! Enter here by August 31! (Did you know I was on the second season of Recommended? Here me talk about my recommended, Roll of Thunder, Hear My Cry by Mildred D. Taylor, here.)
I'd love to know what you are reading this week! Find me on Twitter at @KarinaYanGlaser, on Instagram at @KarinaIsReadingAndWriting, or email me at karina@bookriot.com.
Until next time!
Karina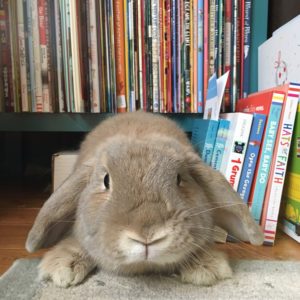 Izzy says hi!
*If this e-mail was forwarded to you, follow this link to subscribe to "The Kids Are All Right" newsletter and other fabulous Book Riot newsletters for your own customized e-mail delivery. Thank you!*