Hey YA Readers: Let's talk nonfiction!
"What's Up in YA?" is sponsored by Heart of Thorns by Bree Barton from Epic Reads.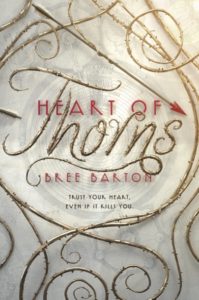 Seventeen-year-old Mia Rose has pledged her life to hunting Gwyrach: women who can manipulate flesh, bones, breath, and blood. The same women who killed her mother without a single scratch.
But when Mia's father suddenly announces her marriage to the prince, she is forced to trade in her knives and trousers for a sumptuous silk gown. Only, the wedding goes disastrously wrong, and Mia discovers she has dark, forbidden magic—the very magic she has sworn to destroy. Now, as she untangles the secrets of her past, Mia must learn to trust her heart…even if it kills her.
---
YA nonfiction has become stronger and stronger in the last decade. I'm a huge fan, and I find it sad we don't talk about it quite enough when we talk about YA more broadly. Sure, it's often not as flashy or sexy, but it's still damn good.
Here's a peek at seven upcoming YA nonfiction books to pop onto your TBR. I've read a couple, but not all of them, so I've pulled the descriptions from Goodreads.
Nineteen sixty-eight was a pivotal year that grew more intense with each day. As thousands of Vietnamese and Americans were killed in war, students across four continents took over colleges and city streets. Assassins murdered Dr. King and Robert F. Kennedy. Demonstrators turned out in Prague and Chicago, and in Mexico City, young people and Olympic athletes protested. In those intense months, generations battled and the world wobbled on the edge of some vast change that was exhilarating one day and terrifying the next. To capture that extraordinary year, editors Marc Aronson and Susan Campbell Bartoletti created an anthology that showcases many genres of nonfiction. Some contributors use a broad canvas, others take a close look at a moment, and matched essays examine the same experience from different points of view. As we face our own moments of crisis and division, 1968 reminds us that we've clashed before and found a way forward — and that looking back can help map a way ahead.
By winning the state high school basketball championship in 1955, ten teens from an Indianapolis school meant to be the centerpiece of racially segregated education in the state shattered the myth of their inferiority. Their brilliant coach had fashioned an unbeatable team from a group of boys born in the South and raised in poverty. Anchored by the astonishing Oscar Robertson, a future college and NBA star, the Crispus Attucks Tigers went down in history as the first state champions from Indianapolis and the first all-black team in U.S. history to win a racially open championship tournament—an integration they had forced with their on-court prowess.
World War II is over, but tensions between the communist Soviet Union and the US are at an all-time high. In America, communist threats are seen everywhere and a committee is formed in the nation's capital to investigate those threats. Larry Dane Brimner follows the story of 19 men–all from the film industry–who are summoned to appear before the House of Representatives Committee on Un-American Activities. All 19 believe that the committee's investigations into their political views and personal associations are a violation of their First Amendment rights. When the first 10 of these men refuse to give the committee the simple answers it wants, they are cited for contempt of Congress and blacklisted.
Bonnie and Clyde: we've been on a first name basis with them for almost a hundred years. Immortalized in movies, songs, and pop culture references, they are remembered mostly for their storied romance and tragic deaths. But what was life really like for Clyde Barrow and Bonnie Parker in the early 1930s? How did two dirt-poor teens from west Texas morph from vicious outlaws to legendary couple? And why?
Hey, Kiddo by Jarrett J. Krosoczka (Oct 9)
Hey, Kiddo is the graphic memoir of author-illustrator Jarrett J. Krosoczka. Raised by his colorful grandparents, who adopted him because his mother was an incarcerated heroin addict, Krosoczka didn't know his father's name until he saw his birth certificate when registering for a school ski trip. Hey, Kiddotraces Krosoczka's search for his father, his difficult interactions with his mother, his day-to-day life with his grandparents, and his path to becoming an artist.
Proud: Young Readers Edition by Ibtihaj Muhammad (Just released)
At the 2016 Rio Olympics, Ibtihaj Muhammad smashed barriers as the first American to compete wearing hijab, and made history as the first Muslim-American woman to medal. But it wasn't an easy road–in a sport most popular among wealthy white people, Ibtihaj often felt out of place. Ibtihaj was fast, hardworking, and devoted to her faith, but rivals and teammates (as well as coaches and officials) pointed out her differences, insisting she would never succeed. Yet Ibtihaj powered on. Her inspiring journey from a young outsider to an Olympic hero is a relatable, memorable, and uniquely American tale of hard work, determination, and self-reliance.
Born in the picturesque town of Taxco, Mexico, Julissa Arce was left behind for months at a time with her two sisters, a nanny, and her grandma while her parents worked tirelessly in America in hopes of building a home and providing a better life for their children. That is, until her parents brought Julissa to Texas to live with them. From then on, Julissa secretly lived as an undocumented immigrant, went on to become a scholarship winner and an honors college graduate, and climbed the ladder to become a vice president at Goldman Sachs.
This moving, at times heartbreaking, but always inspiring story will show young readers that anything is possible. Julissa's story provides a deep look into the little-understood world of a new generation of undocumented immigrants in the United States today-kids who live next door, sit next to you in class, or may even be one of your best friends.
____________________
And, if you want more recommendation of upcoming nonfiction, may I not-so-humbly suggest my forthcoming anthology (Don't) Call Me Crazy: 33 Voices Start The Conversation About Mental Health? This collection of essays and art is meant to be an approachable guide to thinking and talking about mental health in all its myriad forms. Out October 2.
Thanks for hanging & we'll see you later this week!