Hey Kid Lit friends,
Interestingly, there are a few new picture books featuring cats coming out today. Also, books with Halloween themes and scary stories. Check out these new releases, all fresh on the bookshelves today. The book descriptions are from Goodreads, but I'll add a
if I particularly loved a title.
---
We're giving away $500 of the year's best YA! Click here, or on the image below to enter:
---
Picture Book New Releases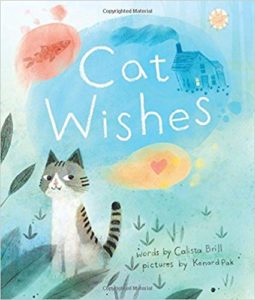 Cat Wishes by Calista Brill, illustrated by Kenard Pak
There's no such thing as a wish.
Or is there?
In this playful fairy tale, ever-skeptical Cat learns that wishes can come true—and not always in the ways we expect. After all, true magic lies in our connections with others, not just in the wishes we make.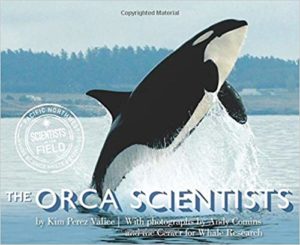 The Orca Scientists by Kim Perez Valice, with photographs by Andy Comins and the Center for Whale Research
Orcas have a reputation for being bloodthirsty, but that myth is being debunked as scientists learn more about these "killer" animals. Readers follow scientists in the Pacific Northwest who study the nuanced communication patterns, family structure, and socialization of orca whales, from marine biologists to specialists in the study of sound. With stunning photography and attention to field-based detail, The Orca Scientists paints a vivid picture of the individuals who have made it their life's work to better understand orcas, as well as the whales they are helping to avoid extinction.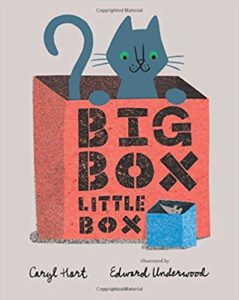 Big Box, Little Box by Caryl Hart, illustrated by Edward Underwood
Big box, little box
Shoe box, hat box . . .
Perfect for a cat box!
Join one cool cat and lots of fun boxes in this charming take on curiosity and friendship.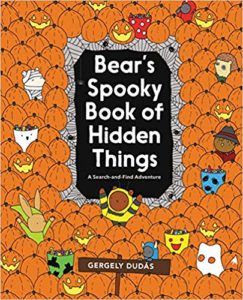 Bear's Spooky Book of Hidden Things by Gergely Dudas
On Halloween night, Bear is hoping for all treats and no tricks. And he'd like lots of his very favorite treat: honeycomb! Bear is off on an adventure—through a pumpkin patch and a haunted house and a corn maze—to search for this sweet. Can YOU help Bear sort through all the tricks to uncover where his treat is hidden?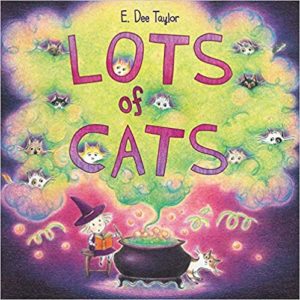 Lots of Cats by E. Dee Taylor
Margaret the witch is about to find out that taking care of a bunch of lively cats sounds like lots of fun…but it could turn out to be lots of trouble! In her debut as author-illustrator, E. Dee Taylor brings this magical book to life with humor, lots to spot in the art, and a great read-aloud rhythm.
Creature vs. Teacher: A Book of Rhyme by T. Nat Fuller, illustrated by Alex Eben Meyer
Playing on the popularity of benign monsters and mad scientists, Creature vs. Teacher is a gently irreverent book of rhymes with a deft narrative and a theme that is perfect for Halloween.
Middle Grade New Releases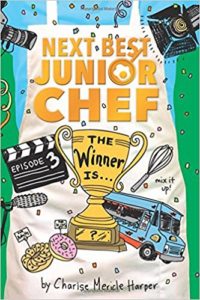 Next Best Junior Chef: The Winner Is… by Charise Mericle Harper
Two talented junior chefs have sliced and diced their way into the finale of Next Best Junior Chef. This week's theme: innovation. Which junior chef will rise to the top and earn the title of Next Best Junior Chef? And whose goose is cooked? Two contestants compete on- and off-camera, but only one will win the whole enchilada. This is a finale you won't want to miss!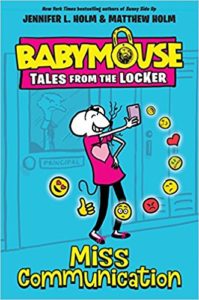 Babymouse Tales from the Locker: Miss Communication by Jennifer L. Holm and Matthew Holm
Ping! Ping! The sound of texting is in the air. Everyone at middle school has a cell phone. Babymouse just has to get one, too. But having a phone is a lot of work! Building up a following on SoFamous, learning text lingo, keeping up with all the important koala videos . . . Babymouse is ready to tear her whiskers out. Why does it suddenly feel like she has no friends? Somehow, Babymouse needs to figure out how to stop worrying and love her smartphone . . . if Locker doesn't eat it first.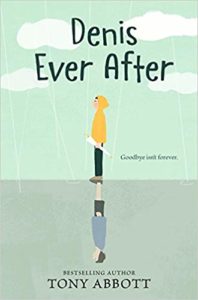 Denis Ever After by Tony Abbott
Denis Egan is dead.
He's okay with that. It's been five years since he died, and the place where souls go is actually pretty nice. Sure, there are some things about his life and how it ended he can't quite recall, but that's how it's supposed to be. Remembering could prevent Denis from moving on to whatever's next. However, something is standing in his way. His twin brother Matt can't let go of him, and as long as the living are holding on to his memory, Denis can't rest in peace.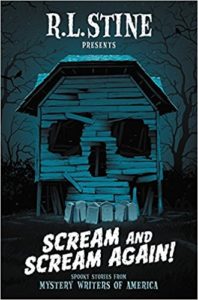 R.L. Stein Presents Scream and Scream Again! Spooky Stories from Mystery Writers of America
Read it if you dare! With twenty never-before-published scary stories from some of the most popular authors today—including Chris Grabenstein, Wendy Corsi Staub, Heather Graham, Peter Lerangis, R.L. Stine, Bruce Hale, Emmy Laybourne, Steve Hockensmith, Lisa Morton, Ray Daniel, Beth Fantaskey, Phil Mathews, Carter Wilson, Doug Levin, Jeff Soloway, Joseph S. Walker, Alison McMahan, Daniel Palmer, Tonya Hurley, and Stephen Ross—it's sure to leave readers screaming for more.
The Turning by Emily Whitman
Aran has never truly fit in with his selkie clan. He was born in his human form, without a pelt to transform him into a sleek, strong seal. Each day he waits, left behind while his selkie family explores the deep ocean. What if his pelt never comes? Does the Moon even see him? Is he putting his clan at risk? When his mother undertakes a journey to the far north to seek help, Aran is left in the care of a reclusive human woman on remote Spindle Island. Life on land is full of more wonders—and more dangers—than Aran could have ever imagined. Soon Aran will be forced to decide: will he fight for his place on land, or return to his home in the sea?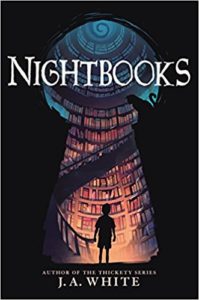 Nightbooks by J.A. White
Alex's original hair-raising tales are the only thing keeping the witch Natacha happy, but soon he'll run out of pages to read from and be trapped forever. He's loved scary stories his whole life, and he knows most don't have a happily ever after. Now that Alex is trapped in a true terrifying tale, he's desperate for a different ending—and a way out of this twisted place.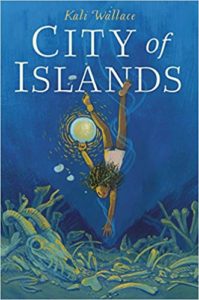 City of Islands by Kali Wallace
In a foggy archipelago called the City of Islands, twelve-year-old Mara has always been fascinated by the magic that drifts on the air as songs. But as a servant for the powerful Lady of the Tides, Mara must earn her keep by searching for magical treasures deep in the murky ocean. Then Mara finds the skeletons of strange hybrid creatures that haven't existed in the city for centuries—all humming with a powerful spell-song. Convinced her discovery will earn her the opportunity to study magic, Mara shares them with the Lady. But instead of a reward, the Lady gives Mara a new challenge: to sneak into the island fortress, the Winter Blade.
Backlist Book Recommendations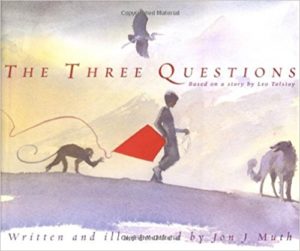 Picture Book Recommendation: The Three Questions by Jon J. Muth
Young Nikolai is searching for the answers to his three questions:
When is the best time to do things?
Who is the most important one?
What is the right thing to do?
But it is his own response to a stranger's cry for help that leads him directly to the answers he is looking for.
This profound and inspiring book is about compassion and being engaged in each moment.
With his stunning watercolors — and text that resounds with universal truths, Jon J Muth has transformed a story by Leo Tolstoy into a timeless fable for readers of every age!
Note from Karina: I heard my daughter and her teacher read this out loud to each other the other day, and I loved revisiting this old favorite. It's a beautiful story about what it means to be alive and to do good in the world.
Middle Grade Recommendation: Drawing from Memory by Allen Say
Drawing from Memory is Allen Say's own story of his path to becoming the renowned artist he is today. Shunned by his father, who didn't understand his son's artistic leanings, Allen was embraced by Noro Shinpei, Japan's leading cartoonist and the man he came to love as his "spiritual father." As WWII raged, Allen was further inspired to consider questions of his own heritage and the motivations of those around him. He worked hard in rigorous drawing classes, studied, trained–and ultimately came to understand who he really is.
Note from Karina: This is packaged like a picture book, but it is geared more for middle grade readers and up. Part graphic novel and part picture book, this memoir is gorgeous and tells so much about the life of the gifted artist and children's book maker Allen Say.
I'd love to know what you are reading this week! Find me on Twitter at @KarinaYanGlaser, on Instagram at @KarinaIsReadingAndWriting, or email me at karina@bookriot.com.
Until next week!
Karina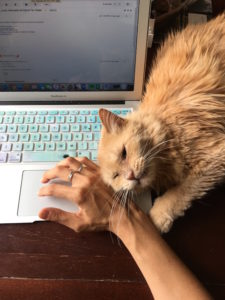 *If this e-mail was forwarded to you, follow this link to subscribe to "The Kids Are All Right" newsletter and other fabulous Book Riot newsletters for your own customized e-mail delivery. Thank you!*