This edition of Today in Books is sponsored by Flatiron Books, publishers of The Family Tabor by Cherise Wolas.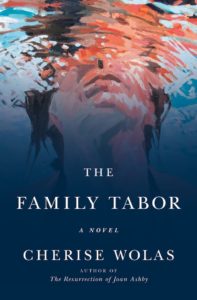 ---
Exploring How Reading Affects Eating Disorders
A researcher partnered with the UK eating disorder charity, Beat, to design an online questionnaire that asked respondents about the links they perceive between their reading habits and their mental health, with a focus on eating disorders. They found that 69% of those with personal experience of an eating disorder reported seeking out both fiction and nonfiction to help with their eating disorder, and that 36% had found the fiction or nonfiction they tried helpful. Click here to read the full report.
Students Paint Over Kipling Mural
Students at the University of Manchester painted over a mural of Rudyard Kipling's "If," replacing it with Maya Angelou's poem, "Still I Rise." Sara Khan, the student union's liberation and access officer, said students had not been consulted about the commissioned mural decorating the union's building. "Kipling stands for the opposite of liberation, empowerment and human rights – the things that we, as an SU, stand for," Khan stated. Kipling's works have been criticized for being racist; George Orwell called the author a "jingo imperialist."
Props To Lauren Groff
People have been talking about Fates and Furies author Lauren Groff's excellent response to an interview question asked by a reporter from The Harvard Gazette. The lowdown: the reporter asked Groff, "You are a mother of two. In 10 years you have produced three novels and two short-story collections. Can you talk about your process and how you manage work and family?" Groff responded, "I understand that this is a question of vital importance to many people, particularly to other mothers who are artists trying to get their work done, and know that I feel for everyone in the struggle. But until I see a male writer asked this question, I'm going to respectfully decline to answer it.​" Yes. All the yes.
And don't forget–we're giving away $500 of this year's best YA books (so far)! Click here to enter.