This edition of Today in Books is sponsored by Hush, My Inner Sleuth by M.E. Meegs.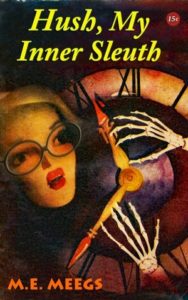 ---
Golden Man Booker Shortlist
The Golden Man Booker shortlist was announced over the long weekend. On the list are In a Free State by V. S. Naipaul, Moon Tiger by Penelope Lively, The English Patient by Michael Ondaatje, Wolf Hall by Hilary Mantel, and Lincoln in the Bardo by George Saunders. The Golden Man Booker selects books "from Man Booker history that have best stood the test of time." You can vote on who should win; the winner will be announced on July 8th.
Accountant Embezzles Millions From Literary Agency
And Chuck Palahniuk responded. Why? Because his finances were directly affected by the embezzlement, according to his statement. Accountant Darin Webb faces major jail time on wire-fraud charges for embezzling $3.4 million from Manhattan agency Donadio & Olson, which represents Palahniuk, the estate of The Godfather writer Mario Puzo, and other big authors.
AirBnB The Home Of F. Scott and Zelda Fitzgerald
Get ready to write that Jazz Age-inspired novel you've been thinking about because your perfect, self-made writer's retreat is now open for AirBnB booking. Spend a few nights in the Montgomery, Alabama home of society and literary darlings F. Scott and Zelda Fitzgerald. The apartment, which occupies part of the F. Scott Fitzgerald Museum, wasn't exactly the site of innumerable joys, but it is where F. Scott wrote Tender is the Night.
Don't forget we're giving away $500 to the bookstore of your choice! Enter here!