This edition of Today in Books is sponsored by Disney Publishing Worldwide's Neanderthal Opens the Door to the Universe.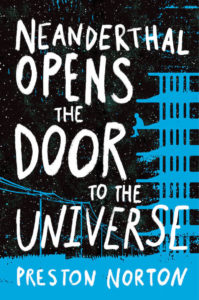 ---
Philip Roth (1933-2018)
The literary world is remembering prolific novelist Philip Roth, who passed away in New York this week. Contributor Rachel Manwill notes that "The only major literary prize Roth hadn't won was the Nobel, though he was often considered a favorite among speculators. He reportedly waited for a call from the Nobel committee every year at his agent's office, ready to embark on a publicity tour for the elusive honor that never came." The New York Times has collected the reviews they gave his work over the years if you'd like to read more.
Romance Novelist Becomes Gubernatorial Nominee
There are so many reasons to be excited that Stacey Abrams is now the Democratic nominee for governor of Georgia. But the most delightful reason is that Abrams is also Selena Montgomery, author of eight romance thrillers.
Idris Elba Hunches His Back for Netflix
Netflix is giving us a feature film modern retelling of The Hunchback of Notre Dame and Idris Elba is going to have his fingerprints all over it. He's starring in it, directing it, and producing it, and we can't wait!