Welcome to Book Riot's Events Newsletter, hosted by me, María Cristina. We're looking ahead at some of the bookish ways you can spend your time in the next couple weeks, and I'm sure there's at least one item here that can tempt you to put on pants and go out (in that order, please). Clear your calendars on the following dates, my reading friends.
---
Sponsored by Amazon Publishing
From chilling thrillers and epic adventures to inspiring non-fiction, discover your next summer read from Amazon Publishing starting at only $0.99.
---
IRL GATHERINGS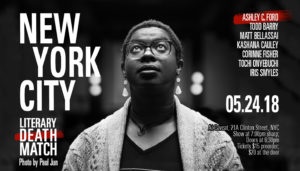 Literary Death Match: May 24 in New York, NY
Here's a lively hybrid event for y'all. Three celebrity judges sit in appraisal as four authors compete in a read-off. In this installment, Matt Bellassai (Everything Is Awful and Other Observations), Iris Smyles (Dating Tips for the Unemployed), Tochi Onyebuchi (Beasts Made of Night), and New York Times contributing opinion writer Kashana Cauley duke it out at Manhattan's Caveat.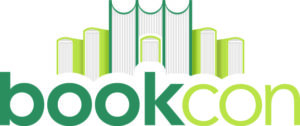 BookCon At BEA: June 2 and 3 in New York, NY
I don't know why there are so many other things listed in this newsletter when this is the only event that matters…because it's the only event where I'll be interviewing Nico Tortorella onstage about their debut poetry collection, All of It Is You! When I feel excited about it, it's like BookCon is my reward for traipsing around the Javits Center during the preceding BookExpo America. When I feel nervous about it, I can't finish my s
So come holla at your girl if you find yourself in the vicinity of the Downtown Stage Saturday at 1:45! #TeamJosh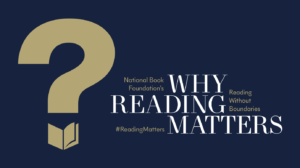 Why Reading Matters: Reading Without Boundaries: June 7 in Brooklyn, NY
We're just stuck in New York for this edition of the newsletter, aren't we? Well, at least we can get out of Manhattan for a bit and stretch our legs in Brooklyn for this conference put on by the National Book Foundation. In its third installment, the conference will host everyone from authors to librarians to educators to jam out to this year's theme: "how we can use books to bridge divides, create new connections, and deepen understandings." Heck yeah!
AUTHORS ON TOUR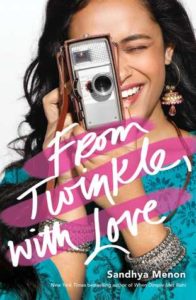 Sandhya Menon
Stops include: May 22 (Downers Grove, IL), 23 (Fort Collins, CO), 24 (Seattle, WA), 25 (Menlo Park, CA), and 26 (San Jose, CA)
We here at the Riot were head-over-heels for When Dimple Met Rishi, and we're beyond excited that From Twinkle, with Love is hitting shelves! This epistolary YA novel will charm your socks off.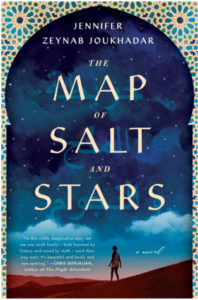 Jennifer Zeynab Joukhadar
Stops include: May 23 (Dearborn, MI), 28 (Minneapolis, MN), 30 (Chicago, IL), and June 5 (Portland, OR)
The Map of Salt and Stars is debut fiction, but it deals with the very non-fictional Syrian refugee crisis. It's not the "beachiest" of reads, but through all the pain, the book just shimmers (I loved the astrological threads throughout). If you're working through some grief, you might find this especially soothing—if you're ready.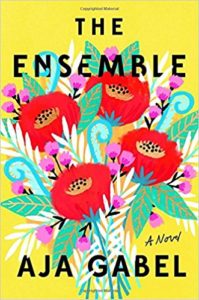 Aja Gabel
Stops include: May 23 (San Francisco, CA), 24 (Santa Rosa, CA), June 1 (Portland, OR), and 6 (San Diego, CA)
As a flautist, I'm always tickled to see drama portrayed outside my section, and boy is there some string quartet drama in this debut novel! The Ensemble also has a cover that's just begging to be blown up and framed.
David Sedaris
Stops include: May 29 (Decatur, GA), 30 (Winston-Salem, NC), 31 (Davidson, NC), June 1 (Pittsboro, NC), 2 (New York, NY), 3 (Brooklyn, NY), 4 (Washington, DC), and 6 (Boston, MA)
What can I tell you about David Sedaris that Ira Glass hasn't already? An upperclassman once gave me Holidays on Ice as a Secret Santa present, and it was scarily perfect. Sedaris is the warmest curmudgeon, and that earns Calypso an automatic "add" to my TBR pile.
ON THE HORIZON
June
Printers Row Lit Fest in Chicago, IL
July
Detroit Festival of Books in Detroit, MI
Saskatchewan Festival of Words in Moose Jaw, Canada
August
Rocky Mountain Book and Paper Fair in Denver, CO
Decatur Book Festival in Decatur, GA
THERE YA GO!
If you end up participating in any of the above, tell us about it on social media.
And if there are any bookish events that should be on my radar, tweet me @meowycristina or email me at mariacristina@bookriot.com.
Hope to see you Riot readers in the wild!
-MC