Hey YA Fans: Time to talk mind stuff.
"What's Up in YA?" is sponsored by All Of This Is True by Lygia Day Penaflor from Epic Reads.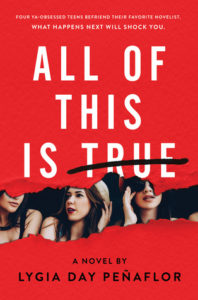 "Devious, delicious, and gasp-worthy."
– Kathleen Glasgow, New York Times bestselling author of Girl in Pieces
In this genre-defying page-turner from Lygia Day Peñaflor, four teens befriend their favorite YA novelist, only to find their deepest, darkest secrets in the pages of her next book—with devastating consequences. Perfect for fans of One of Us Is Lying—and told as a series of interviews, journal entries, and even pages from the book within the book—this gripping story of a fictional scandal will keep you on the edge of your seat from beginning to end.
---
May is Mental Health Awareness Month, which serves to raise consciousness about the importance of mental health, whether or not you struggle with illness. Mental health has been a passion of mine for many years, particularly when it comes to adolescents. As someone also struggling with a pair of disorders, it's not just an interest; it's a personal experience.
Find below a small selection of recent YA books — pubbed in the last year or so — that take on mental health and do so in thoughtful and moving ways. Please not that no every depiction of mental health in any medium will ever perfectly capture an individual's experience. Mental illnesses present in myriad ways, so what rings true for one person may not ring true for another. There is no single way to "get it right." But it's by reading and seeing the wide array of depictions that we're better able to empathize and understand their challenges.
I've copied descriptions from Goodreads and included my own notes below each title.
Matt hasn't eaten in days.
His stomach stabs and twists inside, pleading for a meal. But Matt won't give in. The hunger clears his mind, keeps him sharp—and he needs to be as sharp as possible if he's going to find out just how Tariq and his band of high school bullies drove his sister, Maya, away.
Matt's hardworking mom keeps the kitchen crammed with food, but Matt can resist the siren call of casseroles and cookies because he has discovered something: the less he eats the more he seems to have . . . powers. The ability to see things he shouldn't be able to see. The knack of tuning in to thoughts right out of people's heads. Maybe even the authority to bend time and space.
So what is lunch, really, compared to the secrets of the universe?
Matt decides to infiltrate Tariq's life, then use his powers to uncover what happened to Maya. All he needs to do is keep the hunger and longing at bay. No problem. But Matt doesn't realize there are many kinds of hunger… and he isn't in control of all of them.
This book would do extremely well with fans of Shaun David Hutchinson. Intense, challenging, and a powerful look at the way an eating disorder can cause havoc on thinking.
Leigh Chen Sanders is absolutely certain about one thing: When her mother died by suicide, she turned into a bird.
Leigh, who is half Asian and half white, travels to Taiwan to meet her maternal grandparents for the first time. There, she is determined to find her mother, the bird. In her search, she winds up chasing after ghosts, uncovering family secrets, and forging a new relationship with her grandparents. And as she grieves, she must try to reconcile the fact that on the same day she kissed her best friend and longtime secret crush, Axel, her mother was taking her own life.
Pan's debut explores grief in depth, though it also taps into what it is like to live knowing one of your closest loved ones died because of their mental illness. Leigh's exploration of her mother's past is never a means of figuring out why she died; rather, it's a way for Leigh to find meaning in the life her mother led and find a way to work with her grief, rather than against.
In the real world, Eliza Mirk is shy, weird, and friendless. Online, she's LadyConstellation, the anonymous creator of the wildly popular webcomic Monstrous Sea. Eliza can't imagine enjoying the real world as much as she loves the online one, and she has no desire to try.
Then Wallace Warland, Monstrous Sea's biggest fanfiction writer, transfers to her school. Wallace thinks Eliza is just another fan, and as he draws her out of her shell, she begins to wonder if a life offline might be worthwhile.
But when Eliza's secret is accidentally shared with the world, everything she's built—her story, her relationship with Wallace, and even her sanity—begins to fall apart.
Anxiety! More specifically, this book explores social anxiety in a way that really understands the conflicts one can feel when they have an online life that looks one way and an offline life which they don't feel looks the same. This one will appeal to readers who loved — or were frustrated by! — Rainbow Rowell's Fangirl.
When Griffin's first love and ex-boyfriend, Theo, dies in a drowning accident, his universe implodes. Even though Theo had moved to California for college and started seeing Jackson, Griffin never doubted Theo would come back to him when the time was right. But now, the future he's been imagining for himself has gone far off course.
To make things worse, the only person who truly understands his heartache is Jackson. But no matter how much they open up to each other, Griffin's downward spiral continues. He's losing himself in his obsessive compulsions and destructive choices, and the secrets he's been keeping are tearing him apart.
If Griffin is ever to rebuild his future, he must first confront his history, every last heartbreaking piece in the puzzle of his life.
A deeply moving look at life with Obsessive Compulsive Disorder — and a reminder than OCD is a serious illness, not just a personality quirk.
When Suzette comes home to Los Angeles from her boarding school in New England, she isn't sure if she'll ever want to go back. L.A. is where her friends and family are (along with her crush, Emil). And her stepbrother, Lionel, who has been diagnosed with bipolar disorder, needs her emotional support.
But as she settles into her old life, Suzette finds herself falling for someone new…the same girl her brother is in love with. When Lionel's disorder spirals out of control, Suzette is forced to confront her past mistakes and find a way to help her brother before he hurts himself–or worse.
How do you live with and love someone who struggles with bipolar disorder? Colbert explores this question with realistic characters and an excellent look at what it means to love someone who struggles.
Fifteen-year-old Ivy's world is in flux. Her dad has moved out, her mother is withdrawn, her brother is off at college, and her best friend, Anna, has grown distant. Worst of all, Ivy's body won't stop expanding. She's getting taller and curvier, with no end in sight. Even her beloved math class offers no clear solution to the imbalanced equation that has become Ivy's life.
Everything feels off-kilter until a decision to change the way she eats gives her a boost in confidence and reminds Ivy that her life is her own. If she can just limit what she eats—the way her mother seems to—she can stop herself from growing, focus on the upcoming math competition, and reclaim control of her life. But when her disordered eating gives way to missed opportunities and a devastating health scare, Ivy realizes that she must weigh her mother's issues against her own, and discover what it means to be a part of—and apart from—her family.
Readers who love Laurie Halse Anderson's moving Wintergirls will appreciate this verse novel about a girl struggling with an eating disorder.
At seventeen, Norah has accepted that the four walls of her house delineate her life. She knows that fearing everything from inland tsunamis to odd numbers is irrational, but her mind insists the world outside is too big, too dangerous. So she stays safe inside, watching others' lives through her windows and social media feed.
But when Luke arrives on her doorstep, he doesn't see a girl defined by medical terms and mental health. Instead, he sees a girl who is funny, smart, and brave. And Norah likes what he sees.
Their friendship turns deeper, but Norah knows Luke deserves a normal girl. One who can walk beneath the open sky. One who is unafraid of kissing. One who isn't so screwed up. Can she let him go for his own good—or can Norah learn to see herself through Luke's eyes?
Great for readers who love Nicola Yoon's Everything Everything, Gornall explores agoraphobia, anxiety, and compulsive disorder in this gut-punch of a read.
Looking for more resources for YA and mental health? I put together a guide to great YA books about depression, and fellow Book Rioter Lucas has created a list of YA books to get the conversation about mental health rolling.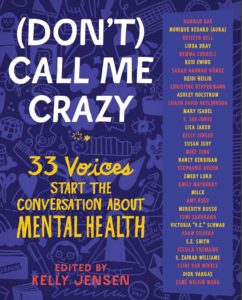 I'd be remiss not to mention my forthcoming YA nonfiction anthology, (Don't) Call Me Crazy: 33 Voices Start The Conversation About Mental Health, takes on the subject as well. It hits shelves October 2, where it'll be available in time for Mental Health Awareness Week.
____________________
Thanks for hanging out and we'll see you again back here next week!