I fear writing anything to screw up our less-than-eventful week in Romancelandia. Our favorite friend is still out there, somewhere, but she doesn't appear to have shown her face since that inadvisable attempt at gaining sympathy. No one else has tried to tear down romance in anything beyond the usual way. And folks are out there taking steps and making bounds.
---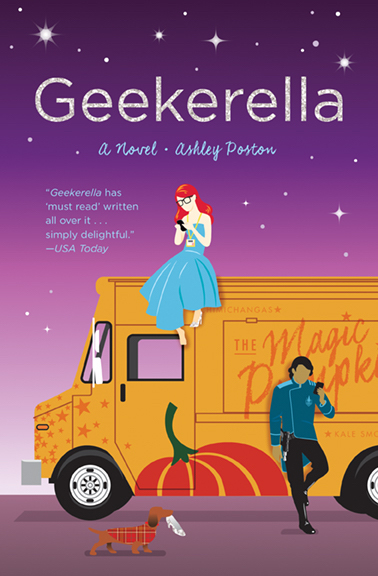 Sponsored by Geekerella by Ashley Poston, published by Quirk Books.
Cinderella goes to the con in Geekerella, a fandom-fueled YA twist on the classic fairytale.
Elle lives and breathes Starfield, the classic sci-fi series she grew up watching. When she sees a cosplay contest for the new movie, she has to enter. The prize? An invitation to the cosplay ball and a meet-and-greet with the actor slated to play Prince Carmindor. Teen actor Darien Freeman has dreamed of playing Carmindor, but Starfield fans have already written him off as another dumb heartthrob. As the con approaches, Darien feels more and more like a fake—until he meets Elle. . .
---
News and Useful Links
Alyssa Cole and the fab folks at The Ripped Bodice appeared in Marketplace to talk about diversity and romance.
Jackie Lau informed her husband's family she was a romance author by appearing on national Canadian television (with Sarah MacLean and Jaime Green). How about that.
Robin Lovett wrote a heartwrenching, amazing article for Publisher's Weekly about picking up romance while coping with PTSD.
#rombklove is still happening.
Deals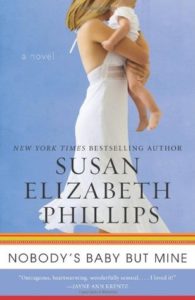 Nobody's Baby But Mine by Susan Elizabeth Phillips is 1.99 right now. It may not be football time, but physics professor heroines are always in season.
Love Me Deeper by Aja Cole is 2.99. If you finished Wanna Bet and want some more "in love with my best friend" or if you are in the need for more fake marriage romance, this is a good place to start.
A bunch of books by Jackie Collins, including Chances, are 1.99. I have never read her, but I know her lengthy history within and outside of the romance community.
Quarterly reminder that Hamilton's Battalion, with novellas from Rose Lerner, Courtney Milan, and Alyssa Cole, is 4.99.
Over on Book Riot
Is your emotional book buying changing the world? Nikki's totally is.
Have you read Far from the Madding Crowd? Do you agree with these choices?
If you're a stats kind of person, the Bookly App might be fun to try. Me? I'm afraid of them. Or just of falling behind. (We won't talk about when my last entry for the great spreadsheet takes place.)
Recs!
It's RT week! (FYI, I'm writing this on Monday in preparation for heading up to Reno, so if something has happened between now and Thursday…we'll talk about it next week.)
During our last When in Romance conversation, I made the decision to work on filling some gaps in my reading, because dang, there were a lot of books and authors I hadn't read before, and there were some significant holes I needed to fill in my experience. Instead of going for the individual winning books, however, I decided I would start with a book by each of the Career Achievement Award winners.
Why do you all let me make these decisions?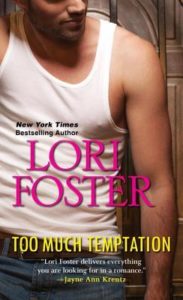 Too Much Temptation
Lori Foster
I went on a borrowing spree and this was the first one that floated my boat. Noah walks in on his fiancee having sex with another man and breaks off the engagement. His grandmother, who practically arranged the marriage, gets so upset, she disowns him. Grace, his grandmother's assistant, rushes to Noah's aid, because she's loved him forever. It takes Noah getting really drunk and seeing Grace, wet and adorable, before he remembers that he totally has the hots for her and tells her so. But Grace, our sweet Grace, has self-esteem issues that she takes as matter-of-fact knowledge. Noah makes her see his way, which is fine with her; his way means she gets to have lots of sex with him, which is the only thing he wants after his breakup. It's not like anyone would marry her anyway. (OKAY. So, I really enjoyed this book but I have issues with the way the fat rep was approached. She's like "I'm fat" or "women my size", and he's all like "what did I tell you" and "you're not overweight, you're gorgeous" and NO. But I will allow the book to be a product of its time with its answering machines and secrets and lack of black people in a southern town, and let myself enjoy the other parts of the book.)
I'm also making headway with: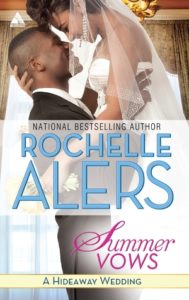 Summer Vows by Rochelle Alers
Y'all know how much I like a forced proximity romance, and this one involves the headstrong CEO of a Florida recording company and the man reluctant to be her bodyguard. There is a pretty traumatic shooting early on in the book, but Ana is an awesome heroine and I'm sticking around for her. Also. Did you know Rochelle Alers has written over fifty novels, novellas, and shorts in less than the time that I've been alive? This is a well-deserved recognition!
Slave to Sensation by Nalini Singh
I KNOW. How have I not read this book? I'll tell you a secret: I've owned it for years. But I was hesitant to pick it up after being less-than-thrilled by Rock Addiction. Nevertheless, it's been a while since I enjoyed a good paranormal, and since the worldbuilding in Silver Silence is the best of the year, it's a good a time as ever to dive back in.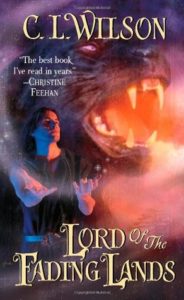 Lord of the Fading Lands by CL Wilson
I am not far into this book, but I can tell I'm going to like the worldbuilding here, too. I'm not sure about the romance yet, but we'll see.
Secrets of Bella Terra by Christina Dodd
Crime and romance don't usually go together well for me, but the hinted-at quarrel to come in this family vineyard story seemed like a compromise after looking through Dodd's backlist featuring revenge and deception. If you've been following this newsletter long, you've probably noticed I'm not super huge on romantic suspense. I dip my toe in here and there, though, so we'll see how this one works.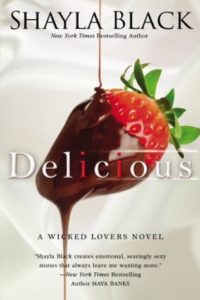 Delicious by Shayla Black
I have read Shayla Black, but Delicious looks like the perfect book to remind me of her style. Restauranteur cum exotic dancer heroine plus guest chef hero equals what sounds like fireworks to Jess. If there's one thing I do remember about Shayla Black's style, it's that it's deliciously sexy. So while I will be on the lookout thanks to some worrisome reviews about Luc's emotional treatment of Alyssa, I hope this one is just as yummy as it looks.
Wicked Intentions by Elizabeth Hoyt
This is another one I've had for a while, and this is a great reason to bring it back out of the woodwork. Not only does it take place prior to the Regency period, but it also features a woman who works—always a good find in historical British-set fiction. This one also starts pretty dark, but I'm prepared for the rest that might come.
I hope this is a successful endeavor; getting at least one title by each of these authors under my belt is important to my goal to know everything there is to know ever.
Or something.
As long as I don't get distracted by Wanna Bet. What am I saying; I totally will.
New and Upcoming Releases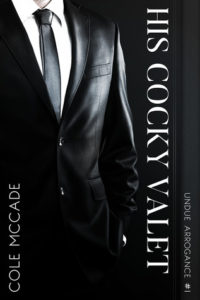 His Cocky Valet by Cole McCade (YES. This is a thing that was birthed out of a need to be petty, and the reviews are all positive.)
Long Shot by Kennedy Ryan
How to Marry a Werewolf by Gail Carriger
Grumpy Fake Boyfriend by Jackie Lau (May 22)
The Controversial Princess by Jodi Ellen Malpas (May 22)
As usual, catch me on Twitter @jessisreading or Instagram @jess_is_reading, or send me an email at jessica@riotnewmedia.com if you've got feedback or just want to say hi! (Also, if you're going to be at RT, definitely hit me up!)