This edition of Today in Books is sponsored by Trazer: Kids of Stolen Tomorrow by Joseph O. Adegboyega-Edun.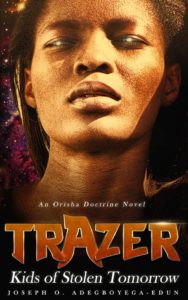 ---
The Diversity Gap In Children's Publishing
The Cooperative Children's Book Center (CCBC) released statistics on the number of children's books by and about people of color published in 2017. The report shows that the number of diverse books hit 31%, which is the highest year on record since 1994. However, the number of books actually written by authors of color shows little progress, up only 1% from 2016's abysmal 6%.
Teach This Poem Wins Innovations In Reading Prize
The Academy of American Poets won this year's Innovations in Reading Prize for its "Teach This Poem" program. The three-year-old program helps teachers add poetry to their curriculum through weekly, curated resources, and strives to make poetry more accessible to students. Past winners of this National Book Foundation award include Barbershop Books, inspiring young black boys to read, and Next Chapter Book Club, a reading program for adolescents and adults with disabilities.
Chelsea Clinton's New Children's Activism Book
Chelsea Clinton has another children's book in the works. Start Now! You Can Make a Difference is a book about standing up for your beliefs, aimed at young activists. Clinton is already a bestselling children's book author with her previous titles She Persisted: 13 American Women Who Changed the World and She Persisted Around the World: 13 Women Who Changed History.