This edition of Today in Books is sponsored by Surface Tension by Mike Mullin.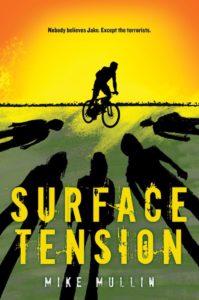 ---
Atticus Finch v. Atticus Finch
A court will decide if Aaron Sorkin's stage adaptation of To Kill a Mockingbird is sufficiently faithful to the book—and soon. The granting of the producer's motion to expedite the proceedings effectively consolidated the suit in Alabama and the one in New York, and set a trial date for June 4 in Manhattan. It's the same day as the 2018 Tony Awards, so theatre geeks have a lot to…look forward to?
Avengers Team Up with Little Free Library
After acquiring the rights to Spider Man, Disney must know that with great power comes great responsibility. And we think they're using that power wisely: "Avengers: Infinity War"-themed Little Free Libraries will be popping up nine U.S. communities on Saturday. Disney, in partnership with Little Free Library and First Book, will make sure the libraries are operational for the next two years.
Speaking of Doctor Strange…
I never say no to an audiobook read by Benedict Cumberbatch. And now I have a new nonfiction audiobook on my TBR (TBL?). So I'm going to learn all about the nature of time because Mr. Cumberbatch will read me The Order of Time by Carlo Rovelli. They should really get that man to narrate terms of service. Like, all of them.