Hello mystery fans! We survived the end of April and the beginning of May so I've written us all a note and we can go sit in our book forts and read for a while.
From Book Riot and the Internet
Liberty gives some true crime recs on All The Backlist. If you normally don't have time for podcasts this one is perfect for you since it's usually about 10 minutes.
---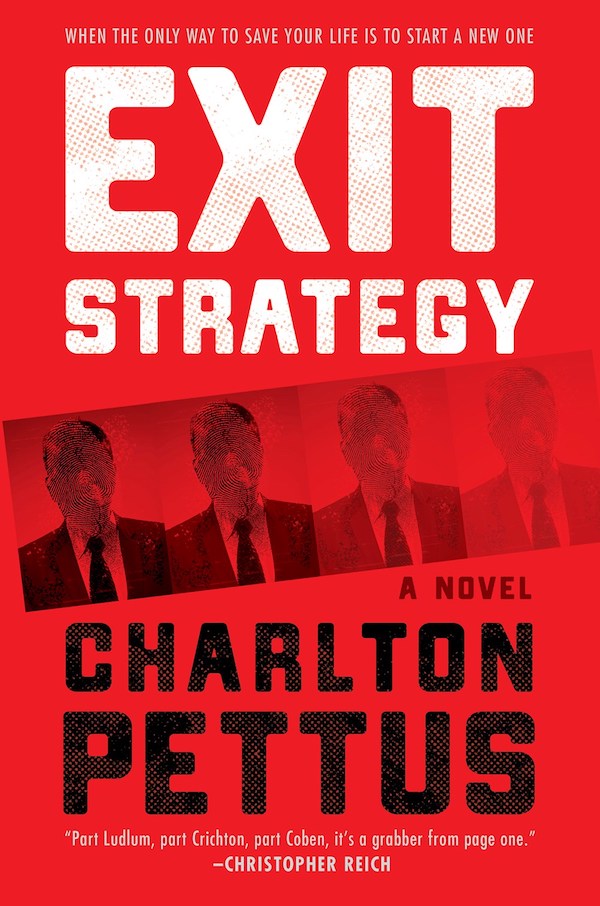 Sponsored by Exit Strategy by Charlton Pettus, new from Hanover Square Press.
For crooked politicians and white-collar criminals looking to escape, there's Exit Strategy. With just one call, Exit Strategy helps these wealthy but wanted types disappear completely. They can fake your death, give you a new name and face, and launder whatever ill-gotten funds you may need to establish a new life anywhere in the world. When Jordan Parrish, the brilliant founder of a medical technology start-up, made the call, he thought he had no other way out. But after his exit, he began to wonder; was he just a victim of bad luck or was someone working against him?
---
Dames Are the New Dicks (Why yes, I did laugh for a solid minute at that headline.)
The CIA Writes Movie Reviews Complaining About How It's Portrayed
You can win a shelf of Megan Abbott books!
Enter to win 15 of this years mystery and thriller releases–there's only a few days left and who doesn't want to win fifteen books?!
Adaptations and News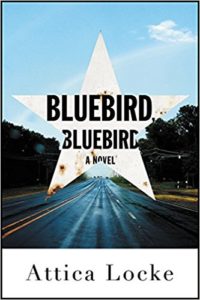 The Mystery Writers of America announced the Winners of the 2018 Edgar Allan Poe Awards. Two of my favorite, favorite, favorite crime novels from last year won: Bluebird, Bluebird by Attica Locke (Review) won "best novel" and She Rides Shotgun by Jordan Harper (Review) won "best first novel by an American author." You can see all the winners here. And Rincey and Katie talked about the nominees they'd read, along with mystery news (the capturing of the suspected Golden State Killer) and what they're reading on Read or Dead.
And then two days later in Bethesda, MD Malice Domestic announced the Agatha Christie Award winners. Kellye Garrett won "best first novel" for Hollywood Homicide (Review)! You can check out the other 5 winners here.
Alex Segura's Pete Fernandez series is getting adapted: "I can confirm that the books have been optioned by television writers Eduardo Javier Canto and Ryan Maldonado (Chicago PD, Code Black)."  A crime series following a Miami PI rings many of my bells, I am very excited for this. (You can read the beginning of Blackout, the 4th in the series, on EW.)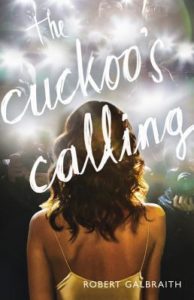 The Cormoran Strikes Cinemax trailer is here. The British miniseries, adapted from Robert Galbraith's (J.K. Rowling's) The Cuckoo's Calling, will premiere on Cinemax June 1st.
The legal drama Just Mercy, adapted from social justice activist Bryan Stevenson's memoir, starring Michael B. Jordan has been given its release date: January 1, 2020.
True Crime
French Museum Discovers More Than Half Its Collection Is Forged "Forcada, the art historian who first sounded the alarm, noticed buildings that appear in some of the paintings didn't actually exist in Terrus' time."
Paste Magazine: The Best True Crime Documentaries on Netflix
A serial killer/rapist who had gone unknown for 40 years was caught by a genealogy site's DNA.
University Paid Researcher $50,000 Believing He Was Working From Home. He Was Dead (Murdered, actually.)
Watch Now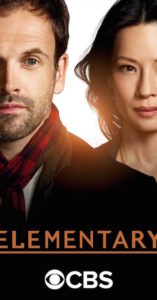 The fantastic pairing of Jonny Lee Miller (Sherlock) and Lucy Lui (Watson) is back!!!!!! You can catch new episodes of Elementary on CBS Mondays at 10/9c and you can binge the show's 5 seasons on Hulu.
And not an adaptation but if you're a fan of shows like Castle–procedurals that are ridiculous, fun, and super enjoyable–check out the new show Deception on ABC. It's an illusionist working with the FBI and it's completely unbelievable but tons of fun and addicting to watch.
Kindle Deals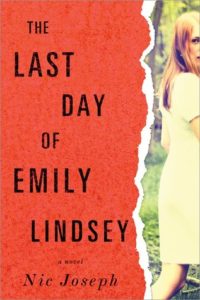 The Last Day of Emily Lindsey by Nic Joseph is $2.51 (Controversial blogger found covered in blood and holding a knife– Full review)
The Verdict by Nick Stone is $1.99 (A legal thriller- Liberty's review)
Ten Dead Comedians by Fred Van Lente is $2.99 (Think And Then There Were None but with comedians– Full review)
Galleys That Recently Landed on My Doorstep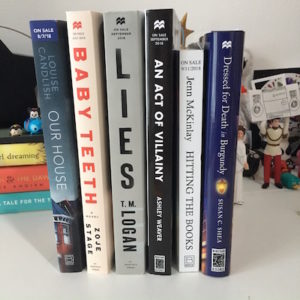 Our House by Louise Candlish
Baby Teeth by Zoje Stage
Lies by T.M. Logan
An Act of Villainy by Ashley Weaver
Hitting the Books (A Library Lover's Mystery) by Jenn McKinlay
Dressed for Death in Burgundy (A French Village Mystery) by Susan C. Shea
Browse all the books recommended in Unusual Suspects previous newsletters on this shelf. And here's an Unusual Suspects Pinterest board.
Until next time, keep investigating! And in the meantime come talk books with me on Twitter, Instagram, and Litsy–you can find me under Jamie Canaves.
If a mystery fan forwarded this newsletter to you and you'd like your very own you can sign up here.