This edition of Today in Books is sponsored by Instaread – Click the link and get 20% off your subscription.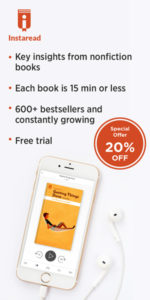 ---
Nicole Kidman Will Star In The Female Persuasion Adaptation
Nicole Kidman is now attached to star in a planned feature adaptation of Meg Wolitzer's novel, The Female Persuasion. Kidman is also producing the movie (her company, Blossom Films, produced the series adaptation of Liane Moriarty's Big Little Lies). The actress previously hinted on Instagram that she was adapting Wolitzer's novel about a shy college freshman whose life is changed by a central pillar of the women's movement.
TKAM Broadway Production Performed In Court?
In the ongoing saga of the To Kill a Mockingbird Broadway adaptation, the play's producers have offered to stage the production–with a full cast–in court as evidence that it's faithful to the book. The production company behind the play has filed a countersuit against Harper Lee's estate. This is in response to the estate's lawsuit claiming that the play deviated too much from Lee's story, which allegedly broke a contract agreed upon by the two parties prior to Lee's death.
Radical And Indie Bookshops Participate In Feminist Book Fortnight
Radical and independent bookstores in the UK will participate in a two-week long event highlighting books by diverse women writers. Feminist Book Fortnight, spearheaded by Five Leaves Bookshop in Nottingham, was created in response to the dearth of diversity in publishing. Five Leaves' Jane Anger pointed to the 2016 VIDA statistics, which showed an ongoing bias against women writers, and the lack of diversity in children's books. The event will be held June 16-30, and you can find more information on the FBF website.
And don't forget to enter to win 15 of the year's best mysteries so far!