Hey YA Readers!
Since it's April, which means National Poetry Month in the USA, let's take a peek at some of the YA novels in verse that have — or will — hit shelves this year.
Verse novels are among some of my personal favorites, though I'm a bit ashamed to say I've only read one of these so far. I'll be hanging out with you all in the land of making that TBR even bigger.
Let's get our verse on. Descriptions are pulled from Goodreads.
500 Words or Less by Juleah del Rosario (September 25)
Nic Chen refuses to spend her senior year branded as the girl who cheated on her charismatic and lovable boyfriend. To redefine her reputation among her Ivy League–obsessed classmates, Nic begins writing their college admissions essays.
But the more essays Nic writes for other people, the less sure she becomes of herself, the kind of person she is, and whether her moral compass even points north anymore.
Her mother died when she was twelve, and suddenly Artemisia Gentileschi had a stark choice: a life as a nun in a convent or a life grinding pigment for her father's paint.
She chose paint.
By the time she was seventeen, Artemisia did more than grind pigment. She was one of Rome's most talented painters, even if no one knew her name. But Rome in 1610 was a city where men took what they wanted from women, and in the aftermath of rape Artemisia faced another terrible choice: a life of silence or a life of truth, no matter the cost.
He will not consume
my every thought.
I am a painter.
I will paint.
I will show you
what a woman can do.
Lily has been crushing on Luke, a friend of her parents', ever since she can remember. He's been away for two endless years, but he's finally returning today. Lily was only twelve when he left. But now, at fourteen, she feels transformed. She can't wait to see how Luke will react when he sees the new her. And when her mother tells her that Luke will be staying with them for a while, in the bedroom right next to hers, her heart nearly stops.
Having Luke back is better than Lily could have ever dreamed. His lingering looks set Lily on fire. Is she just imagining them? But then, when they're alone, he kisses her. Then he kisses her again. At first, the secrecy and danger of their relationship thrills Lily. But soon Luke begins to expect, then demand much more than kissing. He won't stop pressuring her to do things she doesn't want to do. Lily wishes she had never flirted with Luke. She feels imprisoned in a situation that's all her fault. How will she escape?
People kill people. Guns just make it easier.
A gun is sold in the classifieds after killing a spouse, bought by a teenager for needed protection. But which was it? Each has the incentive to pick up a gun, to fire it. Was it Rand or Cami, married teenagers with a young son? Was it Silas or Ashlyn, members of a white supremacist youth organization? Daniel, who fears retaliation because of his race, who possessively clings to Grace, the love of his life? Or Noelle, who lost everything after a devastating accident, and has sunk quietly into depression?
One tense week brings all six people into close contact in a town wrought with political and personal tensions. Someone will fire. And someone will die. But who?
The Poet X by Elizabeth Acevedo (Available now)
Xiomara Batista feels unheard and unable to hide in her Harlem neighborhood. Ever since her body grew into curves, she has learned to let her fists and her fierceness do the talking.
But Xiomara has plenty she wants to say, and she pours all her frustration and passion onto the pages of a leather notebook, reciting the words to herself like prayers—especially after she catches feelings for a boy in her bio class named Aman, who her family can never know about. With Mami's determination to force her daughter to obey the laws of the church, Xiomara understands that her thoughts are best kept to herself.
So when she is invited to join her school's slam poetry club, she doesn't know how she could ever attend without her mami finding out, much less speak her words out loud. But still, she can't stop thinking about performing her poems.
Because in the face of a world that may not want to hear her, Xiomara refuses to be silent.
Virtual twins Linc and Holly were once extremely close. But while artistic, creative Linc is her parents' daughter biologically, it's smart, popular Holly, adopted from Ghana as a baby, who exemplifies the family's high-achieving model of academic success.
Linc is desperate to pursue photography, to find a place of belonging, and for her family to accept her for who she is, despite her surgeon mother's constant disapproval and her growing distance from Holly. So when she comes up with a plan to use her photography interests and skills to do better in school–via a project based on Seneca Village, a long-gone village in the space that now holds Central Park, where all inhabitants, regardless of race, lived together harmoniously–Linc is excited and determined to prove that her differences are assets, that she has what it takes to make her mother proud. But when a long-buried family secret comes to light, Linc must decide whether her mother's love is worth obtaining.
Want more about YA books in verse? I made a guide to 100 must-read titles to give you even more great reads in the format. 
____________________
Cheap Reads!
Because you can always justify a new book when it comes with a low price tag, right? Right.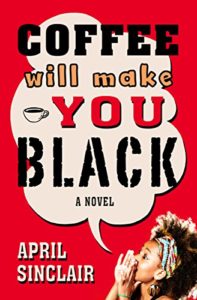 Grab Roshani Chokshi's The Star-Touched Queen for $3. It's the first in a fantasy series.
Kim Savage's After The Woods, a mystery/thriller, is $3, too.
Pick up the older YA book Coffee Will Make You Black, about a girl coming of age on Chicago's south side during an era of social upheaval, for $2.
____________________
Thanks for hanging out this week and we'll see you back here next!
–Kelly Jensen, @veronikellymars on Twitter and Instagram.
currently devouring Tiffany Sly Lives Here by Dana L. Davis. 
PS: If you love mysteries, you'll want to make sure you enter our huge giveaway of 15 of this year's best mysteries. The giveaway runs through May 9, and clicking here will let you enter.