Hello mystery fans! Rami Malek needs to star in a PI series and these candid photos are proof. Seriously, I would watch the hell out of him starring as a PI–even an amateur sleuth–in a series and I'll take dark and gritty or fun and silly.
---
Wishlist upcoming releases you're dying to read. Get exclusive podcasts and newsletters. Enter to win swag. Do it all when you join Insiders — and between April 15 and 30, you can get a free 2-week trial for Novel Monthly or Annual!
Subscribe to Book Riot Insiders!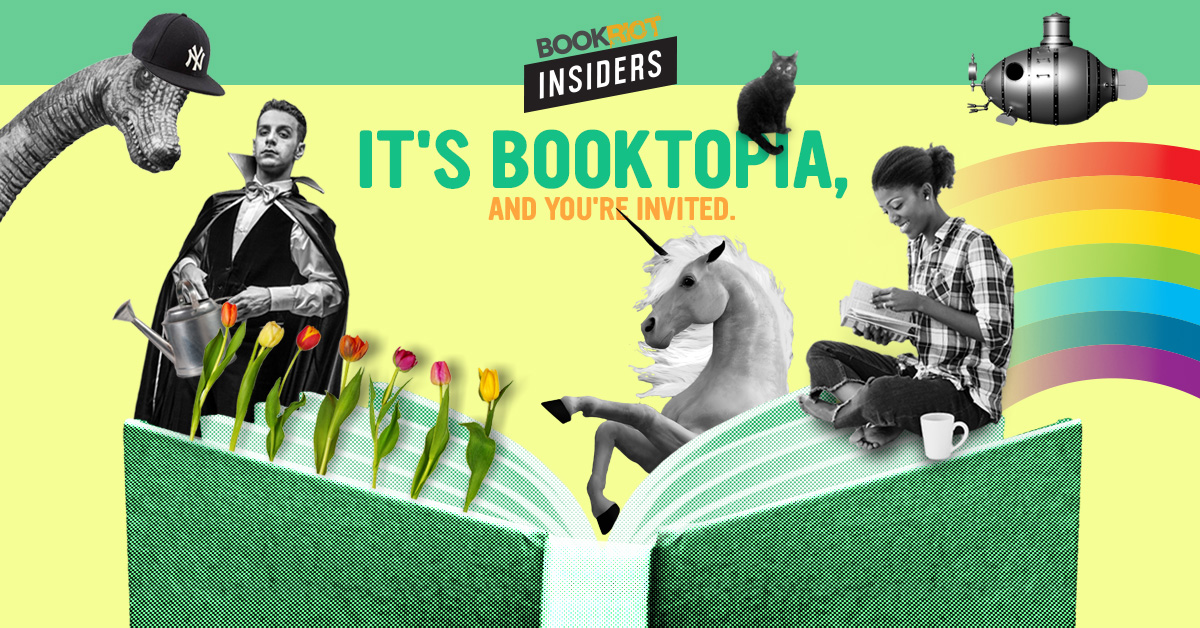 ---
Let's start with some things you may have missed from Rioters and the internet:
On the Read or Dead podcast Rincey and Katie talk about Katie's visit to Lizzie Borden's house, recent mystery news, and recent/upcoming reads.
Rioter Sarah Ullery has 50 (fifty!) of the best audiobooks for fans of thrillers.
I've got 10 Dark Family Secrets for you in order of least dark crime novel to oozing with darkness.
If you're looking for British Cozy Mysteries to read Kristen McQuinn has 7 for you.
20 Big Mysteries & Thrillers of Spring according to Goodreads, and more posts for their Mystery & Thriller Week
Adaptation News: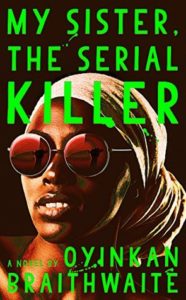 In you-had-me-at-the-title My Sister the Serial Killer by Oyinkan Braithwaite will not only publish from Doubleday in November BUT it also has been optioned by Working Title. I am here for both the book and any adaptation because this is the description; "Satire meets slasher in this short, darkly funny hand grenade of a novel about a Nigerian woman whose younger sister has a very inconvenient habit of killing her boyfriends."
And in adaptation news for back catalog titles (17 years back) The Earthquake Bird by Susanna Jones–"a Tokyo-set female-driven noir thriller"– will be adapted by Netflix and Scott Free Productions.
Not technically an adaptation, but "The Netflix projects will be complemented by a 2019 book series" and I'm super excited that Gina Rodriguez will be Carmen Sandiego so here's an article from Quartz: Netflix is Learning How in the World to Play the Franchise Game with Carmen Sandiego
A TV adaptation of Amor Towles' novel A Gentleman in Moscow will star Kenneth Branagh.
Sad news:
Philip Kerr, author of the Bernie Gunther series, has passed away.
Interviews:
Walter Mosley talks writing and his novels in this short video.
"But, if anyone saw my browsing history, someone would call the cops." Alex Segura (Pete Fernandez PI series) talks to Laura Lippman about her work, including her latest Sunburn (review).
Watch That Read This: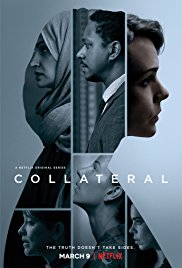 For fans of procedurals who want a quick, satisfying, and well acted binge, Collateral is streaming on Netflix (Trailer). Starring Carey Mulligan, John Simm, and Billie Piper, British detectives are trying to solve the very randomly appearing shooting of a pizza delivery man. It follows a bunch of different characters while slowly unwinding the mystery in 4 episodes that are just under an hour each.
A great followup read, that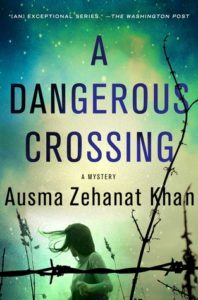 is a fantastic series, which also incorporates current political issues is A Dangerous Crossing (Rachel Getty & Esa Khattak #4) by Ausma Zehanat Khan. (Review)
And if when you're finished binging you're wondering when there will be a season 2 the answer is most likely never (spoilers). Also, it was nice that they didn't make a big deal out of Mulligan's pregnancy and make her hide behind furniture or something.
Watch Now:
Killing Eve (based on Luke Jennings' Villanelle novellas) premieres on BBC America on April 8th. I've been really looking forward to this because it stars Sandra Oh but I'm also really intrigued by the premise: "Two women — equally obsessed with each other — go head to head in an epic game of cat and mouse." (Trailer) (1st episode on EW)
Spinning Man: Based on a novel by George Harrar, the film about a professor with a missing female student and a reputation for "off-campus dalliances" leads his wife to doubt his alibi. Starring Pierce Brosnan, Minnie Driver, and Guy Pearce. (Trailer)
Chappaquiddick: A look at the 1969 drowning of Mary Jo Kopechne when Ted Kennedy drove his car off a bridge. The film stars Jason Clarke, Kate Mara, and Ed Helms. (Trailer) As for books, there's been quite a few written: Chappaquiddick Speaks by Bill Pinney / Death at Chappaquiddick by Richard L. Tedrow, Thomas L. Tedrow / Senatorial Privilege: The Chappaquiddick Cover-Up by Leo Damore / The Bridge at Chappaquiddick by Jack Olsen
Kindle Deals: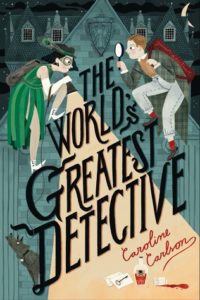 The World's Greatest Detective by Caroline Carlson is $6.99 (Delightful– review)
The Plot Is Murder (Mystery Bookshop) by V.M. Burns is $2.99
And if you're making your way through Anne Holt's series No Echo and Beyond the Truth are each $0.99
And a Bit of My Week In Reading:

Finished listening to The Escape Artist by Brad Meltzer which didn't have great representation and relied way too much on kickass women need tragic abusive childhoods but it satisfied my need for a political thriller. Intense opening, and I loved the whole mortician in the army angle.
Also finished reading A Death of No Importance by Mariah Fredericks (April 10, Macmillan) which is a really good read for fans of historical fiction–the character had a great voice that sucked me in immediately.
I downloaded the egalley of You All Grow Up and Leave Me : A Memoir of Teenage Obsession by Piper Weiss (April 10, William Morrow) A true crime memoir that I'm going to go devour now so see ya'll lovely mystery lovers next week!
ALSO Book Riot is hiring an Advertising Sales Manager. We strongly encourage women, individuals with disabilities, and people of color to apply. To view position description and apply, go here.
Browse all the books recommended in Unusual Suspects previous newsletters on this shelf. And here's an Unusual Suspects Pinterest board.
Until next time, keep investigating! And in the meantime come talk books with me on Twitter, Instagram, and Litsy–you can find me under Jamie Canaves.
If a mystery fan forwarded this newsletter to you and you'd like your very own you can sign up here.