Welcome back to In The Club, a newsletter of resources to keep your book group well-met and well-read. Let's dive in.
---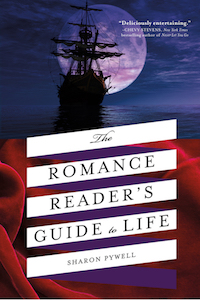 This newsletter is sponsored by Flatiron Books.
Following two sisters in their pursuit of passion and independence, this is a genre-bending novel that is part coming-of-age, part historical fiction, with elements of mystery and paranormal. When one of the sisters goes missing, the other must put aside her books to find her–and start living.
---
I love a work of narrative journalism, and I'm not alone. Steph rounded up six that challenge commonly-held beliefs.
Book group bonus: These are bound to produce an intense meeting; institute a "pause" phrase if you're nervous about the discussion getting too heated! For example: "Pause! I need a donut!" And maybe also bring donuts.
For that Page to Screen book club that someone out there is doing because I keep talking about it: Here are ten adaptations you might find surprising!
Book group bonus: I am ready for your pictures of your unicorn-themed meeting based around The Last Unicorn.
Put some history in your fantasy and vice versa: I love a good genre mash-up, and here are books that combine two of my personal favorites! It's like Margaret wrote that post just for me.
Book group bonus: Pick one of the books from this list, and assign a group member to dig into the actual history and present details to the group at the discussion.
I saw Love, Simon this weekend, and after I was done sobbing over it I remembered that I wanted to share this piece with you all about LGBTQ+ books with happy endings (including Simon vs. The Homo-Sapiens Agenda).
Book group bonus: Seriously, everyone go see Love, Simon. You might have quibbles (I do!) but it's really lovely to see a queer addition to the teen romcom genre.
This one's a headscratcher: Who would you pick if you could only read one author for the rest of your life?
Book group bonus: This discussion runs itself!
For awards trackers: The Man Booker's International Prize longlist was announced last month.
Book group bonus: If your group hasn't read many translated/international works, this list is a great place to start.
And in Read Harder suggestions: Our suggestions for female protagonists over 60!
Book group bonus: Seriously though, how often do you get stories about women over 60!? Now's the time to read one.
And that's a wrap: Happy discussing! If you're interested in more science fiction and fantasy talk, you can catch me and my co-host Sharifah on the SFF Yeah! podcast. For many many more book recommendations (including the occasional book club question!) you can find me on the Get Booked podcast with the inimitable Amanda.
Your fellow booknerd,
Jenn
More Resources: 
– Our Book Group In A Box guide
– List your group on the Book Group Resources page