Happy Friday, jumbies and Jaegers! Today I've got reviews of Beasts Made of Night and the Paradox series, The Kitchies shortlist, Harry Potter cakes, historical fantasy, and more.
---
This newsletter is sponsored by Epic Reads.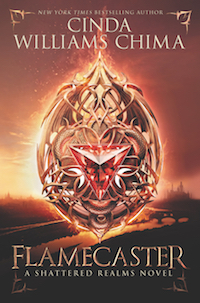 From bestselling author Cinda Williams Chima comes a fantasy series full of dark magic and unforgettable characters.
Ash has a gift of magic—and a thirst for revenge. He's on a quest to kill the cruel king of Arden. Jenna Bandelow was told that the magemark on her neck would make her a target. But when the king launches a search for a girl with a mark like hers, she assumes its due to her role as a saboteur. As their paths collide, Ash and Jenna are united by their hatred of the king. But the hidden truth of Jenna's mysterious magemark could risk not only their mission, but their lives.
---
Need to wear your love of genre? We made a shirt for that. I've already ordered mine!
Love history AND fantasy? We've got a list for you! And here I thought I knew them all; glad to have Bohemian Gospel to add to my stack.
In awards news: The Kitschies (which is tentacle-themed, in case you didn't know) have announced their shortlist, and personal fav The Black Tides of Heaven has made the cut!
Not just for kids, not just for grown-ups: I've been reading more SF/F kids' books, possibly because of all the buzz over A Wrinkle in Time (it's as good an explanation as any) and Priya has an interesting take in this short story round-up.
Here's a deep cut: A firefighter contemplates the best way to fight dragons. This is my kind of nerdery, y'all.
Eat your fandom with Harry Potter-inspired cakes! BRB I need to make some Snitch cakepops.
Find your fairytale avatar with our handy quiz (also, everyone go read The Merry Spinster). I got the Little Mermaid and I am still not sure how I feel about it.
Today in reviews, we've got sins made manifest and space mercenaries.
Beasts Made of Night by Tochi Onyebuchi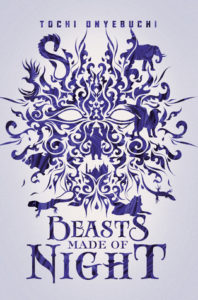 Do you love scrappy, snarky teenagers with magical powers? How about royalty and their power struggles? How about fantasies inspired by Nigerian culture? Have I got a book for you!
Our hero Taj is a disillusioned street urchin, who also happens to be the best aki (sin-eater) in the city of Kos. The upper classes hire mages to manifest their sins, which are then battled and eaten by aki like Taj, and he's survived longer than any other in memory. When he gets called to the palace, he thinks maybe he'll actually get a decent payday. What he actually gets is landed smackdab in the middle of a struggle for the throne, and no one is to be trusted.
While plot and action rule the day in Beasts Made of Night, it's also a detailed, immersive reading experience. Onyebuchi gives us cuisine, adventures through the many different sections of the city, and a look at the daily lives of its citizens. Readers of Nnedi Okorafor and/or familiar with Nigeria will recognize many elements, and Onyebuchi plays with them in fun and magical ways.
Fair warning: this book ends mid-battle, on one doozy of a cliff-hanger, and the sequel Crown of Thunder isn't out until October of 2018.
The Paradox series by Rachel Bach (Fortune's Pawn, Honor's Knight, Heaven's Queen)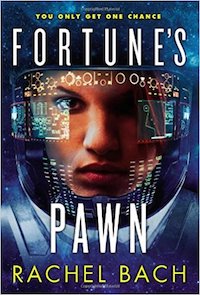 For all y'all also feeling snow-bound and brain-dead, I've got your escapist sci-fi right here. It's a military space opera whodunit with a romance and lots of mech-armor-enhanced punching!
Deviana Morris is a mercenary, and a good one at that. She's been climbing the ranks as quick as she can, aiming at a coveted position as body guard to the Emperor. To further her ambitions, she takes on a job on one of the most dangerous ships in the galaxy, to load herself up on experience and cred. But (SURPRISE) the crew of the Glorious Fool are not who they appear to be, and Devi has to reconsider what she knows about her world. And shoot/stab/punch/kick a lot of people while doing it!
To tell you anything about the plot of Honor's Knight and Heaven's Queen would be to spoil things, so I won't. Instead I will say that those who have drawn parallels to Firefly, Battlestar Galactica, and other found-family space opera are not far off. There's a reason this trope is so popular, and Rachel Bach clearly loves it as much as the rest of us. I lost a weekend to this series, and I wasn't sad about it.
And that's a wrap! You can find all of the books recommended in this newsletter on a handy Goodreads shelf. If you're interested in more science fiction and fantasy talk, you can catch me and my co-host Sharifah on the SFF Yeah! podcast. For many many more book recommendations you can find me on the Get Booked podcast with the inimitable Amanda.
So say we all,
Jenn