This edition of Today in Books is sponsored by She Caused a Riot by Hannah Jewell.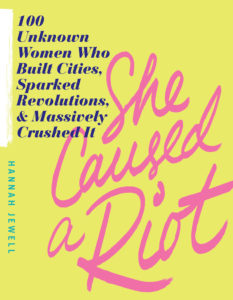 ---
Nnedi Okorafor Will Write Wakanda Forever For Marvel
Binti author Nnedi Okorafor will write Wakanda Forever, a three-part story following Okoye, Ayo, Aneka and the Dora Milaje, with art by Alberto Jiménez Alburquerque and Terry Dodson. The first story, Wakanda Forever: The Amazing Spider-Man, will be out in June. :Muppet Arms:
Marvel Studios Releases New Infinity War Trailer
We got a new Infinity War trailer. Watch it here. The movie that pits the Avengers against the evil Thanos has an April 27 U.S. release date.
The Paris Review's Next Editor
The Paris Review is searching for an editor to replace Lorin Stein who resigned amid sexual harassment allegations, and Vulture wrote an investigation piece on the process. Vulture was able to identify eight candidates–all women, mostly white and in their 40s. It's a fascinating behind-the-scenes look at how an iconic literary establishment rethinks its culture in light of #MeToo, and struggles to find its way forward.