Happy March, Kissing Books! I hope you've had a chance to look out for The Ripped Bodice's Diversity in Publishing report, which was supposed to release this morning, but if not, we'll definitely talk about it next week.
News
Feeling Olympic withdrawal? The fabulousness that is Lacy Literacy has given us exactly what you need: The Master List.
---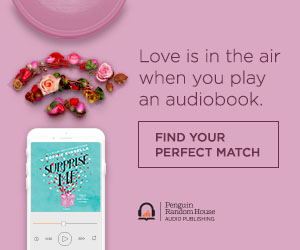 Sponsored by Penguin Random House Audio
Love is in the air when you play an audiobook.  Find your perfect match for your next galentines day book club pick with some great listening suggestions.  Get started at PenguinRandomHouseAudio.com/bookclub.
---
Emma Chase's newest novel, Getting Schooled, is audio-first. What this means is that the audio is available now, but print and kindle won't be available until June. I don't know if this is a thing that Audible is going to be doing regularly, but it was definitely news to me. I don't listen to a lot of audiobooks, but this is definitely a gamechanger. Are you interested in this new development?
Wendy the SuperLibrarian has taken her monthly Unusual Historicals picks over to Love in Panels, making it even more awesome.
I know the Olympics are over, but I still gotta know: who's working on this novel? Like, seriously, how have there not been a million ice dancing romances since 2010? I expect at least three by the next Nationals.
Jen started a pretty comprehensive Content Warnings list, and has a really good thread on why it's important.
Do you need more Science Fiction and Fantasy romance in your life? I definitely do. And these folks are going to help us all out.
Finally, Courtney Milan talks about the intersectionality of romance and it's awesome as usual. (Also, I have got to up my historical research game.)
Deals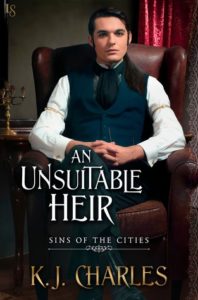 KJ Charles' An Unsuitable Heir is 1.99 right now. It's the third in a series, but you can kind of figure out what's happened previously. Or you can just read the others when you're done 😉
If you're looking for some slooooooowww burn and want some Olympics nostalgia, Mariana Zapata's From Lukov With Love is 2.99 (down from 4.99, which is still a pretty good deal, especially for the number of pages you get in a Zapata book.)
I've been hearing a lot of chatter about Talia Hibbert—she's a lot of people's new favorite. Her newest, The Princess Trap, is 2.99 right now.
Over on Book Riot
We're having a giveaway still!
I said I'd get to it! Here are some The Wedding Date readalikes. Well, not quite, but close.
Also, Jenn got to talk to Alyssa Cole and I am aflame with the amount of jealousy I feel. But that doesn't matter because the words are awesome.
The Ripped Bodice and Changing Hands in Phoenix are doing the damn thing.
Do you read when you wake up? Here are a few perfect picks for you.
What's your favorite unusual love story?
Did you see this really thought-provoking essay about erotica?
There's a new tee in the BR store and it's Pretty Effing Amazing.
And finally, this week on When In Romance, we get serious and then get super silly.
Recs!
There are a few books I want to talk about this week, and they do actually have something in common: they're one-sitting reads! (If you're not doing the Read Harder challenge, this probably means nothing to you, but then the question is why aren't you doing Read Harder?!)
Just kidding. Do what you want.
Anyway.
I've got three potential one-sitting reads for you, whether you're looking for something sweet, something spicy, or something goddamn. The first is the only one that can be read in less than an hour, but if you've got a couple hours, you can get through the others pretty quickly as well (unless you're taking breaks to breathe, which might be necessary, not gonna lie).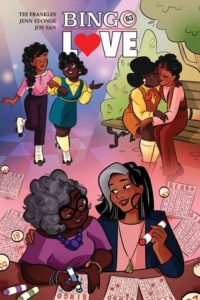 Bingo Love
Tee Franklin et al
I don't recommend comics very often in Kissing Books, but this one needs your eyes and your heart. It will be a joy to both of those, I promise.
Hazel and Mari meet when they are barely teenagers, but their connection is instant. They become the best of friends, sharing a love like no other. Their relationship is platonic, but there's always something…more, just under the surface. When they finally act on that more, they're torn apart for almost fifty years. Imagine what can happen when the love of your life randomly shows up at bingo. Tears. Fat, gross, sobby tears, that's what. (Or maybe that's just me.) This book is written for crying of all kinds: joy, sadness, grief, delight, they're all there.
This one can also work for your protagonist over 60, or your comic written or illustrated by a POC. If you're doing Read Harder.
Two Dukes are Better than One
Lorna James
Let's go back into prose for this menage romance (if you couldn't tell from the title). I know some of us are tired of dukes, but come on. Two. Dukes. They're BFFs, but their family has been feuding since they can remember, so they find excuses to get involved in fisticuffs whenever they're both at the same event. Meanwhile, Sophia, an Occult enthusiast and accidental reader of a very naughty book, might have let slip to one of said dukes that she has some interest in and curiosity about being intimate with two men at once. Good thing for them, they like to share women.
I do have a few qualms about this book: for once, it could probably have used ten pages or so of exposition, just to make a few things more clear—the actual process of falling in love, for instance, is a little…skipped over. So there's loooooots of sex and less of the feelings. But it's tons of fun.
Play With Me
Alisha Rai
If you're thinking: Jess. You just gave me a menage novella about two dukes. And you're telling me this is beyond that in the spice level?
Then I'm responding: you're damn right I'm telling you that. This is Alisha Rai we're talking about. If you loved Hate to Want You and its follow-up, Wrong to Need You, this is definitely something you need to read. (If you haven't read it, this is a good introduction to her writing.) Tatiana and Wyatt are old flames who are reunited a decade later, and the sex isn't just as hot—it's better. Of course, there are also those annoying feelings that show up too.
I will warn you: this is not a standalone, and therefore does not really end in a HEA. But don't worry; you'll want to pick up the other two Bedroom Games novellas pretty much immediately. Well, after you've cooled off.
New and Upcoming Releases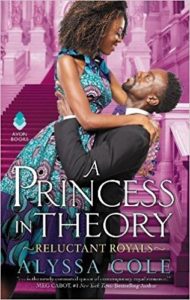 A Princess in Theory by Alyssa Cole (YAAAAAAAAYYYY!!!)
Then There Was You by Claire Contreras
Switch it Up by Sara Brookes (you might remember I wrote about another one of her books in an earlier Kissing Books)
My Once and Future Duke by Caroline Linden (I'll always take title puns)
One and Only by Jenny Holiday
Baby Daddy by Kendall Ryan
As usual, catch me on Twitter @jessisreading or Instagram @jess_is_reading, or send me an email at jessica@riotnewmedia.com if you've got feedback or just want to say hi!