Hello, I'm your substitute, Sharifah, and I will not be playing a movie all period, flicking through social at the teacher's desk while Katie's away from the classroom. Instead, I'll be discussing the funny company I keep. I'm talking about those narrators/writers who keep me laughing.
Now, I'm a solitary person, but that doesn't mean I don't enjoy the illusion of company. When I'm taking long, leisurely weekend strolls or long, leisurely baths or long, leisurely vacuum-up-all-the-cat-fur sprints, I almost always turn on an audiobook. And when I'm enjoying most solitary pastimes, I prefer the faux company of funny people.
---
Enter to win $500 of Penguin Clothbound classics over on our Instagram account. Click here, or on the image below to enter.
---
Here are a few personal essay collections, and one fiction work, that keep me company and keep me laughing:
*With one (noted) exception, all of the audiobooks listed below are narrated by their authors.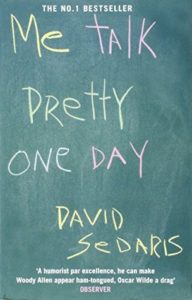 Me Talk Pretty One Day by David Sedaris
Sedaris, King of Humorists, struck me down and collected me into his flock of fandom with this book. Listening to Sedaris talk about his attempts to learn French and his relocation, his quirky family, tourists, and more in observations and experiences is a lot like sitting next to the most interesting and well-spoken person in the room. He delivers the perfect balance of introspection and dry wit, and I'm pretty sure I smiled my way through this entire audiobook.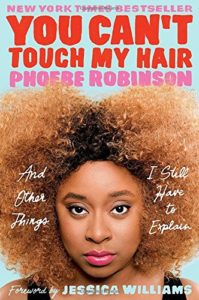 You Can't Touch My Hair by Phoebe Robinson
Robinson's essay collection is low-key my ideal book of hilarity. This one didn't so much have me smiling as it had me rolling–which needed to be curbed during commutes. From the "you are the best besties" foreword by Jessica Williams to the heartfelt (and still funny) letter to her biracial niece, this book is everything, head to toe. Robinson doesn't just talk about hair (though I absolutely relate to the Don King thing)–she talks about race, 90s nostalgia, U2, and trying to break into acting. I love the diversity of content and the relatability of this comedic masterpiece.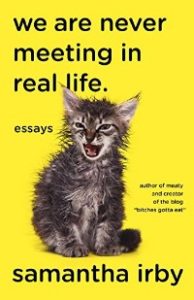 We Are Never Meeting in Real Life by Samantha Irby
Irby just recently joined my best friends camp of essayists who write relatable content about growing up black, and the foibles of everyday life and adulthood as a 30-something. Family drama, dating drama, sexual firsts drama, ALL the drama. Irby is kind of a no-nonsense, take me as I am or not at all type. I find her brand of humor uplifting and freeing–a reminder that we're all human, and we're not going to please everyone. We Are Never Meeting in Real Life also speaks to my attempts-at-adulting lifestyle. And she speaks to these issues with irreverent humor and finesse, confronting the tough subjects with a level of honesty I appreciate as much as the laughs.
Born a Crime by Trevor Noah
Here's another one that deals in the difficult stuff. Comedian Trevor Noah (of the Daily Show) was born in South Africa to a black mother and a white father during apartheid. His very existence had to be hidden lest his parent's relationship, which was illegal at the time, be discovered. It's amazing that he has a sense of humor at all. I never thought I'd find myself laughing along with someone who was talking about how institutionalized racism affected his life, and there are some deeply angering, sad, and touching moments in this book. But there's also that story about his grandmother and trying to take a crap in the night.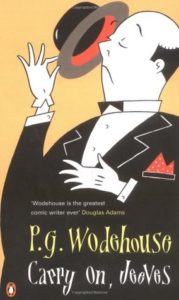 Carry On, Jeeves by P.G. Wodehouse, narrated by Frederick Davidson (the only narrator I will accept for this series)
My final pick sends us on a detour away from memoir and essays. Jeeves and Bertie Wooster are the fictional funny people I can always count on (although, I don't think Jeeves would appreciate being called funny). The J&W series focuses on a gentleman's gentleman and his employer who is cursed with the sort of needy, helpless friends who always manage to convince you to do them a solid at deep expense to you. I'm no bachelor strapped with a healthy allowance from my dear aunt, but I am a single lady with a strong sense of caper and an understanding that when the soup gets thick, you might as well order a Green Swizzle to go with it.
I could go on forever, but I'm stopping myself here. Apparently, these books are my balm. I hope that if you decide to pick up one, or two, or all, they give you as much joy.
As for me, I'll be moving on to The Last Black Unicorn by Tiffany Hadish, and We're Going to Need More Wine by Gabrielle Union once my library holds are up. I cannot wait.
Lots of LOLs,
SZW