Happy Friday, fellow travelers! Today we've got reviews of the Xenogenesis series and Jagannath, plus Firefly novels, ASoIaF news, Slytherin reads, and more.
---
This newsletter is sponsored by Honor Among Thieves by Rachel Caine and Ann Aguirre.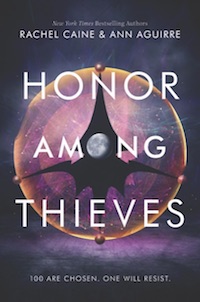 Meet your new favorite kickass heroine in this daring series by New York Times bestselling authors Rachel Caine and Ann Aguirre, perfect for fans of Claudia Gray's A Thousand Pieces of You.
Zara Cole has a painful past that's made her tough. After committing a crime that has her running scared, Zara assumes she's headed for jail. Instead – she's recruited into the Honors, an elite team of humans selected to explore the universe on sentient alien ships. Zara's ready to flee her troubles on Earth – but nothing could have prepared her for the truths she'll uncover among the stars.
---
Giveaway alert! We're giving away $500 worth of Penguin clothbound classics on our Instagram, and you definitely should enter.
It's Black History Month! Here are some black SF/F authors you should be reading now and always, courtesy of The Portalist.
Shiny: the Firefly 'verse is getting novels! I am not much of a screen-to-page, expanded universe reader to be honest; I only have read a handful of the Star Wars novels, and that might be my sum total across franchises, but I'm very curious about these. Sharifah and I talked about it in a little more detail on SFF Yeah! this week.
In the continued saga of A Song of Ice and Fire news, Martin has declared that there will be seven books total. Probably. Maybe.
Slytherins, your time has come. By which I mean, we put together a reading list for you. Because Merlin was a Slytherin too!
Speaking of Hogwarts: one of our contributors wrote an homage to the Houseless. While I am firmly Ravenclaw and cannot imagine not having a House, I really enjoyed this look at what fandom can look like from different perspectives.
Next-level costuming: an artist designed a bard and mage hijabi, which then turned into a whole thread of amazing art with fantasy hijabi characters, and I am over here with big heart eyes. I love them all, but the bard is my favorite.
Spoiler alert: this interview with Michelle Yeoh is wonderful, but also gives away some recent plot points for Star Trek: Discovery. Read at your own risk! (But, so good.)
Cheap ebook alert! The entire (R)Evolution series, Gemsigns, Binary, and Regeneration by Stephanie Saulter, are on sale right now for $2.99 each. I love this series like whoa, and if you like science fiction that explores questions of humanity while also giving you action and superpowered individuals, then you should grab them.
And now: reviews of books that have nothing in common except I read them recently!
Lilith's Brood, a.k.a. The Xenogenesis Trilogy by Octavia Butler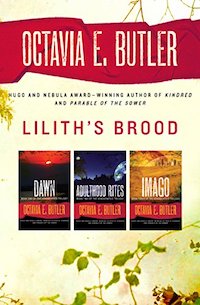 Reading Octavia Butler while the world is a garbage-fire has made me feel a bit like I'm seeing double. First published in 1987, the Xenogenesis books ask us to consider if humanity is worth saving, and on what terms.
In Dawn, we meet Lilith Ayepo. She, along with a few other remnants of humanity, were saved from the total nuclear destruction of Earth by aliens called the Oankali. Centuries later, the Oankali have made the Earth inhabitable again and they begin waking up the humans — but since they were salvaged, the aliens have also edited their DNA. Humans can no longer reproduce without the involvement of the Oankali, who survive and evolve by trading genetic material with the other species they encounter as they explore the universe. Her choice is simple: to help the aliens wake up the rest of the humans and acclimate them to their new reality, or to resist the Oankali and be put back in stasis. Her choice and the consequences make up the next two books, Adulthood Rites and Imago.
The nuances of consent and compulsion are recurring themes for Butler (Fledgling is also a deep — and deeply disturbing — look at these concepts). And as I tore through this series, I found myself marveling at the complicated portrait she paints. She never shies away from presenting humanity at its worst, and she searches for the best while she does it.
Trigger warnings: sexual assault, harm to children. 
Jagannath by Karin Tidbeck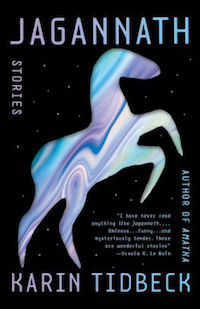 If you've read the Brothers Grimm or other pre-Disney folk/fairytales, you know that they're often grotesque, morally neutral, and/or just plain weird. (So many feet get cut off!) Tidbeck is writing contemporary fables in that tradition. Be prepared to be enchanted and disturbed in equal measure.
It's hard to sum up or call out the stories — reading this collection felt a bit like being in an extended fever dream. Some stories felt as though they had related threads; others were completely singular; still others reached out to familiar material (Alice in Wonderland, for example) and then twisted it into strange new shapes. A woman turns into a mouse; a girl disappears on a mountain; strange beings populate a vacation village; a switchboard operator is in hell. Some of them, I can't think of without shuddering, while others were more whimsical. Regardless, I don't recommend eating and reading this collection at the same time. For reasons.
If you're a fan of weird fiction; if you love dark fairytales and have a strong stomach; if you enjoy a hefty dose of the surreal; then Jagannath is for you.
And that's a wrap! You can find all of the books recommended in this newsletter on a handy Goodreads shelf. If you're interested in more science fiction and fantasy talk, you can catch me and my co-host Sharifah on the SFF Yeah! podcast. For many many more book recommendations you can find me on the Get Booked podcast with the inimitable Amanda.
Strap in and hold tight,
Jenn