This edition of Today in Books is sponsored by HMH, publishers of The Lost Girls of Camp Forevermore by Kim Fu.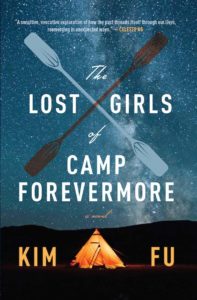 ---
2 Children's Book Authors Dropped By Agents Amidst Sexual Harassment Claims
Maze Runner author James Dashner and 13 Reasons Why author Jay Asher have both lost representation following sexual harassment claims. Both authors had allegations of sexual harassment made against them in a School Library Journal article on the subject. The article prompted hundreds of comments from people sharing their own experiences with harassment in the industry. Dashner's agent said he "couldn't in good conscience continue working with James," and Asher's agency "counselled Jay to take a step back from the industry."
Congressman John Lewis Announced His Next Book
Congressman John Lewis, author of the award-winning March series, has announced his next multi-part graphic memoir titled Run. This next book will pick up where March left off, continuing Lewis's story and the story of the civil rights movement. March co-author Andrew Aydin will return to work on Run, which will feature the art of Afua Richardson with contributions from March illustrator Nate Powell.
George Romero's Final Zombie Work Will Be A Novel
George Romero's final work in zombie lore will be a novel completed by Daniel Kraus. Kraus, who wrote the novelization of The Shape of Water, has been researching Romero and his inspiration in order to complete The Living Dead. The official synopsis describes a story about a zombie plague and the people–including a teenager living in a trailer park, a medical examiner and his assistant, and the helmsman of a nuclear submarine–caught in its wake. The Living Dead will be released in fall 2019.
And don't forget to head over to our Instagram account to enter to win $500 of Penguin Clothbound classics!