This edition of Today in Books is sponsored by Hey Harry, Hey Matilda by Rachel Hulin new in paperback from Anchor Books.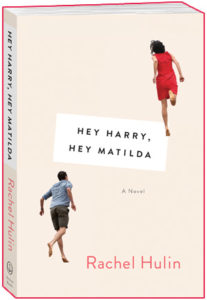 ---
And The Oprah Book Club Pick Is…
An American Marriage by Tayari Jones. Oprah announced her latest book club pick on CBS This Morning. Speaking on why she chose this particular book, Winfrey said, "It's a love story that also has a huge layer of suspense." She added that Jones's novel is current and "now," that she couldn't put the book down and has already passed it on to many of her friends. She believes the story will resonate with many. Jones, who expressed excitement about receiving the call, discussed the surprising inspiration behind her book (a couple she overheard while at the mall) during her CBS This Morning interview.
YouTube Star Kian Lawley Fired From The Hate U Give Movie
Twentieth Century Fox fired cast member Kian Lawley from the upcoming film adaption of Angie Thomas's YA novel The Hate U Give. The studio made the decision in response to a video that resurfaced showing Lawley, a YouTube celebrity, using racial slurs. Lawley was cast as the boyfriend of the film's star, Amandla Stenberg, in a movie that centers on race and police brutality. Fox plans to recast the role and reshoot scenes as needed.
Scribd Returns To Unlimited Access
Scribd is returning to its original terms, which gave subscribers unlimited access to titles. Scribd abandoned its unlimited access model in 2016, but the company's co-founder and CEO Trip Adler said current profitability and stability has made the original business model possible once more. That said, the company can detect whether "over-consumption" is occurring, and new controls will limit power readers' access to the most expensive and popular titles.