Hey YA Readers!
Let's take a trip down memory lane this week.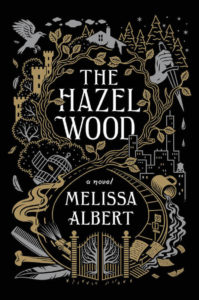 "What's Up in YA?" is sponsored by The Hazel Wood by Melissa Albert.
Seventeen-year-old Alice and her mother have spent most of Alice's life on the road, always a step ahead of the bad luck biting at their heels. But when Alice's grandmother, the reclusive author of a book of pitch-dark fairy tales, dies on her estate, the Hazel Wood, Alice learns how bad her luck can really get…
____________________
I don't know about you, but I always love a good look through the big, popular books from years past. They tell us a lot about reading culture, the ups and downs in trends, and simply how much a particular area of reading has grown.
Here's a look at three big titles from the last 10, 20, 30, and 40 years. I know I've said it before, but it is worth repeating: you're going to be feeling old at the first titles. And that's okay.
Descriptions are pulled from Amazon, simply because I haven't read all (or most!) of these titles. Titles were compiled from a range of sources, from my own memory (2008 wasn't that long ago), the Best Books lists from YALSA, Goodreads, and more. I've stuck with books which were first in a series, so there are certainly some big titles not included below.
As might also be noted, some of these titles could easily be categorized as middle grade more than young adult, but because of the crossover appeal, I've included them. Likewise, this list is quite white. It is with no doubt, though, that in 10 years when readers look back at what 2018 held in YA books, top titles will be far more inclusive.
Popular YA in 2008
In the ruins of a place once known as North America lies the nation of Panem, a shining Capitol surrounded by twelve outlying districts. Long ago the districts waged war on the Capitol and were defeated. As part of the surrender terms, each district agreed to send one boy and one girl to appear in an annual televised event called, "The Hunger Games," a fight to the death on live TV. Sixteen-year-old Katniss Everdeen, who lives alone with her mother and younger sister, regards it as a death sentence when she is forced to represent her district in the Games. The terrain, rules, and level of audience participation may change but one thing is constant: kill or be killed.
Todd Hewitt is the only boy in a town of men. Ever since the settlers were infected with the Noise germ, Todd can hear everything the men think, and they hear everything he thinks. Todd is just a month away from becoming a man, but in the midst of the cacophony, he knows that the town is hiding something from him — something so awful Todd is forced to flee with only his dog, whose simple, loyal voice he hears too. With hostile men from the town in pursuit, the two stumble upon a strange and eerily silent creature: a girl. Who is she? Why wasn't she killed by the germ like all the females on New World? Propelled by Todd's gritty narration, readers are in for a white-knuckle journey in which a boy on the cusp of manhood must unlearn everything he knows in order to figure out who he truly is.
When Margo Roth Spiegelman beckons Quentin Jacobsen in the middle of the night—dressed like a ninja and plotting an ingenious campaign of revenge—he follows her. Margo's always planned extravagantly, and, until now, she's always planned solo. After a lifetime of loving Margo from afar, things are finally looking up for Q . . . until day breaks and she has vanished. Always an enigma, Margo has now become a mystery. But there are clues. And they're for Q.
Popular YA in 1998
Both Elisha (Ellie) and Jeremiah (Miah) attend Percy Academy, a private school where neither quite fits in. Ellie is wrestling with family demons, and Miah is one of the few African American students. The two of them find each other, and fall in love — but they are hesitant to share their newfound happiness with their friends and families, who will not understand. At the end, life makes the brutal choice for them.
Seventeen-year-old Joss is a rebel, and a student of time travel at the prestigious Centre for Neo-Historical Studies. This year, for the first time, the Centre has an alien student: Mavkel, from the planet Choria. And Mavkel has chosen Joss, of all people, as his roommate and study partner. Then Mavkel gets sick. Joss quickly realizes that his will to live is draining away. The only way she can help Mavkel is by breaking the Centre's strictest rules – and that means going back in time to change history.
Miss Saunders, whose skin is blotched with a rare skin condition, serves as a mirror to Maleeka Madison's struggle against the burden of low self-esteem that many black girls face when they're darker skinned. Miss Saunders is tough and through this, Maleeka learns to stand up to tough-talking Charlese.
Popular YA in 1988
Hannah is tired of holiday gatherings−all her family ever talks about is the past. In fact, it seems to her that's what they do every Jewish holiday. But this year's Passover Seder will be different−Hannah will be mysteriously transported into the past . . . and only she knows the unspeakable horrors that await.
What would you give to be your school's superstar? After reading Dr. Faustus, Joe considers the merits of selling his soul to the devil. Suddenly, he finds himself changing from a lousy basketball player and a C student to the star athlete he always dreamed he could be. Even though he isn't sure if he actually made a deal with the devil, he can't help but enjoy the benefits that come with his newfound abilities. But is achieving his dreams worth what he may have given up?
Spellbound by Christopher Pike
In the wake of Karen Holly's tragic death, many people believe that her boyfriend, Jason, is responsible, and when Jason takes a new girlfriend, newcomer Cindy, she and her friends must return to the scene of Karen's murder.
Popular YA in 1978
Beauty by Robin McKinley
A strange imprisonment Beauty has never liked her nickname. She is thin and awkward; it is her two sisters who are the beautiful ones. But what she lacks in looks, she can perhaps make up for in courage. When her father comes home with the tale of an enchanted castle in the forest and the terrible promise he had to make to the Beast who lives there, Beauty knows she must go to the castle, a prisoner of her own free will. Her father protests that he will not let her go, but she answers, "Cannot a Beast be tamed?" Robin McKinley's beloved telling illuminates the unusual love story of a most unlikely couple: Beauty and the Beast.
It's their last summer before college, and Jaret and Peggy have fallen deeply in love. They exchange love letters, have pet names, and spend hours alone in their special clearing in the woods. For once, life is perfect. But Jaret and Peggy live in Gardener's Point, a small town a hundred miles from New York City, and a place where girls only date boys. In Gardener's Point, being different isn't easy—but nothing could prepare them for the danger that lies ahead.
Mr. Griffin is the strictest teacher at Del Norte High, with a penchant for endless projects and humiliating his students. Even straight-A student Susan can't believe how mean he is to the charismatic Mark Kinney. So when her crush asks Susan to help a group of students teach a lesson of their own, she goes along. After all, it's a harmless prank, right?
But things don't go according to plan. When one "accident" leads to another, people begin to die. Susan and her friends must face the awful truth: one of them is a killer.
____________________
Thanks for hanging out and we'll see you around here next week for even more YA talk and fun
–Kelly Jensen, @veronikellymars