Hi Kid Lit fans,
It's February and we all know what holiday is coming up because those glittery red displays went up right after New Year's! Ah, Valentine's Day, the most angst-filled holiday of the year. In an informal survey of my friends and neighbors, half said it was a fun day to celebrate love and the other half said it was a day dedicated to the commercialization of love. Whatever side you're on, I hope you'll enjoy these children's books. I, for one, plan to celebrate the day by buying books!
---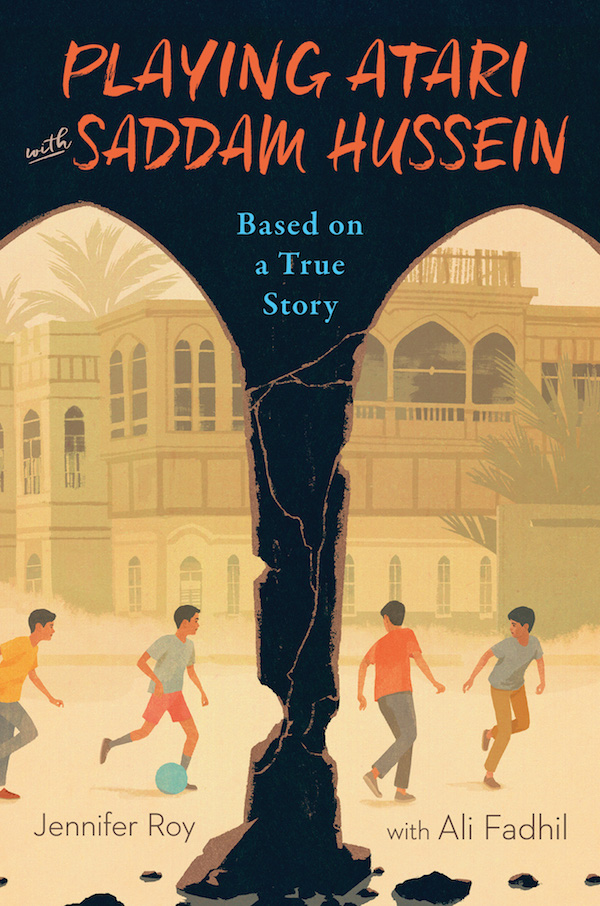 Playing Atari with Saddam Hussein by Jennifer Roy
At the start of 1991, eleven-year-old Ali Fadhil was consumed by his love for soccer, video games, and American television shows. Then, on January 17, Iraq's dictator Saddam Hussein went to war with thirty-four nations lead by the United States. Over the next forty-three days, Ali and his family survived bombings, food shortages, and constant fear. Ali and his brothers played soccer on the abandoned streets of their Basra neighborhood, wondering if their medic father would return home. Readers experience the Gulf War through the eyes of an ordinary eleven-year-old Iraqi boy in this accessible and timely novel.
---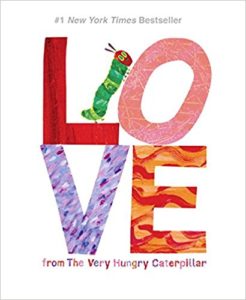 For the youngest readers, a familiar caterpillar makes an appearance in Love from The Very Hungry Caterpillar by Eric Carle.
You are the cherry on my cake; you make the sun shine brighter; you make my heart flutter.
The lovely prose, paired with Eric Carle's signature illustrations, are sure to delight all hungry caterpillar fans.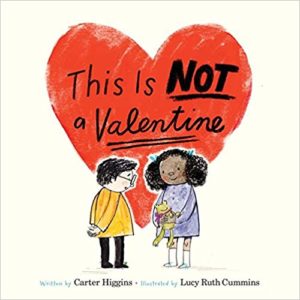 My favorite Valentine's Day/non-Valentine's Day picture book is This Is Not a Valentine by Carter Higgins, illustrated by Lucy Ruth Cummins. It is a homage to homemade gifts and lucky rocks and  sharing a peanut butter and jelly sandwich. A perfect book for kids who find the whole Valentine's Day holiday icky and overrated. I, for one, am giving this book to my kids and my husband.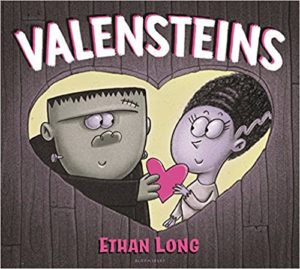 Valensteins by Ethan Long is another picture book I really loved. While the Fright Club gets ready for another night of scaring the begeebers out of the neighborhood, Fran K. Stein has something else in mind. He is making something, which the others think looks like a pink paper butt. But love doesn't always mean kissing on the lips or being all mushy mushy, as the Fright Club discovers as they watch Fran K. Stein.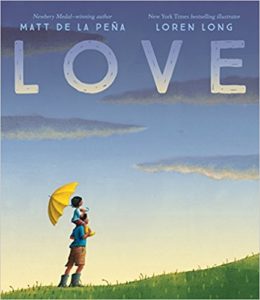 I have mentioned this book before, but I had to plug it again! Love by Matt de la Pena and illustrated by Loren Long is a gorgeous picture book about the universal bond of love experienced by kids everywhere.
In the beginning there is light
and two wide-eyed figures standing near the foot of your bed
and the sound of their voices is love.
…
A cab driver plays love softly on his radio
while you bounce in back with the bumps of the city
and everything smells new, and it smells like life.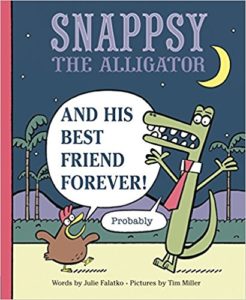 One of my favorite parts of Valentine's Day is celebrating friendship, and what better way to do that than through the hilarious picture book by Julie Falatko and illustrated by Tim Miller. Snappsy the Alligator and His Best Friend Forever (Probably) is about two unlikely friends. Snappsy likes his quiet, scheduled life, but then he starts getting tailed by a chicken (Bert) who insists they are best friends. But Snappsy doesn't want to plan a sleepover (who is this chicken, anyways?), and after multiple rejections Snappsy finally gets rid of that pesky chicken. But life seems pretty quiet without his new friend…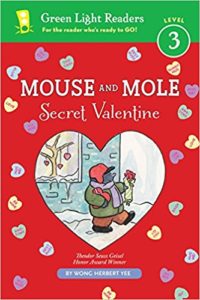 For newly independent readers, Mouse and Mole: Secret Valentine by Wong Herbert Yee is all about the mysterious traditions of Valentine's Day. After making cards for all of their friends with hearts and glitter, Mouse and Mole head off to deliver their cards. But when they receive secret Valentines, they each try to figure out who their admirer might be… And when the day of the Valentine's Day dance comes, they wonder if their secret admirer will show up.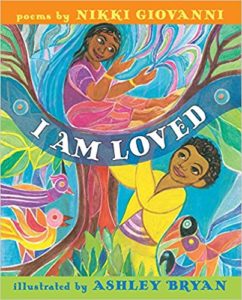 And finally, a book of poetry to finish off this list of recommendations. I Am Loved by esteemed poet Nikki Giovanni and illustrated by the incredible Ashley Bryan is a must have in every children's book collection. The poems by Nikki Giovanni were handpicked by Mr. Bryan and paired with paintings he created to go with the poems.
New Releases
So many good books coming out this Tuesday! The book descriptions are from Goodreads, but for some books I am going to add some commentary in italics and maybe a 
 if I particularly loved a title. (I'm stealing that
 idea from fellow Book Rioter, book queen Liberty Hardy, who does this with her New Books newsletter, which you can subscribe to here). Let me know what you think!
Picture Book New Releases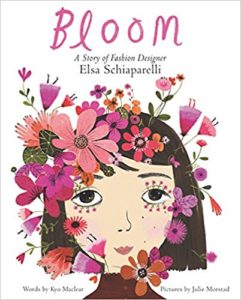 Bloom: A Story of Fashion Designer Elsa Schiaparelli by Kyo Maclear, illustrated by Julie Morstad
By the 1930s Elsa Schiaparelli had captivated the fashion world in Paris, but before that, she was a little girl in Rome who didn't feel pretty at all. Bloom: A Story of Fashion Designer Elsa Schiaparelli is the enchanting story for young readers of how a young girl used her imagination and emerged from plain to extraordinary.
Note from Karina: I loved this book! I know absolutely nothing about fashion, as one can see by the way I dress (bookish t-shirt with jeans, most of the time), so reading this biography about Elsa Schiaparelli really gave me a better understanding of her work and her brilliant use of color and pattern.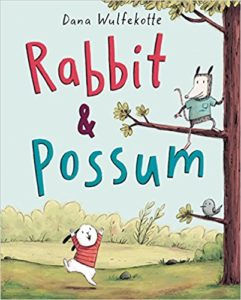 Rabbit & Possum by Dana Wulfekotte
Rabbit has been preparing all day for her best friend Possum's visit, but when the time comes she finds Possum fast asleep. No matter what Rabbit does, she just can't wake him up. But then a rustle in the bushes frightens Possum and sends him up a tree—where he gets very, very stuck. Rabbit has any number of ideas to get him down. Unfortunately, they all make Possum a little…uneasy. But best friends never give up. With a little creativity—and a big surprise—Rabbit just might be able to save the day.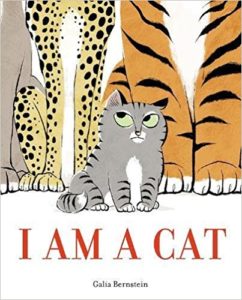 I Am A Cat by Galia Bernstein
A simple housecat named Simon encounters some bigger cats: Lion, Puma, Panther, Tiger, and Cheetah. Each of the big cats has something to say about Simon not being "cat" enough. According to them, he just doesn't measure up. He doesn't have Lion's mane or Cheetah's spots. He doesn't sleep in trees like Panther or climb mountains like Puma. He's small and fuzzy, not big and strong. But ultimately, Simon shows the big cats that he's just like them . . . only smaller.
Middle Grade New Releases
Smart Cookie by Elly Swartz (Scholastic)
Frankie knows she'll be in big trouble if Dad discovers she secretly posted a dating profile for him online. But she's determined to find him a wife, even if she ends up grounded for life. Frankie wants what she had before Mom died. A family of three. Two is a pair of socks or the wheels on a bicycle or a busy weekend at the B&B where Frankie and Dad live. Three is a family. And Frankie's is missing a piece.
Note from Karina: I didn't see an advanced copy of this book, but I did read and love Finding Perfect by the same author. I'm very much looking forward to reading this one. Listen to Elly Swartz on the Books Between podcast with host Corrina Allen here. 
 Stanley Will Probably Be Fine by Sally J. Pla, illustrated by Steve Wolfhard (HarperCollins)
Nobody knows comics trivia like Stanley knows comics trivia. It's what he takes comfort in when the world around him gets to be too much. And after he faints during a safety assembly, Stanley takes his love of comics up a level by inventing his own imaginary superhero, named John Lockdown, to help him through. Help is what he needs, because Stanley's entered Trivia Quest—a giant comics-trivia treasure hunt—to prove he can tackle his worries, score VIP passes to Comic Fest, and win back his ex-best friend. Partnered with his fearless new neighbor Liberty, Stanley faces his most epic, overwhelming, challenging day ever.
Note from Karina: I loved this story so much! The publisher provided me with a review copy prior to publication, and I wholeheartedly give it five stars. Stanley is a very important voice in children's literature.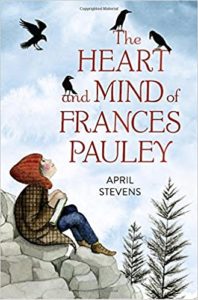 The Heart and Mind of Frances Pauley by April Stevens (Random House)
Eleven-year-old Frances is an observer of both nature and people, just like her idol, the anthropologist Margaret Mead. She spends most of her time up on the rocks behind her house in her "rock world," as Alvin, her kindhearted and well-read school bus driver, calls it. It's the one place where Frances can truly be herself, and where she doesn't have to think about her older sister, Christinia, who is growing up and changing in ways that Frances can't understand.
Note from Karina: I just loved this book! As I said in the newsletter last week, this book is a beautiful homage to quiet, nature-loving, world wondering kids all over.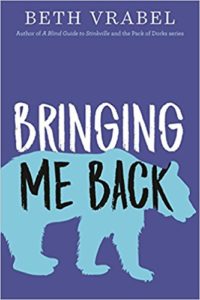 Bringing Me Back by Beth Vrabel (Sky Pony Press)
Noah's mom is in prison, he's living with his mom's boyfriend, and he's officially hated by everyone at his middle school. One day, Noah notices a young bear at the edge of the woods with her head stuck in a bucket. As days go by, the bear is still stuck–she's wasting away and clearly getting weaker, even as she runs from anyone who tries to help.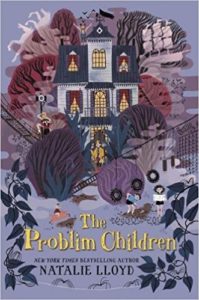 The Problim Children by Natalie Lloyd (HarperCollins)
When the Problim children's ramshackle bungalow in the Swampy Woods goes kaboom, the seven siblings—each born on a different day of the week—have to move into their grandpa's bizarre old mansion in Lost Cove. No problem! For the Problim children, every problem is a gift! But rumors about their family run rampant in the small town: tales of a bitter feud, a hidden treasure, and a certain kind of magic lingering in the halls of #7 Main Street. Their neighbors, the O'Pinions, will do anything to find the secrets lurking inside the Problim household—including sending the seven children to seven different houses on seven different continents!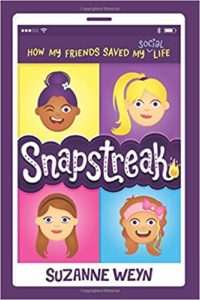 Snapstreak: How My Friends Saved My (Social) Life by Suzanne Weyn (HMH Books for Young Readers)
Eighth-grader Vee is doomed to move to a new town, away from her BFFs Megan and Lulu. To get a jump on her new social life, she starts snapping with local Queen Bee, Gwynneth. Megan and Lulu have mixed feelings about G., but Vee's snapstreak with her is well under way when they get the biggest news EVER: The local radio station is hosting a Boys Being Dudes concert for the pair of students from different schools who can prove the longest running snapstreak! Vee could win this! The girls' BBD dreams are in reach when a gym class concussion lands Vee in bed, under a strict phone ban. It's up to Megan and Lulu to keep the streak going.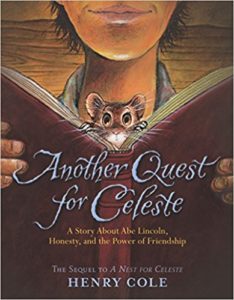 Another Quest for Celeste by Henry Cole (HarperCollins)
Celeste is hundreds of miles from home following an unexpected journey aboard a Mississippi steamboat. After mishaps and disasters, she finds herself on the frontier in southern Indiana. It's 1822, and Celeste meets a tall, lanky boy wielding an ax: a young Abraham Lincoln. The journey reveals the harsh realities of frontier life for the Lincoln family. But with the help of Celeste's new woodland animal friends and some creativity, she may just prove that even the littlest creatures can make a big difference. And it's in losing her way that Celeste finds herself in a place she never expected—home, finally.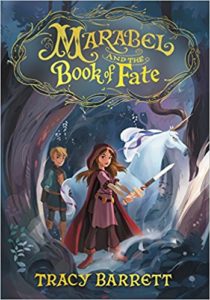 Marabel and the Book of Fate by Tracy Barrett
In Magikos, life is dictated by the Book of Fate's ancient predictions, including the birth of a royal Chosen One who will save the realm. Princess Marabel has grown up in the shadow of her twin brother, Marco, who everyone assumes is the true Chosen One. While Marco is adored and given every opportunity, Marabel is overlooked and has to practice her sword fighting in secret. But on the night of their thirteenth birthday, Marco is kidnapped by an evil queen, and Marabel runs to his rescue. Outside the castle walls for the first time, accompanied by her best friend and a very smug unicorn, Marabel embarks on a daring mission that brings her face-to-face with fairies, trolls, giants–and the possibility that all is not as it seems in Magikos.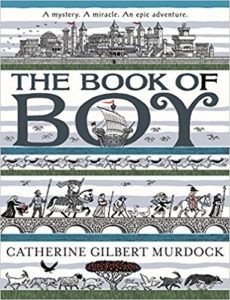 The Book of Boy by Catherine Gilbert (HarperCollins)
Boy has always been relegated to the outskirts of his small village. With a large hump on his back, a mysterious past, and a tendency to talk to animals, he is often mocked by others in his town—until the arrival of a shadowy pilgrim named Secondus. Impressed with Boy's climbing and jumping abilities, Secondus engages Boy as his servant, pulling him into an action-packed and suspensful expedition across Europe to gather the seven precious relics of Saint Peter. Boy quickly realizes this journey is not an innocent one. They are stealing the relics and accumulating dangerous enemies in the process. But Boy is determined to see this pilgrimage through until the end—for what if St. Peter can make Boy's hump go away? A surprising and unforgettable tale for readers of all ages.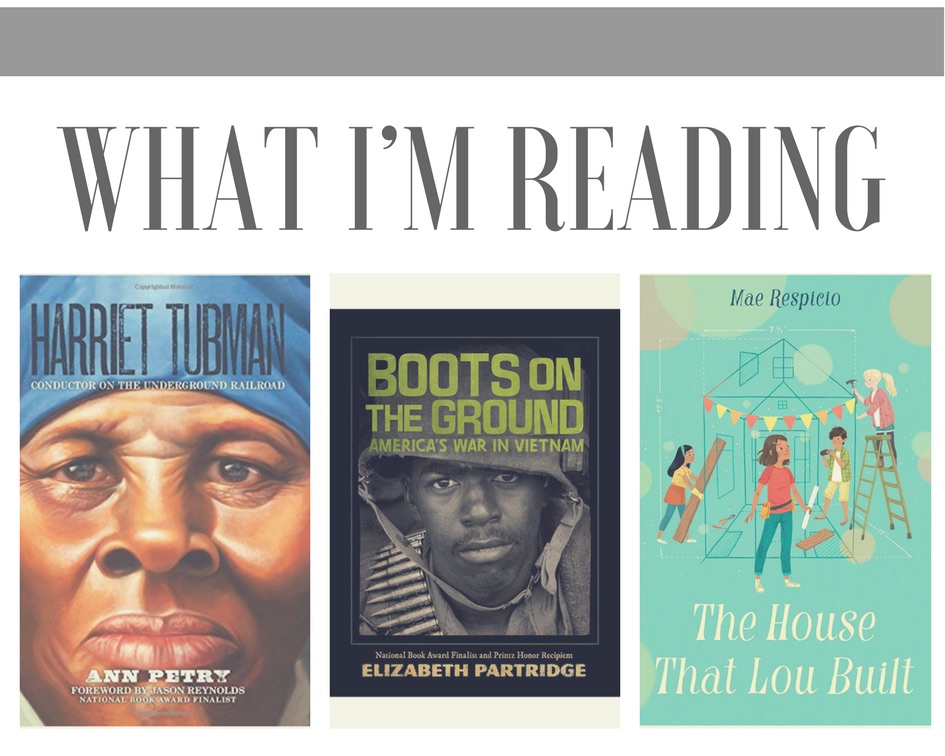 If you follow me on Instagram, you might have noticed that I've been reading any book that the incredible Kadir Nelson has created the cover art for. That includes the six Logan Family series by Mildred D. Taylor (notable books in that series include Roll of Thunder, Hear My Cry and The Road to Memphis). I recently read Harriet Tubman: Conductor on the Underground Railroad by Ann Petry all in one sitting. Originally published in 1955, this book was recently republished with new cover art by Kadir Nelson and a foreword by Jason Reynolds. I loved learning more about her life, especially because she is soon to grace the $20 bill in America. (Yay!)
After listening to the audiobook of Most Dangerous by Steve Sheinkin, I have been interested in learning more about The Vietnam War. Boots on the Ground: America's War on Vietnam by Elizabeth Partridge is told from eight different perspectives, including protestors, Presidents, and soldiers.
The House That Lou Built by Mae Respicio is a wonderful middle grade title coming out on June 12th from Wendy Lamb Books. The main character, Lou Bulosan-Nelson, wants to build her own "tiny house," 100 square feet all her own, planning to build the house on land she inherited from her dad, who died before she was born. But with money troubles looming, Lou discovers that she might need to move for her mother's job and that the land she owns might be repossessed. Can Lou convince her mom to stay in the town they love, build her tiny house, and save her land? This title has already been chosen for Middle Grade at Heart's September book club selection. More information about this awesome book club below!
Around the web…
Middle Grade at Heart, a book club that includes activities, discussions, and author interviews for parents, teachers, and kids, has just announced their 2018 line-up! Sign up here for their weekly newsletter.
Children's Classics Published Before 1980, via Book Riot
Spring 2018 Children's Sneak Previews, via Publisher's Weekly
I'd love to know what you are reading this week! Find me on Twitter at @KarinaYanGlaser, on Instagram at @KarinaIsReadingAndWriting, or email me at karina@bookriot.com.
Until next week,
Karina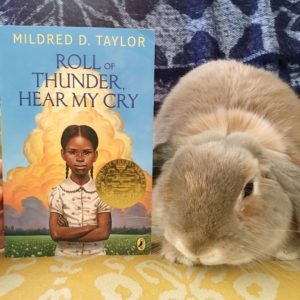 *If this e-mail was forwarded to you, follow this link to subscribe to "The Kids Are All Right" newsletter and other fabulous Book Riotnewsletters for your own customized e-mail delivery. Thank you!*