Is it just me, or did January feel like the longest month ever? I'm glad we're into February, although I don't want to let the first month of the year leave without highlighting a few last excellent new books and sharing a smattering of news about awards, spring nonfiction, and political books that failed.
But before we get going, I want to remind you about the sweet giveaway Book Riot has been going on. Sign up for our new librarian newsletter, Check Your Shelf, and be entered to win your own library cart. Get on that!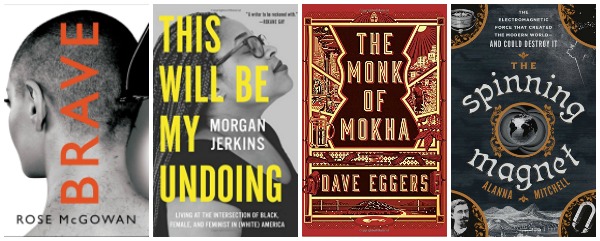 New Books on My Radar
It's an exciting week for new books. Here are four that caught my eye:
Brave by Rose McGowan – A memoir and manifesto from an actress pushing back against the box Hollywood tried to put her in.
This Will Be My Undoing by Morgan Jerkins – A collection of essays on "living at the intersection of black, female, and feminist in (white) America. This one is getting raves.
The Monk of Mokha by Dave Eggers – A true story about a Yemeni American who wants to bring Yemeni coffee to his hometown of San Francisco, but is derailed by a civil war.
The Spinning Magnet by Alanna Mitchell – A history of the science of electromagnetism and the magnetic field around the Earth.
Our General Wins an Award
Carrie Fisher won a 2018 Grammy for Best Spoken Word album for her memoir The Princess Diarist. The memoir is based on the dairies Fisher kept during the filming of Star Wars in 1977, and includes some details about her affair with co-star Harrison Ford. It's a wonderfully funny book, and it's so great Fisher was able to narrate it. She was also nominated for the narration of her 2008 book, Wishful Drinking.
Many Trumps Lose Money
According to an analysis by Forbes, Penguin Random House may have lost as much as $220,000 on Ivanka Trump's 2017 book Women Who Work. The magazine, consulting with "publishing experts" estimated that the imprint, Portfolio, earned about $566,000 from the total sales after paying out an advance of $787,500 to Trump.
More Spring Nonfiction!
Publishers Weekly has put out their most anticipated books of spring 2018 list, and it has a ton of nonfiction to put on your radar. I love that the nonfiction portion of the list is split out into memoir, literary essays/criticism/biographies, history, politics/current events, music, science, and religion – something for everyone.
True Crime is Coming
Michelle McNamara's chronicle of her search for the Golden State Killer, I'll Be Gone in the Dark (out Feb. 27 from Harper Collins), is one of the more highly-anticipated true crime books coming out this spring. The New Yorker published an excerpt from the book that has my spine tingling already. McNamara is the late wife of comedian Patton Oswalt, who passed away in April 2016.
More White House Books Coming
And speaking of books by White House-adjacent folks, former press secretary Sean Spicer announced he'll be publishing a book to "set the record straight" about the Trump campaign and life in the White House. The book is tentatively titled The Briefing, and is set to be released in July. So… there's that.
Cookbooks Galore!
Book Riot has been on a cookbook kick lately. Here are three posts to check out:
That's the end for this week. Check in with me on Twitter or by email, kim@riotnewmedia.com, and until next week, happy reading! – Kim