Welcome back to In The Club, a newsletter of resources to keep your book group well-met and well-read. Let's dive in.
---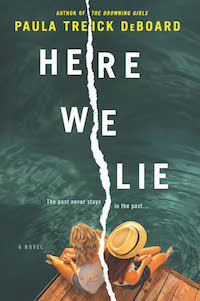 This newsletter is sponsored by Here We Lie by by Paula Treick DeBoard, new from Park Row Books.
Megan Mazeros is a girl from a modest Midwest background, and Lauren Mabrey is the daughter of a senator from an esteemed New England family. Complete opposites on paper, the two become roommates at a private women's college and forge a strong friendship. The summer before senior year, Megan joins Lauren's family on their private island off the coast of Maine, as a last hurrah before graduation. But late one night something unspeakable tears their friendship apart. Many years later, Megan publicly comes forward about what happened, revealing a horrible, long-buried truth.
---
And the nominees are: The National Book Critics Circle finalists for 2017 have been announced! If you like reading from award lists, and you want awards that include nonfiction, fiction, etc., then this list is one to check.
Need something quick and crime-filled? We've got some short mystery audiobook recommendations for your group.
What are colonial and post-colonial literature? We break it down for you in this Read Harder recommendations post.
Also for your Read Harder challenge: We've got suggestions for romances by/about POC!
And while we're talking about romance, Lacey paired romances with The Good Place characters. What more do I need to say?
Page to screen and beyond: Call Me By Your Name has all of the buzz, both for the novel and the movie. You could build a book club around those two, but why not expand? We've got a reading list for after you've seen the movie.
Love unusual narrators? So does Rioter Steph, and here are some of her favorites. (May I add The Tusk That Did the Damage by Tania James, which is partially narrated by an elephant?)
How about some poetry? Here are a few collections that will broaden your expectations of what the medium can be like.
And speaking of poetry, here are some LGBTQ poets we believe are unmissable.
Last but not least, here's a reminder that this is your last week to enter our library cart giveaway, in honor of our new library-focused newsletter Check Your Shelf.
And that's a wrap: Happy discussing! If you're interested in more science fiction and fantasy talk, you can catch me and my co-host Sharifah on the SFF Yeah! podcast. For many many more book recommendations (including the occasional book club question!) you can find me on the Get Booked podcast with the inimitable Amanda.
Your fellow booknerd,
Jenn
More Resources: 
– Our Book Group In A Box guide
– List your group on the Book Group Resources page