Welcome back to In The Club, a newsletter of resources to keep your book group well-met and well-read. Let's dive in.
---
This newsletter is sponsored by It Should Have Been You by Lynn Slaughter.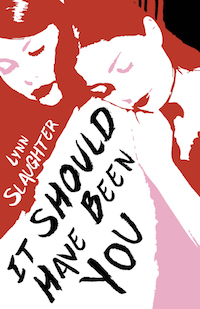 Living in her sister's shadow has never been more dangerous.
Five months ago, Clara Seibert's twin sister was murdered. Struggling under the weight of newfound and unwanted attention, the only thing that makes Clara feel normal is ghostwriting an advice column for her school's newspaper—until she starts receiving threatening emails in her staff inbox.
"It should have been you…but soon."
---
Calling current (and/or aspiring) librarians! We're giving away a library cart, in honor of our new library-focused newsletter Check Your Shelf, and you can enter here.
More Read Harder picks! Here are some recommended comics written or illustrated by a person of color.
For the mystery fans: The Edgar Award nominees have been announced, and it's a bang-up list. The award categories cover a ton of ground including Best Novel, Best Fact Crime, Best Juvenile, and more, so whatever flavor of mystery your group is looking for, there are options here.
Got some parents in your group? We've got a Books About Parenting post that might have some good discussion fodder for you!
Want to read outside the lines? If your group isn't tied to a genre, or would like to break out of it, we've got a list of books that break genre rules that has some REALLY GREAT BOOKS on it. I've been to book clubs for In Cold Blood, In The Woods, and Visit From the Goon Squad and can cosign. (I also really need a book group for Gnomon.)
Speaking of genres, want to read more hard sci-fi? If you've never had a group debate about the definitions of various kinds of sci-fi, let me tell you that that alone could fill an hour. Here's a primer on hard sci-fi, complete with classic and contemporary picks.
Read like Mindy Kaling: Christy collected some of Mindy's favorite reads from her Twitter/Instagram, you're welcome. Discussion idea: pair one of these with one of her memoirs, Is Everyone Hanging Out Without Me? or Why Not Me?, and see if you can't find some through-lines or connections!
Read Latina: PW has an excellent post recommending Spanish-language female authors, many of whom might be completely new to you.
And that's a wrap: Happy discussing! If you're interested in more science fiction and fantasy talk, you can catch me and my co-host Sharifah on the SFF Yeah! podcast. For many many more book recommendations (including the occasional book club question!) you can find me on the Get Booked podcast with the inimitable Amanda.
Your fellow booknerd,
Jenn
More Resources: 
– Our Book Group In A Box guide
– List your group on the Book Group Resources page