Happy 2018, KBers! It's a new day, new dawn, and all that jazz, so let's get down to business (don't say it).
News and Interesting Stuff
Folks. Alisha Rai. She did the thing. 2018 is, indeed, looking up.
---
We're giving away a stack of our 20 favorite books of the year. Click here to enter, or just click the image below.

---
Has the loss of the monthly shopping list at Heroes and Heartbreakers left you scrambling to figure out what the hell is wrong with Amazon's "featured" algorithm in the new releases list? You want to go to Aestas Book Blog. Talk about WORK. It doesn't cover every book, but it's a good place to start. I doubt we'll find something that lists every new release every Tuesday, because that's a lot. But many is good.
And if you are all about those master lists, here's one for athlete heroines.
Bree had some thoughts on twitter last month, and it's a downer way to start 2018, but we have to keep thinking about it. This particular thread is long af but condenses a lot of things many of us have tried to say about both the internal and external issues with society and romance. Yes, it sucks what preconceived notions non-readers come in with, but also what practices insiders maintain. As usual, no solutions, just things that make you go hmm.
In happier news, have we all seen the cover for Wicked and the Wallflower, Sarah MacLean's upcoming Bareknuckle Bastards book? It's marvelous, and I expect the same of the novel.
I get ads for this Lovestruck: Choose Your Own Romance game pretty much every day, mostly on facebook. I don't do games, just cause, but it looks…really diverse? It could be total crap, I dunno. Have you played it?
You'll get plenty of recs from me, but if you're looking to do some lengthy research on romances by authors of color for the Read Harder challenge, have a look at WOC in Romance (and support their Patreon!)
Deals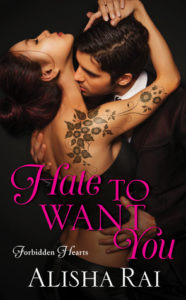 Still holding out on Alisha Rai? Hate to Want You is 1.99.
Truth or Beard is 2.00 right now! If you haven't heard me exclaim over the Winston brothers, well…don't get me started.
Johanna Lindsey's Love Only Once (the first in her Malory-Anderson series) is 1.99 as well.
If this is the year you try Shelley Laurenston, The Unleashing is also 1.99.
Over on Book Riot
It's a brief list, but if you're looking to read more books by Native American writers, here are a few romances. (Related: have you read any Robin Covington?)
Also, Book Riot favorite Alexis Daria wrote about writing and Dancing With the Stars.
We can all get stuck sitting the same way for too long when we're enraptured in a romance novel. How about some yoga poses to help us out?
And now, recs!
There was a tweet or a meme I saw just a little while ago (that of course I can't find now, excellent librarianing, Jess) that went a little something like this:
Hero: I'm a grump who doesn't believe in love, fun, or happiness.

Cinnamon roll too good for this world: *exists*

Hero: well fuck.
Or something like that. I might have made up the hero's last line, but you get the meaning.
That's a kind of book I love but don't read much of, and the first book of the year I want to talk about is like that: It Takes Two to Tumble.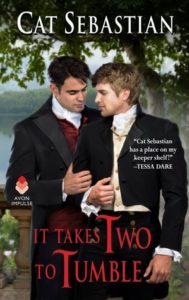 It Takes Two to Tumble
Cat Sebastian
Benedict Sedgwick is a young vicar who probably smiles way too much. He has taken on the temporary role of governess to a pack of hellions belonging to the staid Captain Dacre, who has only just returned on leave after several years at sea. Ben, however, understands the Dacre children far more than their disciplined father, and worms his way into the hearts of the entire Dacre brood. (Sound familiar? Look at that cover.) Not only is there a sweet, slow burn between the two gentlemen, but there are also baby ducks. And possibly goats. It's overall a delight to read and I can't wait for the next Sedgwick book, or Cat Sebastian's other novels coming out this year.
If you, like me, endeavor to read more cinnamon roll (or bun)/grumpy gus novels in 2018, here are some potential books to try:
An Unseen Attraction, KJ Charles
When a Scot Ties the Knot, Tessa Dare
A Bollywood Affair, Sonali Dev
Hamilton's Battalion – "The Pursuit Of…" (all three are marvelous stories, but Henry is the Cinnamon Roll of Cinnamon Rolls)
Sunset Park, Santino Hassell
(Hmm…I'm noticing a pattern in my reading…)
Do you love cinnamon rolls and grumpy gusses (who are not in any way alphaholes)? Send me your recs!
Finally, new and upcoming releases: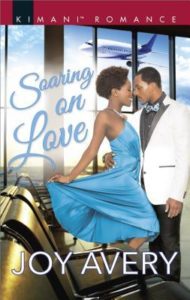 Soaring on Love by Joy Avery
A Distant Heart by Sonali Dev
Dirty Talk by Lauren Landish
Heart on Fire by Amanda Bouchet
Prince Charming by CD Reiss
Down on Me by J. Kenner (Jan 16)
In case you missed the announcement (or just didn't make it all the way down my favorites list), we're moving to weekly! So be prepared to catch Kissing Books in your inbox every Thursday. As usual, catch me on Twitter @jessisreading or Instagram @jess_is_reading, or send me an email at jessica@riotnewmedia.com if you've got feedback or just want to say hi!