Pre-Orders For Fire and Fury Skyrocket
Donald Trump's lawyers have sent a cease-and-desist letter to the publisher Henry Holt and to author Michael Wolff demanding they stop publication of Wolff's forthcoming tell-all "and issue an apology to @realDonaldTrump for defamatory statements made thus far." This came after the White House issued a statement in response to a released excerpt from Fire and Fury: Inside the Trump White House where Steve Bannon called a meeting between Donald Trump Jr. and a group of Russians, during the 2016 campaign, "unpatriotic" and "treasonous." Fire and Fury is currently ranked #1 on Amazon.
Jacqueline Woodson Named National Ambassador For Young People's Literature
Author and four-time Newbery honoree Jacqueline Woodson has been named the sixth National Ambassador for Young People's Literature. The current Ambassador, author-illustrator Gene Luen Yang, will pass the torch at an inauguration ceremony on January 9 at the Library of Congress. Librarian of Congress Carla Hayden will preside over the ceremony. One of Woodson's goals as Ambassador is to reach young people in traditionally underserved areas of the country.
Lindy West Will Release 2 More Books
Lindy West fans, the Shrill author has announced that she'll be releasing two books: a book of cultural critique and a book of film criticism (she used to be a film editor at The Stranger), both published by Hachette. The books don't have titles yet, but they will be released sometime in 2018.
Time's running out! We're giving away a stack of our 20 favorite books of the year. Click here to enter.
---
Today in Books is sponsored by HMH Teen, publisher of Meet Cute.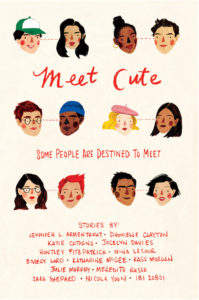 MEET CUTE is an anthology of original short stories featuring tales of "how they first met" from some of today's most popular YA authors. Readers will experience Nina LaCour's beautiful piece about two Bay Area girls meeting via a cranky customer service Tweet, Sara Shepard's glossy tale about a magazine intern and a young rock star, and Nicola Yoon's imaginative take on break-ups and make-ups. This incredibly talented group of authors brings us a collection of stories that are at turns romantic and witty, epic and everyday, heartbreaking and real.