Happy Friday, vampires and Vogons! Today we've got some sequel news, food and drink and book pairings, more best-ofs, and some TV options for your holiday break.
---
This newsletter is sponsored by Eve of the Pharaoh by R.M. Schultz.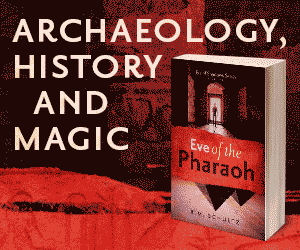 MYSTERY, FORBIDDEN LOVE, AND GRAND ADVENTURE.
The legendary Hall of Records waits, undiscovered since ancient Egypt …
Young Gavin Caywood's afflicted life has never involved deciphering illusions concealed in shadow and light, unearthing the dead, or exhuming sunken tombs in crocodile-infested waters.
Young Horemheb from ancient Egypt also desires to alter fate. He inspires Gavin through a lost tale that spans eons and cultures, weaving their lives together. Frightening enemies, magic, unexpected friendship, betrayal, love, and death emerge at every turn. But if either of them are to survive, they must choose between life, love, and the revealing of secrets from the ages.
---
Another 2017 "best of": over at SyfyWire, Swapna picked her top 10 SFF of 2017. I am notoriously terrible at assembling these kinds of lists but if you've been following along at home, you'll know that I also loved several of her picks!
A thing I didn't know I had feelings about: what is the right order to read The Chronicles of Narnia? Ultimately I agree with Mari, but it might just be because that's the order that I read them in as a child.
For Ernest Cline fans: Ready Player One is getting a sequel! Surprising given how neatly tied up the first book was, but perhaps less surprising when you consider the bump the book has gotten from the forthcoming movie.
Where do heroes come from? This piece breaks down princess and chosen one tropes, and has some excellent food for thought regarding elitism and the fantasy genre.
For all my Nnedi Okorafor fans: While we wait for Night Masquerade, Danielle has some adult beverage pairing suggestions for Binti!
Eat, drink, and be merry with books: I love this list of food-based fantasy books from Unbound Worlds.
Need some escapist feels? Jessica recommends three fantasy romance series. If I wasn't already elbow-deep in Nora Roberts' Circle Trilogy, I'd be picking up one of these.
Excited about Guillermo del Toro's The Shape of Water? Angel's got some readalike suggestions for while you're waiting or after viewing. (Mini-review: I saw it and I am still too busy processing bits of it to give a final verdict but: wow, what a visually gorgeous piece of cinema!)
As the year winds down and we contemplate our over-stacked TBR piles, I thought you might enjoy some binge-watching options!
Marvel's Runaways (available on Hulu)
Trigger warnings for the show: attempted rape; child and spouse abuse.
Y'all, I am having so many feelings about this TV adaptation of Runaways. I've got Volumes 1-5 (Brian K. Vaughan and Adrian Alphona) on my shelf, as well as Dead End Kids. (Note to self, must check out the Stevenson run sometime soon.) When they put out the first trailer, my excitement ran away with me. And now that the first seven episodes are out, I am hooked.
If you're not familiar, the show follows a group of affluent teenagers in California who discover that their parents are actually murderous super-villains. MAJOR BUMMER. The casting is solid; while I wish they had gone with a true plus-size actress for Gert, rather than the round-faced but otherwise petite Ariela Barer, they nailed Karolina, Molly, and Alex. They might even have done too good a job with Alex; the actor playing him is so likable that I am not sure I can handle it. No spoilers here, but if you have read the books you know of what I speak.
Even if you're not familiar with the comics, I encourage you to dive into the show. The writers have clearly considered an audience new to the characters, and are playing with the original material in interesting ways. So far I'm on board with most of the changes; they've added some new depth and introduced variables that I am curious to see play out. Some reviewers and comics-fans are impatient with the pacing of the plot, but I'm enjoying the character development and world-building. That said, if you require a quickly paced show, it might not be for you. Unfortunately, the show hasn't yet corrected for some of the more problematic aspects of the comic — see this piece (SPOILERS AHOY) for details. But with lots of plot left, there's room for growth. I'll be over here glued to my screen with my fingers crossed — especially considering the cliffhanger at the end of Episode 7.
3% (available on Netflix)
I just recently started watching 3%, and the first two episodes alone put other sci-fi shows to shame. Inclusive casting, a compelling premise, a talented cast — this show deserves all of your eyeballs.
Set in a dystopian future where the vast majority of humanity live in destitution and poverty, each year 20-year-olds are given a chance to be tested to go to the Offshore, where everything is wealth and comfort. Only 3% of candidates succeed — and it's not because that's how many are worthy, regardless of what the Selection Process would have you believe. Following both the current batch of candidates and the creeptastic officials running the tests, the show is full of mind-games, conspiracies, and back-stabbing galore.
It's eerie, violent, and disturbing in the ways of the best dystopias. The range of characters is a delight and a rarity, and the pacing allows us to see individual backstories as well as the events of the test itself. While there's currently only one season available, it has been renewed for a second season and hopefully 2018 will be bringing us more episodes. A note: while I don't personally recommend watching the dubbed version, both subtitles and dubbed versions are available.
And that's a wrap! You can find all of the books recommended in this newsletter on a handy Goodreads shelf. If you're interested in more science fiction and fantasy talk, you can catch me and my co-host Sharifah on the SFF Yeah! podcast. For many many more book recommendations you can find me on the Get Booked podcast with the inimitable Amanda.
Happy holidays to you and yours,
Jenn