Welcome back to In The Club, a newsletter of resources to keep your book group well-met and well-read. Let's dive in.
---
This newsletter is sponsored by Ginny Moon by Benjamin Ludwig.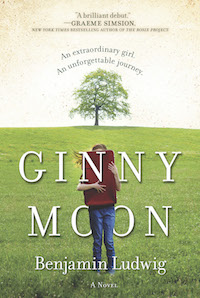 Meet Ginny Moon. She's mostly your average teenager—she plays flute in the school band, has weekly basketball practice and reads Robert Frost poems for English class. But Ginny is autistic. And so what's important to her might seem a bit…different.
Full of great big heart and unexpected humor, Ludwig's debut introduces the lovable, wholly original Ginny Moon who discovers a new meaning of family on her unconventional journey home.
---
The first of our picks for the Read Harder Challenge 2018 are rolling in! We've got true crime and posthumously published book suggestions for those of you looking to get a head start.
It doesn't have to be the holidays to do a bookish gift exchange! For whenever you want to do one, here are some tips on how to run one.
You know what pairs great with food? Food history! Everyone at Book Riot is talking about The Cooking Gene, and I personally am very ready for a Cheddar themed book group meet-up.
Need a good bookish game for your next meeting? Inspired by the "name of your fantasy series" tweet, Kelly decided to create games to find everything YA, from your superhero identity to the fantasy kingdom you'll take over to your mixtape title and beyond. For the record, my YA Travel Adventure is Mars, via blue hedgehog. Tallyho!
Feeling nostalgic? We asked and Rioters answered, giving us 13 favorite books set in the 80s. Speaking of mixtapes, what an excellent opportunity to create and share a playlist with your group!
Need some inspiration in these dark days? Ann rounded up 15 books about badass women from history, and each title looks at a group of women — from science to sports to pirates and much more. A lot of these are also gorgeous objects physically; might be time for a discussion about your favorite design elements in books!
Looking for shorter, lighter reads? Kelly put together a list of YA paperbacks (actually physically lighter!) that would make great contenders for your early 2018 group discussions.
And that's a wrap: Happy discussing! If you're interested in more science fiction and fantasy talk, you can catch me and my co-host Sharifah on the SFF Yeah! podcast. For many many more book recommendations (including the occasional book club question!) you can find me on the Get Booked podcast with the inimitable Amanda.
Your fellow booknerd,
Jenn
More Resources: 
– Our Book Group In A Box guide
– List your group on the Book Group Resources page