How's it going? Thanksgiving is over and now we can firmly settle into the winter holiday spirit. Do you read holiday romances? I haven't read a lot, but the ones I have read have been enjoyable. And there are plenty that continue to be added to the list. I think the only ones I'm probably going to get to before the holidays are over are Lori Wilde's Cowboy, It's Cold Outside and story trio The Perfect Present. Maybe I'll be able to sneak in The Trouble with Mistletoe before the movie premieres on PassionFlix. 
---
Sponsored by Ever After Box, a book box for romance readers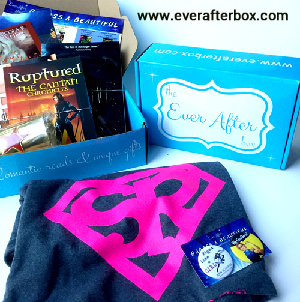 Ever After Box is a subscription book box for romance readers that delivers romantic reads and unique gifts centered around a fun theme each month. Each box contains at 1-2 print books, one or more ebook download plus 3-5 gift items. Items include exclusive designs, author merchandise, cool product finds and more. Check out our monthly plans and special packages at: www.everafterbox.com
Currently ships to US and Canada only. Additional shipping charges apply for Canada.
---
Let's start out with some stuff going on in the romance world!
Alyssa Cole's A Hope Divided is out this week, and she told RT Book Reviews all about Civil War era medical science.
Alisha Rai + Shondaland = FIRE.
Publisher's Weekly is also diving into the romance commentary. While it's great that more publications are talking more about it, we have to ask: what's the use? Maybe they're saying something new to readers who don't read or read about romance, but to us? The same song and dance with no new point of view. But they're bringing three important topics to the eyes of people who don't seek romance out, so more power to them.
Have you heard about Book+Main? I downloaded the app and did some messing around, but the jury is still out. I did have to turn off the notifications though; they got a little ridiculous.
The day the last KB went out, Sarah MacLean announced her favorites of 2017. I support her choices. Mostly.
Did you think we were done with A Gronking to Remember? Apparently not.
Did you like Ready Player One, but wished it were just more awesome? This new book is just what you asked for.
Have you checked out PassionFlix yet? See what some other love people have to say.
DID SOMEONE SAY BARONS CHRISTMAS SHORT?
Okay, enough of that. Deals! (These are November deals so hop on them pretty much now.)
Five books for 3.99? If you like Coleen Coble and haven't tried the Aloha Reef Collection, here's your chance.
Heather Graham's Come the Morning is 99c right now.
Secret Santa Baby by Robin Covington is free for the time being.
K.M. Jackson's Romancing the Fashionista is 1.99.
Over on Book Riot
Did someone say free? Yes, please and thank you.
Know what's better than a holiday romance? A holiday romance anthology. And we've got a few for you.
Thanksgiving may be over, but these are definitely families you want to hang out with year round. Also, there's a bonus family in the comments! (Definitely checking that series out.)
Fantasy? Romance? Let's put them together, shall we? (But I veto "romantasy" just out of principle. Please, can we not?)
I'm gonna try a thing. Are you planning any reading projects for next year?
Harry and Meghan: something out of a storybook, right? Well, here are some storybook romances for you, with royalty and everything.
Okay, recs!
A couple weeks ago, someone at BR started a conversation about active military and veterans in romance. From what we'd seen, there were more suspense thrillers with these leads than something less…stressful. I couldn't think of any that I'd read that didn't have at least one person actively trying to kill one of the protagonists.
And then lo-and-behold, there I was reading a couple of them.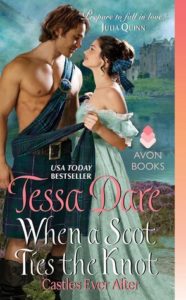 When a Scot Ties the Knot
Tessa Dare
This book opens with the greatest letter montage in modern writing. Maddie has severe anxiety and can't deal with crowds or people. So when her first season comes around, she invents a sweetheart, determined to avoid all of the people and confusions that comes with being out. She holds onto the pretension for years, writing the Scottish captain as he fights the French. Then, guilty and in need of forward motion, she kills him. Except.
Except.
That Scottish army captain? He totally exists. And now he's discharged from the army with a ragtag group of soldiers, in need of a fresh start in a Scotland that's been ravaged by English landowners. He'll marry her, as long as he can set up on her land. What could go wrong, right?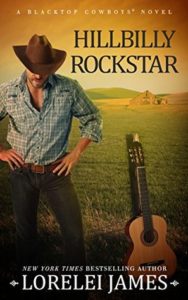 Hillbilly Rockstar
Lorelei James
Country music sensation Devin McClain has a problem. He could ignore the written threats and some of the weird things that have happened, but now, a threat had made its way into his private space. If his agent and tour promoters were insisting on him having a security detail, the least he could do is have a say. What he's not expecting is for his severe, former military bodyguard to go all Miss Congeniality on him, especially if she's going to be sharing the close quarters of a tourbus with him for the next four months. But as Devin and Liberty get to know each other, they can't deny their chemistry. And even though Liberty knows getting involved with a client is the last thing she should be doing, what starts as regular sex to help with those post-show endorphins can easily turn into something else.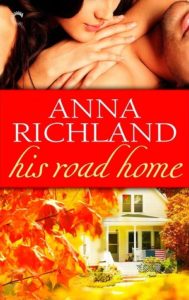 His Road Home
Anna Richland
So many people have told me to read this book, and I finally picked it up. I am so glad I did. It's the best kind of punch to the heart; the story gives the warmest fuzzies at times while not holding back on some of the harder stuff. Reynaldo Cruz is a Special Forces soldier unsure what to do when an Afghan warlord offers him one of his daughters. When a friend saves him by claiming that he is already engaged, Rey has to get creative to show proof. When that creativity goes public thanks to an equally public act of heroism that leaves him with a career-ending suite of injuries, Grace Kim, his fake fiancee, enters his life. The two don't get off on the best of feet, what with the whole act of deception that put them together. But when they start to get along, boy do they get along. I have to use that word that I love using with this one (cause it's so effing true): this story is darling.
Also: while the author is (I believe) a white woman, she approaches having a Mexican-American hero and a Korean-American heroine in a respectful way. Okay, so his mom is an undocumented "tamale lady" and her parents own a Chinese restaurant, which is super stereotypical but ¯\_(ツ)_/¯ it still didn't feel like othering or punching down. You decide.
Currently Reading: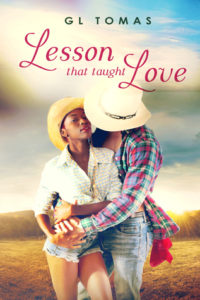 Lesson That Taught Love
GL Tomas
I'm only partway through this book, and it's in severe need of a runthrough by a copyeditor, but the story is so compelling that I can't bring myself to stop. I was first drawn to it by the cover. Do you see that cover? I have a thing for books that look like they're going to have black cowgirls. Okay, so this one doesn't have that, but I can still appreciate a good cover. So, the story. Beck and Kit are from a small town in the mining hills of Kentucky. Beck went away for college but came back when her mother got severely ill. Kit didn't go to college; he joined the army instead. A career-ending head wound has left him with bad hearing and a traumatic brain injury, so he's back in town to help his mother, who is afflicted with MS, and be the grown man no one in town knew him as when he was that stupid asshole football player who won hearts and stomped on them just as quickly. He might not be that boy anymore, but he's got to convince Beck that he's changed. But only after both of them deal with their own issues.
Okay. That's a good number of books and career-ending injuries for now.
Finally, new and upcoming releases.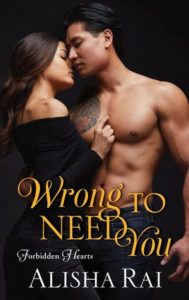 Wrong to Need You by Alisha Rai
A Hope Divided by Alyssa Cole
A Duke in Shining Armor by Loretta Chase
Undercover Attraction by Katee Robert
Roomies by Christina Lauren (12/5)
Dance With Me by Alexis Daria (12/12)
It Takes Two to Tumble by Cat Sebastian (12/12)
And holy mother, that's plenty for the next couple weeks. Pardon me, I'm off to drown in amazing books until Christmas.
Catch me on Twitter @jessisreading or Instagram @jess_is_reading, or send me an email at jessica@riotnewmedia.com if you've got feedback or just want to say hi!