Are you ready for Thanksgiving? Don't worry, I've got plenty stuff for you to read while trying to avoid big family gatherings by hiding in the upstairs bathroom.
But first, Romancelandia!
Kirkus has released their best of 2017, including their favorite romances.
---
Sponsored by Right Where We Belong by Brenda Novak.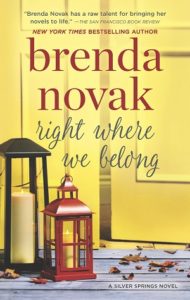 A moving story about rebuilding your life when you've got nothing left to lose, from New York Times bestselling author Brenda Novak. Savanna Gray's "perfect" life unraveled when her husband was arrested for attacking three women. She seeks refuge in Silver Springs, at a farmhouse that needs a little TLC. Familiar with the struggle of starting over, Gavin Turner steps up when Savanna needs help fixing things—even when those things go beyond the farmhouse. Unwilling to repeat past mistakes, Savanna resolves to keep her distance. But it's hard to resist a man whose heart is as capable as his hands.
---
Not to be outdone, Amazon has also listed their best romances of 2017.
And weirdly, Kirkus has the more diverse list :shrug emoji:
Did you know NPR has a romance column? Guess they're joining in on the fun! And hey, I'll support anyone who wants to talk about Hamilton's Battalion.
Heroes and Heartbreakers, Macmillan's romance vertical, is officially going dark in the very near future. We'll be sad to see it go; they've been doing Good Work for a long time, and have made our lives a little brighter talking about everything from Alisha Rai's favorite grand gestures to speculations about Olicity. While they're shifting their focus to social media and other outlets, the people who write for the blog have also had to pivot as well. In the meantime, you can still find Wendy's Unusual Historicals lists going up on her personal blog, The Misadventures of Super Librarian, and Suzanne (Cerestheories) is broadening the spectrum at Love In Panels to include romance coverage on top of the romance comics she's been so lovingly and diligently reviewing.
In happier news, the RT Convention agenda has been posted! It's not complete, but you can get a look at what they'll be talking about in Reno. Are you heading up there next Spring? Or maybe you're holding out for RWA in Denver—their schedule isn't out yet, but they have announced their featured speakers list, and it is definitely nothing to sneer about.
Have you watched the most recent Fifty Shades Freed trailer?
Do you agree with Sarah MacLean's WaPo picks for the month? (Shh. I've only read one of those…though one of the others is hanging out on my bedside table crying for me to pick it up.)
And speaking of Sarah MacLean: she's announced the title for the first book in the Bareknuckle Bastards series! It's so exciting (also, it's coming out on my birthday)!
Have you read any books by #romanceclass authors? Here's an interview with Jay E. Tria, who sounds like someone I'd love to be friends with. Also, her book, You Out Of Nowhere, is going on the TBR immediately.
Deals!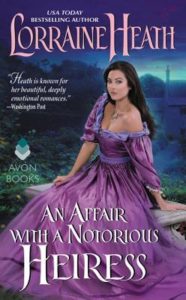 Lorraine Heath's An Affair With a Notorious Heiress is 1.99!
Looking for some chilling romantic suspense? Kendra Elliot's Hidden is 99c
Want to read more Rose Lerner after catching Hamilton's Battalion? In For a Penny is 99c as well.
Rogue Affair, the follow-up anthology to Rogue Desire, is 99c right now, too!
Over on Book Riot:
Have you tried Audible's new romance package? Erin's got 6 reasons it's awesome.
With Thor: Ragnarok now out will all those Asgardian pectorals and The Vikings still going strong, you know we had to start thinking about Viking Romance. Yeah, that's a thing.
Want more lesbian romance? We've got some of those for you to try out, too.
I'm sure if you've read this newsletter long enough it will be no surprise that I think you need to read these books before the next one comes out. Soon. (Not included in that list? Illegal Contact, because Down By Contact isn't out until January but HOO DOGGIE I just finished it and man will you want it. More on that later.)
And don't forget about our bookstore giveaway! How many romances can you get with $500 to your favorite bookstore?
Book Recs!
I was in a particular mood recently, and noticed that two of the books I'd decided to pick up had a similar, but relatively uncommon, theme. They were both books that took place in an alternative now: it was still this day and age, but something had been changed in the past to make the laws of the land work a little differently. The way each author approached this was really interesting, and it was also the first time I'd read either of them, so bonus!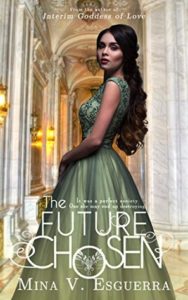 The Future Chosen
Mina V. Esguerra
In this alternate now, laws have been written so that no two members of the same family can be politicians. And it's not even "at the same time"…it's while any other member who has been a politician is alive. This doesn't work in the eyes of Lourdes and Andres, who have been groomed since birth to be rising star politicians in each of their families. But from the time they meet in the school program designed for future leaders, they know there is something special between them. They still hide, because they should be studying, but they won't be doing anything illegal until one of them gets elected. It's when they're both running for office that things get dicy. The love between Lourdes and Andres is sweet, and you can see it as it evolves through school and adulthood. And man, the tangles they get themselves in. (TW for mass shooting early in the book.)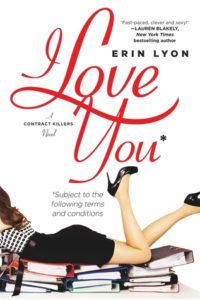 I Love You Subject to the Following Terms and Conditions
Erin Lyon
This hilarious, frustrating book takes place in a US where people don't get married; they sign. Partner contracts are for seven years, and couples can decide to re-up or just let it run out. Or they can breach, which is a lot of what Kate has to deal with when she ends up taking a job in Signing Law at her uncle's firm—the last thing she ever wanted after coming out of law school, but beggars can't be choosers. Kate had been in a loving relationship, ready to just let her contract roll over, when her partner pulled a fast one on her, leaving her alone and in need of a better paying job. Now, he wants to try again, which is fine and dandy, except she's also got this friend—a "contract killer" who only dates signed women, who she also might have a tiny crush on—and this other friend, who has a pretty big crush on her. Drowning in men, Kate just wants to move on with her life, but all kinds of things get in her way.
As I said, this book is hilarious and compelling. It's also not a standalone which I didn't know when I started. So maybe save this one for after the New Year, when you'll be closer to the release of Unconditionally.
Read Harder Bonus: Debut Novel
How about some new and upcoming releases?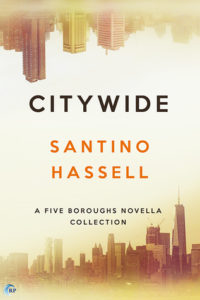 Citywide, Santino Hassell
Snow Falling, Jane Gloriana Villanueva (Yes, that's what it says on the cover)
Highland Dragon Rebel, Isabel Cooper
Anyone But You (Best Friends Sibling Anthology)
Bodyguard, CD Reiss
Set the Stage, Karis Walsh
A Hope Divided, Alyssa Cole (11/28) (!!!)
Wrong to Need You, Alisha Rai (11/28) (!!!)
That's plenty, right?  catch me on Twitter @jessisreading or Instagram @jess_is_reading, or send me an email at jessica@riotnewmedia.com if you've got feedback or just want to say hi!