CA Will Be First To Use LGBT-inclusive Textbooks
California will become the first U.S. state to use LGBT-inclusive history textbooks in primary schools. The California State Board of Education approved 10 textbooks for kindergarten through eighth-grade, and rejected two. The two rejected books didn't meet the state's 2011 FAIR Education Act, which requires that schools teach about historical figures who were LGBT or who had disabilities. Houghton Mifflin Harcourt, which published the two rejected textbooks, didn't address the sexual orientations of historical figures who were, or were widely speculated to have been LGBT. The publisher told the commission that while LGBT people are "central to both United States history and culture," they felt that "the terms lesbian, gay, bisexual, transgender, and queer are contemporary terms that may not map well on past lives and experiences."
The Handmaid's Tale Returns To Hulu In April
Brace yourselves. Hulu announced that The Handmaid's Tale will return for a second season in April, and Glamour gave us a first look at the season 2 teaser. The adaptation based on Margaret Atwood's classic dystopian novel earned Hulu its first outstanding series Emmy. Also on the Hulu horizon, an adaption of Lawrence Wright's Pulitzer-winning 9/11 exposé, The Looming Tower, will premiere as a 10-episode limited series on February 28.
The Most Popular Kindle Books Of All Time
Mashable published a list of the most popular Kindle books of all time, according to new data pulled from Amazon Charts. Kindle sales in fiction and nonfiction determined popularity. The chart toppers include E.L. James' Fifty Shades of Grey and Suzanne Collins' The Hunger Games in fiction, and in nonfiction Rebecca Skloot's The Immortal Life of Henrietta Lacks and Cheryl Strayed's Wild are listed. Mashable noted that the top 10 in fiction star female protagonists, and nine out of 10 were written by women (John Green was the sole male author on that list).
---
Today's newsletter is sponsored by Home Sweet Home by April Smith, new in paperback from Vintage Books.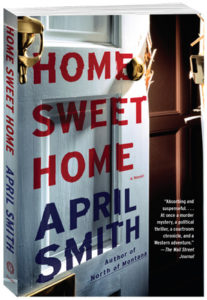 This riveting epic drama follows the Kusek family from New York City to America's heartland, where their dream life turns into a nightmare, as they are caught up in the panic of McCarthyism, a smear campaign, a sensational trial, and, ultimately, murder. From the widely praised author of the FBI Special Agent Ana Grey series and A Star for Mrs. Blake.