Hi fellow mystery fans! If winter has found you I hope you're warm and getting plenty of reading-under-a-cozy-blanket.
Great Puzzle Mystery: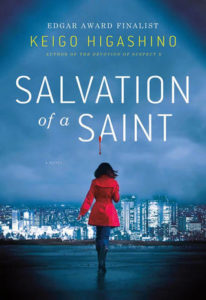 Salvation of a Saint (Detective Galileo #5) by Keigo Higashino, Alexander O. Smith (Translator): Another great Japanese mystery–this one isn't dark (like most I've read) but does have a puzzle mystery. A man is found dead in his home from poison. The obvious suspect would be his wife. The problem is, Ayane was out of town, making it rather impossible for her to have been the culprit. Making matters even more complicated is Detective Kusanagi seems to be a bit enamored by Ayane, and really can't see her having committed the murder. Enter physics professor Manabu Yukawa (Detective Galileo) who is consulted to try and help them figure out how this man could have been poisoned. Twists, red herrings, and a procedural that follows different procedure than what readers of U.S./U.K mysteries are used to. If you've never read Higashino before you should resolve that. (Reads as a standalone–but you'll want to read all his novels.)
---
Sponsored by Yellow Pear Press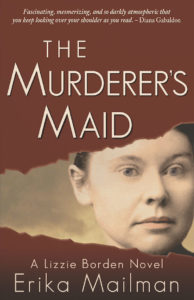 In 1889, Bridget joins the Borden household as their maid, but something evil is brewing beneath the house's genteel surface. In 2016, Brooke hides from her dangerous past and avoids making friends. But what if it's time to stop running?
Bram Stoker Award finalist Erika Mailman brings the true story of the brutal murder of Lizzie Borden's father and stepmother into new focus by adding a riveting contemporary narrative. Intelligent and detailed, The Murderer's Maid is a gripping read from beginning to bloody conclusion.
---
Links:
Book Riot is giving away $500 to a book store of your choice! (You can build a huge bookfort!)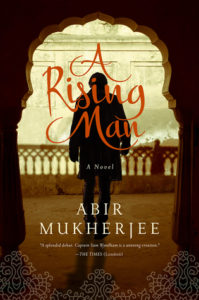 So déjà vu with the Goodsreads Choice Awards: I wrote about the problem last year (0 out of 15 books nominated were written by an author of color) and I'm not counting any kind of win in this year's nominations with 1 out of 15 books nominated being written by an author of color. I'm happy to see some great books up for the award: The Dry; The Good Daughter; Righteous. BUT again that list is missing great releases this year: Bluebird, Bluebird (3.96 rating); A Conspiracy in Belgravia (4.19 rating); A Rising Man (3.9 rating); I Know a Secret (4.29 rating); Overturned (3.75 rating)… It really feels like while genres like Literary Fiction and YA seem to really be pushing hard to make changes, the Mystery/Thriller genre seems to just be digging in its heels which is equally sad, gross, and infuriating.
Snow Blind by Ollie Masters, Tyler Jenkins (a graphic novel about a family in witness protection) is being adapted by Fox.
If you're watching S2 of Riverdale (Archie reimagining) you know they've introduced a serial killer and turned up the notch on ridiculous: Decider has rounded up some banana pants moments from the first four episodes.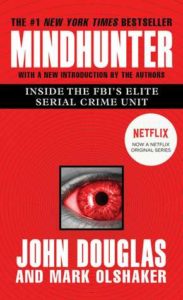 If you're watching Netflix's Mindhunter (fictionalized series based on the non-fiction Mind Hunter: Inside the FBI's Elite Serial Crime Unit), here Newsweek rounded up all the real serial killers portrayed.
Speaking of serial killer Ed Kemper: This Los Angeles Times articles from the '80s is making the rounds again: Blind Couple See Only Good, Not the Guilt of the Helpers (Prisoners were used to make audiobooks for the blind.)
The 2nd Roxane Weary novel by Krysten Lepionka now has a title and cover.
For Miamians (and visitors): It's time for Miami Book Fair (Nov 12-18) with all it's amazing events, authors–including Noir at the Bar.
Jessica Jones Wrote a Good Thriller! (Okay, the actress.)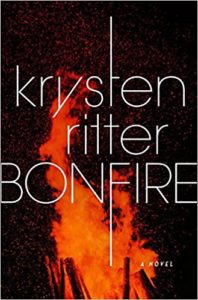 Bonfire by Krysten Ritter: Imagine Erin Brockovich returning to her hometown to look for evidence of water pollution from the company keeping the town afloat, and to face the high school mean girls. Oh, and hopefully figure out where the meanest one is—rumor is she just ran away, but some things have never added up. It isn't long before Abby Williams is spiraling out from the weight of her father being ill, all of her childhood memories that she's suddenly confronting, and her inability to stop herself from breaking into the "missing" girl's storage unit. Something is clearly not right, but the more Williams seems to be losing it the further she may be getting from the truth… I am 100% here for an adaptation of this novel starring Krysten Ritter–you're going to be imagining her as Abby Williams the whole time.
Things Aren't What They Seem: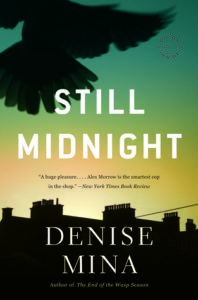 Still Midnight (Alex Morrow #1) by Denise Mina: Criminals burst into a home in Glasglow demanding to see Bob. Except there is no Bob. By night's end a family member will be shot and the criminals will kidnap Amir, the patriarch of the family. The family and police are all confused as to why this particular family was targeted considering there is no one named Bob and the criminals shouted about Afghanistan when Amir was born in Uganda. And none of the family members have any relation or ties to Afghanistan. The novel equally follows the criminals (with the kidnapped Amir who imagines his mother alive and with him for comfort); Alex Morrow (a detective navigating the politics of her department and personal issues that are slowly revealed); the family members (as they try to heal and get Amir back). The novel is a procedural and crime novel that explores how humans don't actually behave the way we expect them to–especially, when contained in a stereotypical box.
Kindle Deals! (Don't know when they expire, sorry!)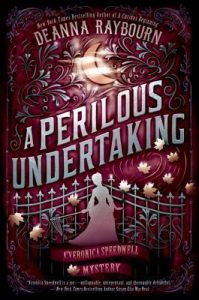 Deanna Raybourn's 1st two novels in the awesome and fun Veronica Speedwell series are on sale! A Curious Beginning is $2.99 and A Perilous Undertaking is $5.99 (review)
The Devil's Star (Harry Hole #5) by Jo Nesbø is $1.99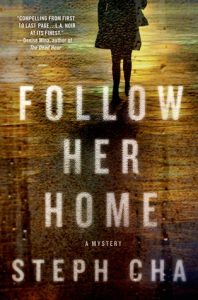 And Steph Cha's Juniper Song trilogy are each $7.99 (I swear this is a good deal considering the Hardcovers were always above $25 and there aren't paperbacks which has been a huge bummer!) Follow Her Home (review); Beware Beware (review); Dead Soon Enough.
Browse all the books recommended in Unusual Suspects previous newsletters on this shelf. And if you like to put a pin in things here's an Unusual Suspects board.
Until next time, keep investigating! And in the meantime come talk books with me on Twitter, Instagram, and Litsy–you can find me under Jamie Canaves.