News From Roxane Land
This morning, Roxane Gay posted an image of the cover for her next book! And the Table of Contents, which reveals a stellar list of contributors, including Gabrielle Union and Ally Sheedy. Not That Bad is an anthology of first-person essays tackling rape, assault, and harassment, edited by Gay (she also contributes an essay). The anthology is out May 2018 so keep an eye out, and be ready to put it on hold because it's going to fly.
Haruki Murakami "Barn Burning" Adaptation Picked Up By Finecut
Finecut picked up international sales right to Burning, Lee Chang-dong's adaptation of Murakami's short story "Barn Burning." The story about a Japanese writer who has a strange encounter with a mime/model, her boyfriend, and arson was originally published in The New Yorker. Yoo Ah-in stars as Jong-soo, a temporary parcel man, alongside Steven Yeun of The Walking Dead, and newcomer Jong-seo.
Justice Sonia Sotomayor Working On 3 Books For Young People
Sotomayor will adapt her best-selling memoir My Beloved World for middle-graders. She'll also collaborate with illustrators Lulu Delacre and Rafael Lopez on a picture-book autobiography about important books she came across in her life and a picture book about "childhood differences," respectively. You can pick up the first two books next fall, and her collaboration with Lopez will be out in 2019.
Don't forget, we're giving away $500 to the bookstore of your choice! Click here to enter.
---
Sponsored by DoorBeeDesigns – $15 off with coupon code BOOKRIOT!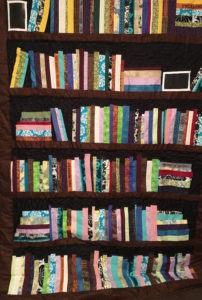 This is the perfect gift for any book lover! You choose the bookshelf color, the authors/titles, and the size. Text is machine embroidered, it will not fade or peel like other materials will. Available in a variety of sizes from wall hangings to king size quilts. My products are made to order with high quality fabric. No two quilts will be the same. Visit www.DoorBeeDesigns.etsy.com to see reviews from others who have bought this or any one of my other items. I have a solid 5 star review and pride myself in high quality work with excellent customer service.