The Mansion That Inspired The Great Gatsby is For Sale
The Long Island mansion that was the inspiration for Gatsby's home in F. Scott Fitzgerald's The Great Gatsby is for sale for about $17 million. When Fitzgerald lived in Great Neck, New York, he befriended Mary Harriman Rumsey (local railroad heiress), who lived in the house. It's complete with a caretaker's cottage–but there's no pool. Which is probably for the best.
Librarian's Multi-Million Dollar Donation to UNH Goes to…a Scoreboard?
Robert Morin was a quiet librarian who left $4 million to the University of New Hampshire upon his death. The school allocated only $100,000 of that money to its library, and instead spent the rest on a football scoreboard and its career center. The school has earned a reputation for extravagant spending under its current leadership, especially on athletics, and is now receiving extensive criticism for its use of Morin's money.
Overdrive Announces New Big Library Read
Overdrive's Big Library Read "is an opportunity for those with a valid library card to read the same digital title at the same time without any wait lists or holds. Participating in this event allows your library to offer a new simultaneous use title for community-wide access from your library at no cost. It's a worldwide digital version of a local book club, and an opportunity for your library to generate more interest in your digital collection beyond the bestsellers." Their new pick is The Hundred Lies of Lizzie Lovett by Chelsea Sedoti!
---
Sponsored by Life Detonated by Kathleen Murray Moran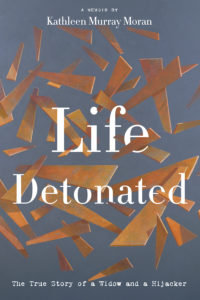 The gripping true story of Kathleen Murray, a young mother whose life was changed on September 11, 1976 when her husband, a NYPD bomb disposal expert, was killed by a terrorist's bomb. It details her journey out of poverty, and her own determination to take care of her two young sons as she starts over.